Have you been dreaming of spending your days relaxing outdoors on your backyard patio? You'll be surprised how easy it is to make this dream a reality! While you might expect installing a patio to be a major project, it doesn't have to be. In fact, you can create a beautiful gravel patio in your backyard in as little as a day or two.
This simple, economical project will give you years of enjoyment, so don't let another summer go by without creating the backyard you've always wanted. Here's everything you need to know so you can get started on installing your own gravel patio right away.
Why Build a Gravel Patio?
There are many advantages to choosing gravel for your backyard patio. Not only is it a very inexpensive option, but installing a gravel patio is a beginner-level project that you can easily do without any help.
Pea gravel is an excellent material because of its small size. This allows you to create a variety of unique designs using edging and borders for exciting gravel patio ideas for every outdoor style. The stones also drain naturally and won't crack during winter freezes and thaws. Many homeowners also prefer the attractive, natural look the stones create.
A gravel patio will make your backyard look beautiful and provide you with a functional space where you and your guests can dine, socialize, and relax. Even better, long-term maintenance is a breeze. This will allow you to enjoy a beautiful backyard patio that looks like new for many years.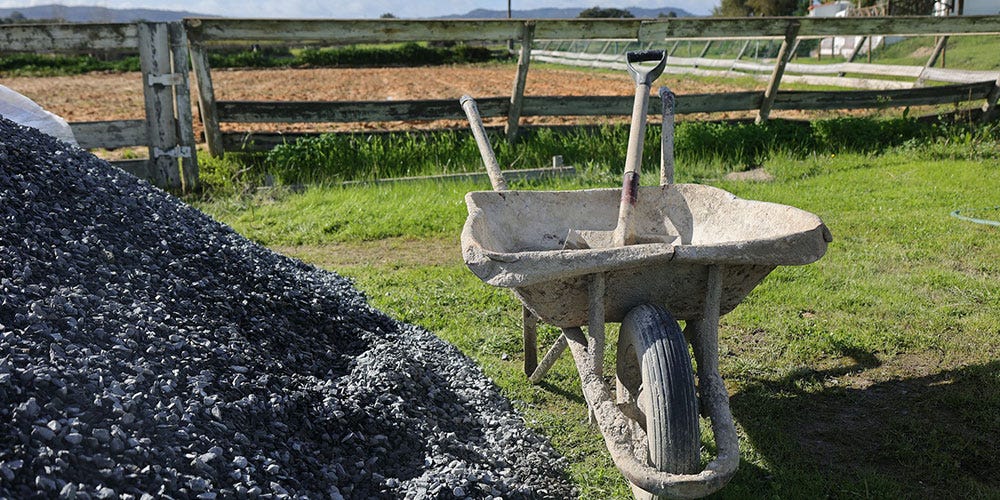 How Do I Build a Gravel Patio?
Building a 16 x 16 gravel patio will typically cost around $200 to $300 and usually takes about 10 hours to complete. Since there are so many options, it's a great idea to browse online for gravel patio ideas for inspiration before you get started. Once you have an idea of the size and style you want to create, follow these ten simple steps.
1. Select Your Backyard Patio Space
The first step to building your gravel patio is deciding where you want to place it. Ideally, you'll want to choose a space that's relatively level. If it's too steep, the small, round gravel will begin to shift. Also, look for an area that doesn't get too much foot traffic. Otherwise, it can create a mess. Finally, pay attention to drainage. If there's a lot of water coursing through the area each time it rains, the water may wash away your gravel.
2. Order Your Pea Gravel
Next, you'll need to ensure you order enough pea gravel. Generally, for a 16 x 16 backyard garden patio, you'll need 1.58 cubic yards of pea gravel.
Two inches is the ideal depth for a gravel patio. If you create a patio that's more than three inches deep, you'll find that it's difficult to walk on. Anything less than two inches won't hold up to the elements. Eventually, the gravel will wash away, leaving the ground underneath exposed.
When ordering your gravel, always round up. For example, if you were building a gravel patio that required 1.58 cubic yards, it's best to order a full two yards. This will give you some extra to work with and will also allow you to replenish any gravel areas that get low over time.
3. Locate Your Utility Lines
Before you begin your project, make sure you call the national "Call Before You Dig" hotline (8-1-1). This is a free service that provides markings for all utility lines on your property. Taking this precaution will ensure you don't accidentally hit an electrical or plumbing line while installing your gravel patio.
It can take a few days for them to come out to your home, so make sure you plan ahead. While you're waiting, take some time to locate any irrigation lines located in the patio area. This way, you won't ruin your sprinkler system during the installation.
4. Gather Your Tools and Equipment
The last thing to do before you begin this backyard patio project is to make sure you have all the tools and equipment you need. This will save you from the frustration of discovering that you're missing something part-way through.
The items you'll need to have on hand include:
Wheelbarrow
Shovel
Measuring tape
Bow rake
Hand sledge
Drill with a ½-inch wood bit
8-foot long landscape timbers (8)
12-inch #4 rebar pieces (24)
Landscape fabric
Garden staples
If there's a chance you'll run into root structures while excavating the land, a pickax or mattock will make the process easier. You may also want a garden hose with a spray nozzle to help with clean-up.
5. Excavate the Area
Once you've taken all the steps above, you're ready to get started on your dream gravel patio! Begin by excavating the area, using a shovel to remove all the grass, rocks, and any other debris. Once everything is out of the way, rake the soil until it's level and then either walk on the ground to compact it or use a hand tamp to tamp it down.
6. Create Your Frame
To create your frame, you'll need to start by laying out your landscape timbers. You'll need eight timbers to create a 16-foot square. Make sure the corners butt up against each other on one side and overlap on the other, so you have a perfect square.
Once you've laid out your frame, measure the opposite corners diagonally and adjust the timbers until both diagonal measurements are equal. This will ensure your patio frame is square.
7. Secure the Timbers
Use your drill to drill three ½ inch holes in each landscape timber. One should be in the center and the other two a few inches from each end. Once the holes are drilled, drive a piece of 12-inch rebar into each hole to secure the timbers. Do this using a hand sledge, making sure the top of the rebar is even with or slightly below the surface of the wood.
8. Lay Down Landscape Fabric
Now you're ready to roll out your landscape fabric. Make sure it covers the entire area inside your frame and that each fabric strip overlaps the next by about four inches. On each side, the fabric should extend an inch or two up the side of your containment frame.
As you lay the fabric down, secure it with fabric pins to hold it in place. Make sure you pin the fabric all the way around the perimeter and along all the seams.
9. Add Your Gravel
The last step is to load up your wheelbarrow and bring your pea gravel to the patio area. As you're adding the pea gravel, be careful not to tear the fabric. It's best to lightly toss a few shovels of gravel around the edges and along the seams to further secure the fabric before dumping large amounts.
Continue carefully adding your gravel, using a rake to spread it out. Keep repeating this process until you've reached the desired depth, then go over it with your rake one more time to ensure it's flat and level.
10. Enjoy Your New Patio!
That's it, your gravel patio is done! If you'd like, you can use the hose to clean off the gravel, giving it a fresh, new look. Then, it's time to kick back, relax, and enjoy the fruits of your labor.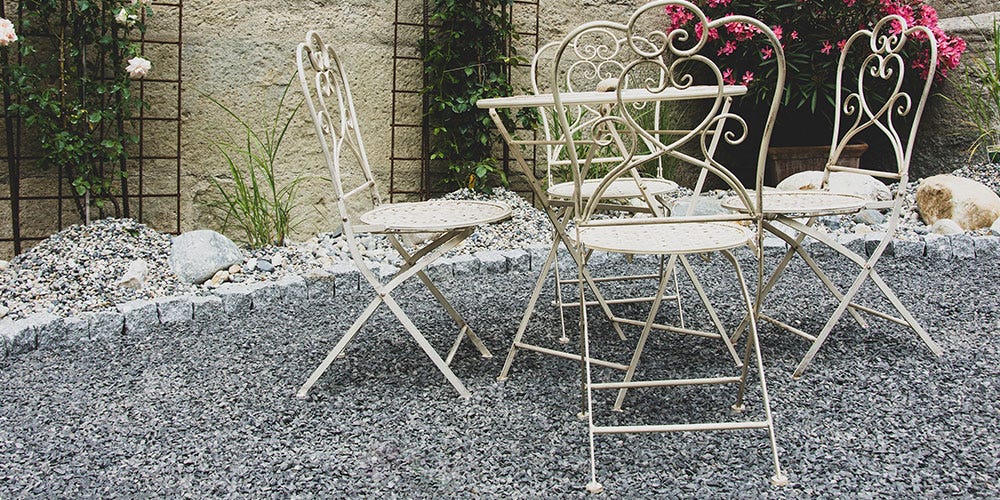 Gravel Patio Ideas for Supreme Style
Now that your backyard garden patio is complete, it's time to decorate. Take some time to think about how you plan to use your new space. Do you want to create a relaxing covered space, a dining area, or an entertainment center? Once you start using your imagination, the possibilities are virtually endless. Here are a few ideas to help you get started.
Backyard Gazebo or Pergola
Depending on the size of your new patio, you may want to add a structure like a backyard gazebo or pergola. Not only will this create visual interest, but it will also add even more value to your home.
A pergola is open at the top, providing partial shade. Many homeowners enjoy using this type of structure to create a designated dining area on their backyard patio. If you want more protection from the elements, you may prefer a backyard gazebo, which has a full roof and offers a spot to kick back and relax season after season.
Overhead Shade
For smaller gravel patios, a sail shade is an excellent option. This simple upgrade provides protection from the sun's harsh rays and will add a touch of class to your backyard space. They come in a variety of colors, so you can choose a neutral shade that blends in with the rest of your décor or use shades to add a vibrant splash of color to the space.
Fire Pit
A fire pit is one of the most popular gravel patio ideas out there. There's nothing quite like spending the evening gathering with family and friends around a fire. Not only will it create a warm, natural ambiance, but it will allow you and your guests to enjoy your new backyard garden patio well into the winter months.
Quality Outdoor Furniture
Last, but certainly not least, make sure you add plenty of comfortable furniture to your new patio. We love the idea of placing Adirondack chairs around a fire pit. Adding some decorative end tables will give you and your guests plenty of room for your favorite beverages and some snacks. If you do a lot of entertaining, you may want to consider adding a full dining table set or even an outdoor bar! Whatever style you choose, make sure you have some fun with it.
How Do I Build a Gravel Patio and Add Value?
Now that you know how easy it is to build a gravel patio, you should also know this can add not only a new level of style to your home. It can even increase your home's value by extending your living space and providing character and value. There is no reason to put off building a backyard patio. With just a bit of planning and a couple of days of work, you can upgrade your backyard space just in time for summer.
ShelterLogic has all of the outdoor structures and accessories you need to truly enjoy your new patio. Take a look through our site today for more inspiration.