Does seeing photos of happy families relaxing on their backyard deck make you green with envy? If so, you'll be glad to know that building a DIY deck is easier and less expensive than you think.
Not only does adding a deck expand your usable space, but it also adds measurable value to your home. While you can easily drop tens of thousands of dollars on a professional build-out, it's not a requirement! With a little elbow grease, you can create a beautiful backyard deck that's sure to make an impression. Follow these simple tips to build the deck of your dreams without breaking the bank.
DIY Outdoor Deck: Project Overview
How much does it cost to build a deck? Like most things, the answer to this question varies widely. Generally, to have a deck professionally installed, you can expect to pay $20 to $40 per square foot. This means that for a standard 300-square-foot deck, you're looking at a cost of about $6,000 to $12,000. However, by doing your own labor and using some creative design tips, you can often build a deck for just a few thousand dollars.
The design and materials you choose will impact both the cost and the amount of time it will take you to build a deck. Generally, you can build a beautiful platform deck in a single weekend – especially if you can recruit a few friends to help.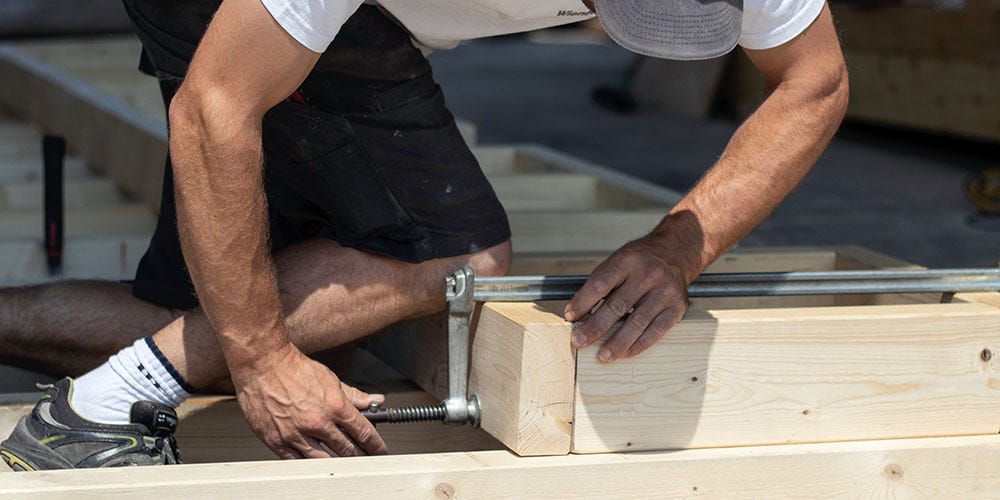 Affordable Deck Ideas
So, how do you build a deck without breaking the bank? Start by keeping things simple. Eliminating fancy designs, curves, and other time-consuming features will significantly reduce your costs. To make an even bigger impact, limit the overall size of your deck and try to choose dimensions that fit standard lumber lengths.
Getting creative with your building materials can also put a major dent in the expense. For example, you can sometimes get pallets for free or purchase them from a recycler or the manufacturer for far less than you would pay for standard lumber. With some ingenuity, you can use them to create an elevated deck at a fraction of the cost. You may also want to check flea markets, online marketplaces, and home improvement stores for salvaged materials.
Even if you don't have the time or ability to gather discounted materials, you can still build a deck on a budget. A platform deck is one of the easiest and least expensive DIY deck projects. Here's an overview of how to build on in eight easy steps.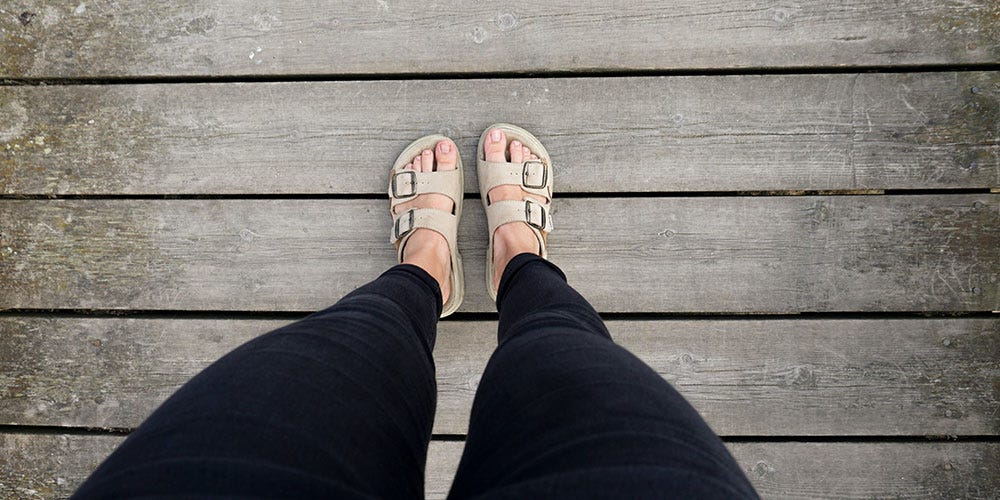 Build a Deck in 8 Easy Steps
Before you get started with your DIY deck, make sure to check with your local municipality to find out if you need to pull any permits and ensure your planned project meets all the necessary building codes. If you have a homeowner's association, you may want to check in with them as well.
While adding a deck to your home shouldn't be a problem, it's always a good idea to make sure you're following all the necessary requirements. There may be limitations on the size, height, or basic build-out. You're better off finding out about this before you begin. Once you're sure you understand the rules, you can build your deck with confidence. Simply follow these eight easy steps.
1. Design Your Deck
The first step of building a deck is to draw out the design. This will help you get your vision out of your mind and onto paper, where you can reference it as you build. When planning out your deck, make sure to take into account any features of your home that you'll need to work around.
2. Gather Your Materials
Before you begin any project, it's always a good idea to make sure you have all the necessary tools, equipment, and materials on hand. While the quantities will vary depending on the size of your deck, you'll need the following items:
Drill
Circular saw
Measuring tape
Level
Metal flashing
Pier blocks
2 x 6 pressure-treated boards
4 x 4 pressure-treated posts
2 x 6 cedar decking
Rustproof deck screws
3 1/2-inch lag screws
Caulk
Weatherproofing wood stain
3. Install Your Ledger Board
When you build a deck, properly installing the ledger board is one of the most important steps. Begin by removing the siding where the board will go. Then, attach a 2-inch by 6-inch pressure-treated board to the wall of the house along the entire length of the deck. Use a three-foot level to ensure the board is level all the way across.
Next, attach a drip edge by sliding a piece of metal flashing under the lip of the siding and bending it over the side of the ledger board. You can easily do this with a scrap piece of wood. Once the edge is in place, seal the top of the seam (where the siding and flashing meet) with caulk. This will protect both the ledger board and your home from water damage each time it rains or snows.
4. Set Your Blocks
The next step in your DIY deck project is to build the foundation. This is the most time-consuming step, but it's important to get it right. Your precision and attention to detail during this step will go a long way towards making the rest of your project go smoothly.
In this example, we'll assume you're building a 20-foot by 12-foot deck. In this case, you can add your 4-inch by 4-inch support beams at a distance of 5 ½ feet and 11 feet from your house. If you're planning to build a deck with different proportions, you'll need to adjust the numbers accordingly.
Begin by measuring out the desired distance for your first beam and set all of your pier blocks in place. Make sure both your pier blocks and your support beams are no more than six feet apart. Note that there may be local building codes that specify the required distance between your support beams. Make sure to check before you complete this step.
To set your pier blocks, dig a square hole for each, making sure to leave some room for adjustments. Also, place some gravel under each of your blocks. This will stabilize your foundation and help reduce erosion.
5. Add Support Beams
Once you've laid out all of your pier blocks and support beams, make sure they're parallel, at the correct height, and that the support beams are level. You'll likely need to make some adjustments before it's perfect.
Next, rest a joist on your support beam so it's flush with the top of the ledger board and perpendicular to it. Use a level to determine your desired slope. Some homeowners prefer perfectly level decks while others swear by adding a slight slope to ward off standing water.
Once everything is set correctly, use rustproof deck screws to attach the support beams to the pier blocks.
6. Attach the Floor Joists
Now, you're ready to attach your floor joists. Use standard face-mounting joist hangers and deck screws to secure your floor joists to your ledger board, taking care not to puncture your flashing.
Decide on the proper spacing and mark your rim joist accordingly. For a 20-foot by 12-foot deck, you'll want to add the joists 16-inches on center. Make sure the mounted floor joist is flush with the rim joist, flush with the dop, and centered on the mark. Then, attach each floor joist end with three deck screws. Toenail each side of the floor joists to your support beams, making sure they're 16 inches on center.
7. Add the Decking
Now that your foundation is secure, it's time to attach your cedar decking to the floor joists. Make sure to countersink each screw so you don't create a tripping hazard. If you use a 16d nail to create a uniform gap between each board, your deck will shed water appropriately. This step is easier if you have a helper or two, so one of you can measure while the other screws.
8. Finish and Stain
The last step is to give your deck some finishing touches. Fill the screw holes with a stainable wood filler and trim off the overhang, using your circular saw.
If you're using older or salvaged wood, you may also need to give your deck a good cleaning before you apply stain. A solution of six parts water and one part bleach and a deck brush should do the trick. Depending on the quality of the wood, you may also want to give it a quick sanding.
Once you've ensured the surface is clean, you can stain your deck. Make sure the weather will be sunny for the next few days, then apply a double coat of weatherproofing stain to both the top and sides of your new deck.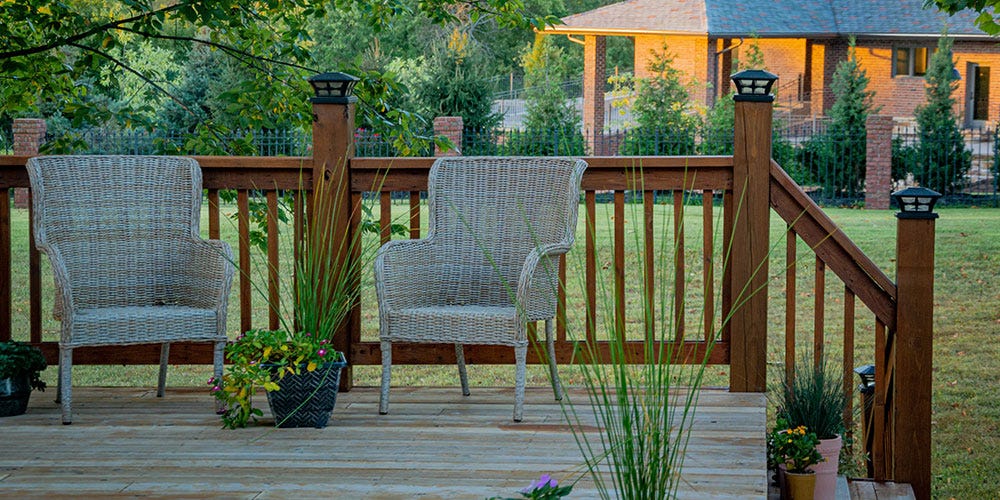 Top Deck Decorating Tips
Once your DIY deck is complete, you're almost ready to have your first summer party! The last thing you need to do is add some décor and comfortable furniture.
If you really want to take your deck up a notch, consider adding a hard-top gazebo. Not only will this provide a beautiful shaded seating area, but it will also add even more value to your home. Otherwise, shade sails are a simple, easy alternative. They're the perfect way to create just the right amount of shade, exactly where you need it.
Lastly, choose your outdoor furniture. This may include deck boxes, tables, chairs, deck coolers, and more! ShelterLogic has all the accessories you need to upgrade your patio and make it feel like a true extension of your home. Take a look through our extensive inventory today!