With summer winding down and temperatures dropping, it's every football fan's favorite part of the year. Now is the time to plan the perfect tailgate party complete with tasty food, fun drinks, and games for the whole family. But one thing every great tailgate party has in common is comfort and relaxation. Here are the must-have football party accessories no matter where you plan to celebrate the big game.
Accessories for the Best Stadium Tailgate Party
Planning ahead is essential to throwing a football party outside the big game. Whether watching kickoff from inside the stadium, or on a television by your camper in the parking lot, make sure to bring along these accessories to elevate the fun and comfort on game day.
Pop Up Canopy for Cool Coverage
Although the fall weather tends to usher in cooler temperatures, it doesn't mean you will be fully protected from the sun during a tailgate football party. Damaging UV rays can cause a sun burn in as little as 15 minutes and even lead to more serious issues like skin cancer. Add a pop-up canopy to any football party for superior comfort and safety while enjoying time with family and friends. Durable pop-up canopy options from ShelterLogic and QuikShade provide:
Long lasting shade and protection: These reliable shade solutions offer an array of sizes, colors, and styles for every tailgate party. Whether you need to shield one or two people from the sun, or several, you'll be able to find a product that fits your budget and needs.
Incredible strength: Durable fabric blocks 99% of harmful UV rays. Choose from canopy options with hardened thru-bolt reinforced assembly for added strength especially on breezy days.
Simple assembly and transport: These tailgate party pop-up canopies can be assembled in minutes with just one or two people. When the game is over, simply pack up into the included carry bag for easy transport and storage with no hassle.
Camping Tables Add Relaxed Atmosphere
You'll need a sturdy spot to set up a grill top, food, or even your television set for any football party. Roll-up camping tables are high-quality and incredibly versatile, providing a cozy place to relax as well as a spot to set up hot dogs and hamburgers for tailgate guests. Choose from smaller tables or larger options with 400 lb. weight capacity. There's even an expandable table for the best of both worlds. These heavy-duty tables also include:
Lightweight construction: These tailgate party tables aren't heavy, which makes transport to and from the game hassle-free.
Simple assembly: It only takes a few minutes to set up these high-performing tables leaving more time for fun.
Aluminum slats: Heat dissipating slats make this table perfect for placing hot food or tabletop grills.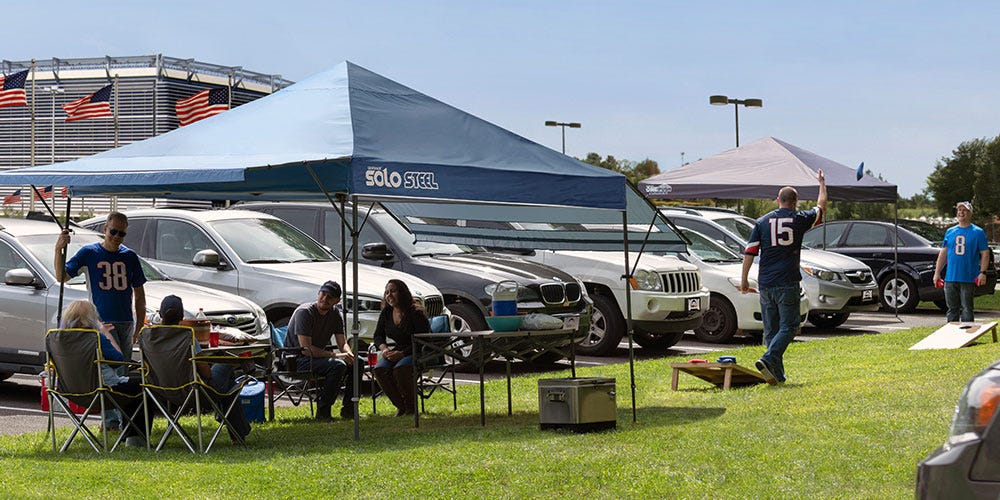 Kick Back in Camping Chairs
Add comfort and style to any tailgate party with strong and sturdy foldable chairs. Everyone will enjoy the food and drinks more with a simple seating solution. Kick back and relax with camping chairs packed with extras like cup holders and even a canopy for added shade. Choose from an array of tailgate party chairs ideal for just outside the stadium. Choose from chairs with features like:
Higher arched backs for increased comfort
Mesh side pouches to keep your phone and keys close by
Moisture resistant fabric for superior durability
Steel frame for long-lasting construction
Included carry straps and bags for simple transport
Keep Tailgate Party Drinks Cool All Game Long
When you're ready to serve up delicious tailgate party cocktails, you'll want to make sure to have a reliable cooler to keep drinks and ice cold for everyone's enjoyment. For a larger gathering, choose a roomy stainless steel cooler. Ideal for on-the-go use, it also has the ability to hold up to 85 cans. These coolers offer a simple way to keep cold drinks flowing for the entire tailgate football gathering with incredible features including:
Stylish designs with sleek and modern construction
Built-in can opener
Stainless steel rust-proof drain cap
Throw Your Own Backyard Football Party
Not every tailgate party has to be outside the big game. Forget game day traffic and having to transport all your gameday gear to the stadium. In fact, you can still show your team spirit right in your own backyard with a few key accessories to make the gathering pleasant no matter the climate.
Grill Gazebo Options for Every Grill Master
If you are the master of the grill for every tailgate party, choose a shelter that caters to your every need. Grill gazebos are the perfect blend of style and function, with the ability to keep you cool while cooking and provide a great place to keep food out of the direct sunlight. Simply place our grill under the shelter and enjoy the shade while cooking up your favorite game day snacks. These grill gazebos also have:
Ultimate strength: These tailgate party shelters are made to last, manufactured with a galvanized steel roof that protects against rust and corrosion.
Convenience: Use your grill gazebo as a place to prepare your food, and a spot to serve it thanks to convenient shelves. You won't have to worry about going back and forth to place items on the counter with the added space.
Style: You don't have to be hosting a tailgate football party at home to enjoy the modern aesthetic of a gorgeous grill gazebo. This structure makes an ideal focal point for any backyard oasis.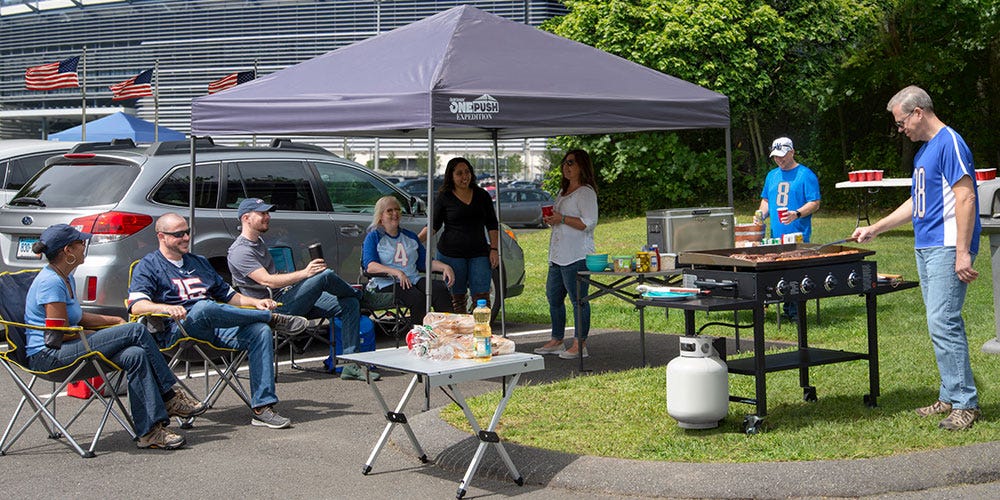 Backyard Gazebos for Relaxed Comfort
A backyard gazebo is ideal for any homeowner looking to add a touch of elegance and plenty of functionality to your outdoor space. These gorgeous structures provide protection from intense heat and can even add value to your home. Choose from several options based on your budget and needs, including:
Hard top gazebos: These versatile shelters are ideal for any football party, providing cozy shade with a durable polycarbonate roof that can stand up to Mother Nature. Enjoy longevity thanks to its rust resistant design and choose from an array of aesthetically pleasing colors to match your outdoor décor.
Soft top gazebos: A shelter with a soft top has all the style and charm of a hard top gazebo with a smaller price tag. Made with ultra-strong steel frames, these gazebos are ideal for tailgate football parties right in your backyard.
Wall mounted gazebos: Extend your inside space with a gorgeous gazebo that attaches to your home. You'll enjoy easy access to the kitchen and protection from the rain and intense heat during any football game or outdoor gathering.
Rolling Cooler Options Add Convenience and Style
When hosting a tailgate party in your backyard, it may seem convenient to leave drinks in your refrigerator inside. But you don't want to miss a moment of the big game. For entertainment and convenience, add a rolling cooler to your backyard for any outdoor event. These gorgeous stainless steel options blend durability with function, including features like:
Powder coated steel construction for rust resistant finish
Easy rolling wheels for transport
Bottle openers built into cooler
Enjoy the Game in Cozy Portable Chairs
You may not have enough seating when inviting a big group over for a football party. Having portable chairs on hand is a simple way to ensure your guests are comfortable. These seating solutions are made for the outdoors and are packed with extras to make sure your guests are just as comfortable outside as they are in the living room. From classic folding chairs to deluxe options complete with a canopy, these chairs will create a cozy atmosphere for the big game. Chair options include:
Covered chairs with adjustable height options
Seating solutions packed with create comforts like cupholders and cell phone slots
Options for the big and tall with 500 lb. capacity
Tailgate Party Accessories for Ultimate Comfort
No matter where you plan to cheer during the big game, these must-have accessories will bring comfort, style, and function to your gathering. When football season is over, these shelter and seating solutions can be used again and again thanks to their incredible durability and versatility. Whether it's in your own back yard or at the stadium, never sacrifice comfort or convenience with these high-quality accessories.