When the temperatures start to dip, it's time to begin to think about how to keep your horses safe during cold weather. The good news is that horses are inherently ready to handle practically anything that winter can dish out, according to the American Association of Equine Practitioners. The biggest challenge winter horses face is staying out of the wind.

Aside from making sure their water doesn't freeze over, and perhaps even blanketing them, providing a shelter from the weather is a great way to ensure their health and well-being. However, problems can occur when strong winds ruffle the horse's hair and disturb the insulating layer of warm air trapped beneath it. Wet weather, especially cold driving rain or sleet, can also flatten the hair coat, chilling the horse.

In the winter, horses' long wintertime hair coat traps air next to the skin, which helps insulate them against the cold. Winter horses with bodies in good condition can withstand temperatures down to -40 degrees Fahrenheit without difficulty.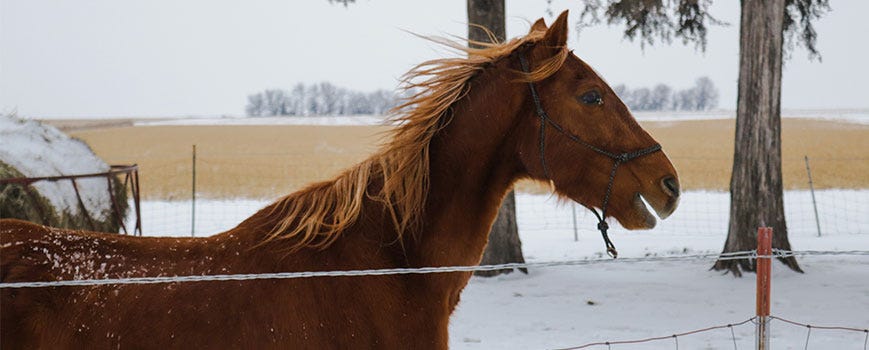 Winter Horses Need Fresh Air and Exercise
Horses maintained in an enclosed barn should be exercised regularly to maintain muscling and health, according to the Penn State University College of Agriculture Sciences. Even in the winter, barns can easily become stuffy and unsanitary. Low ventilation exposes horses to dust and bacteria from their feces, feed, and bedding which leads to mucus and respiratory inflammation. Such confinement can also have a negative impact on your horse's colon and intestinal health because of their limited mobility much of the day.

While barns and stables are great for sheltering horses at night, they're not adequate to keep animals protected during the daytime. Although horses need shelter from cold winds, rain, and snow, the university says it is not necessary to keep them in a closed barn throughout the winter.

In harsh winter weather many horses are often stabled for days at a time. As long as they have unlimited access to hay, salt, and water most winter horses are perfectly happy to remain in stalls. The Equine Science Center at Rutgers University says that efforts should be made to winter horses out for exercise as often as possible during the winter. One way to do that is to give your winter horse the freedom to come and go from the barn during daylight hours.

If your winter horse is going to be outside most of the time, you'll need to have a shelter that protects him from the prevailing winds and from precipitation. Horses with access to a shelter will lose 20% to 30% less body heat than those without protection. Horses kept outdoors in the winter with access to a run-in shed that opens away from the normal wind patterns will generally have fewer respiratory disease problems than horses kept in poorly ventilated, heated barns.

With a run-in shed, a winter horse can take shelter during a rain or snowstorm, so its protective hair remains dry and fluffed. When the precipitation ends, the horse can emerge and be comfortable even though the mercury has drops below zero. Horses maintained in an enclosed barn should be exercised regularly, to maintain muscling and health.

ShelterLogic has developed a variety of exceptional, practical shelter products for farmers, ranchers, and anyone who cares for animals to use on the farm. From inventive corral shelters that attach to existing corral panels to tough, sturdy run-in shelters, you can depend on a quality equine and livestock shelter from ShelterLogic to protect your horses, livestock, farm equipment, feed, and more.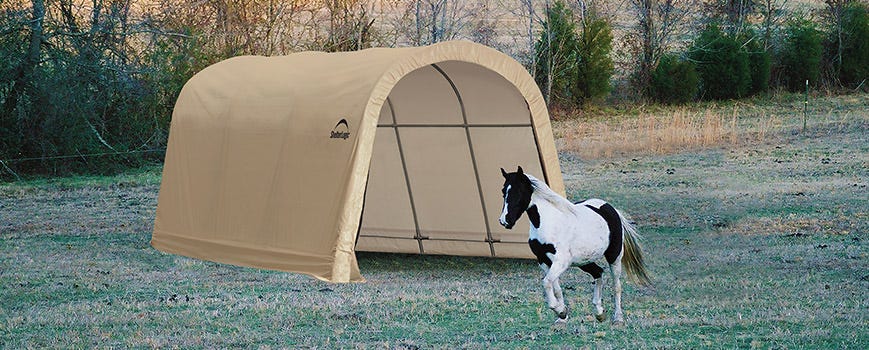 Run-In Sheds for Winter Horses
Research from the University of Minnesota shows winter horses become more temperature tolerant when offered a shelter. In fact, if they have access to shelter, they can withstand temperatures well below zero.

You want to find a shelter that keeps your winter horses safe from the winter weather. But you also don't want to confine them too much. That is why run-in sheds are a fantastic choice.

Run-in sheds manufactured and sold by ShelterLogic are tunnel-like structures that have a powder-coated steel frame and a heavy-duty fabric cover. Since they are open at both ends, your horses and other livestock and walk in one end and exit the other without needing to turn itself around. Here are some cost effective and easy-to-assemble shelters from ShelterLogic for your winter horses.
The Run-In Shed-in-a-Box is a convenient option that will give your horses adequate shelter. It also has protective boots at every corner to keep your horses from getting hurt. This choice is ready to build right out of the box, too! You can even use it for storing other farm equipment in a pinch. This option also includes:
Patented ShelterLock Steel Stabilizers at every rib for a sturdy frame
High quality powder coated steel frame resistant to corrosion and rust
Sturdy ripstop UV treated cover
This Run-In-Shed from ShelterLogic is another great choice that will give your animals an added layer of protection from chillier weather. The high-grade steel frame is powder-coated and chip resistant. The 3-layer polyethylene cover is UV-treated, and specifically designed for equine and livestock. Fabric corner boots are included to protect your animals from ratchets and tie-downs. This option also has:
Professional grade all steel frame
White interior lining for enhanced illumination
Ratchet Tite tensioning for quick cover installation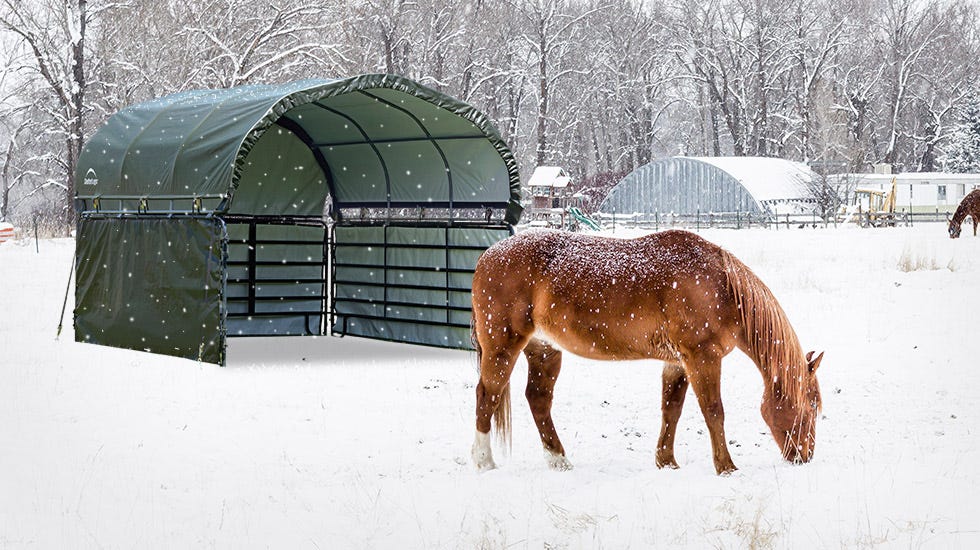 The Corral Shelter: Portable and Functional Protection for Winter Horses
If you're looking for a shelter that is a bit more versatile, you may want to consider the Corral Shelter. Our Corral Shelter unit is a portable frame and cover with a universal attachment. Simply attach the unit to corral gates and create a shelter for horses and any livestock virtually anywhere in your field. It is an excellent alternative to other units and offers shade and protection for animals when and where they need it most. A few things that make the Corral Shelter stand apart include:
Upgradeable cover options
Choice of powder coated frame or galvanized steel frame
Wrap-around cover option available (sold separately)
Storing Feed in the Winter
When it comes to keeping your horse healthy in the winter months, keeping their feed in a safe spot is important, too. The Horse suggests keeping hay and grain sheltered from the winter weather to prevent mold or combustion.

While this AG Series Storage Shelter could certainly house your horses, it serves as the perfect waterproof bulk storage solution. While it provides spacious shelter, it is still simple to set up thanks to slip fit connectors and Ratchet Tite tensioning for quick cover installation. This shelter also includes:
All steel frame with powder-coated finish
Easy Slide Cross Rail system for continuous frame to fabric fit
Ripstop fabric cover with added fade blockers
Keep Your Winter Horse Protected from the Elements
Winter is a wonderful time to ride and enjoy our horses. However, it is important that we use common sense to meet your winter horse's special demands of cold weather. Neglect can be the worst thing that happens your horse during the cold winter months. Most winter horses that are free to roam the pasture only return to the barn or the stable at dark or at feeding time.

Keeping your winter horses safe from tough weather is as simple as making sure they have adequate shelter. With these run-in shelters and sheds, you can rest easy knowing your horses are comfortable and healthy, even in the winter.