With the holiday season behind us, and the promise of spring around the corner, now is a great time to start thinking about your backyard garden. Getting a head start on planning your garden can save you a ton of valuable time in April and is a fantastic way to spend a few hours in the meantime.
In recent years there have been a couple of very neat trends emerging in backyard garden design, and so in this article, we'll look at some awesome creative backyard garden ideas for spring 2022; we'll also go over some general gardening tips and tricks and recommend a few great ways of adding flair and functionality to your backyard.
Know your plant hardiness zone
Plants and flowers are, of course, the stars of the show in any garden, but before you can plan your dream backyard garden for spring 2022, you'll first need to know which types of plants will thrive in your local area, and for that, you should consult the USDA plant hardiness zone guide.
Different regions have different climates and different weather patterns, and as such, will be more conducive to some species of plants and not others. So, make sure you know what will work in your area, and choose your spring lineup of seeds and bulbs accordingly. Once you know what plants will thrive in your area, then you can start picking out the best flowers and plants for your garden this spring, and that's when the fun begins.
Eye-popping plants for 2022
Every spring is a blank canvas when it comes to planting your garden, and this spring is no exception. Whether you like Gerbera's, Senoritas, Begonias, or Roses, there are plenty of eye-popping plants available that will make your garden stand out from the crowd and get the attention it deserves. Now, if you really can't decide on what to plant this year and you want to make the biggest impact on those looking at your garden, then consider some of the beautiful new varieties available for the upcoming 2022 spring season.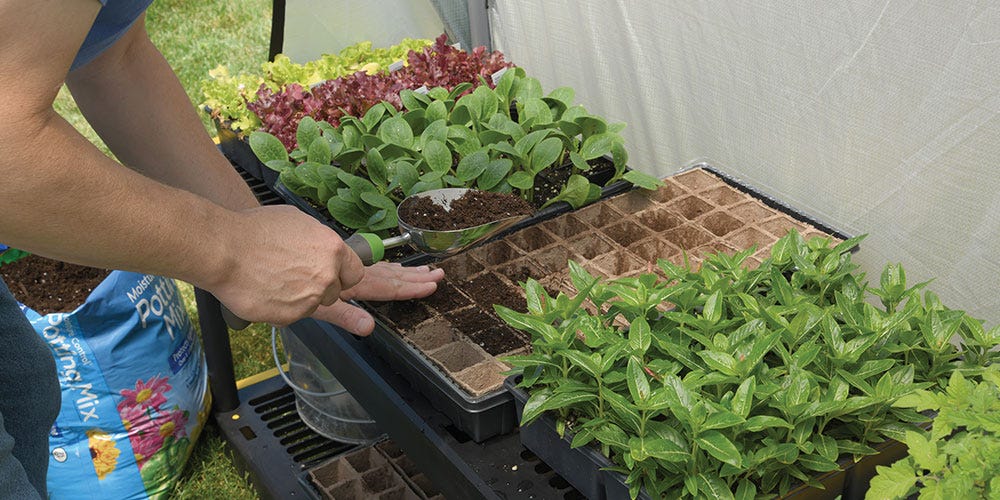 How to start seedlings in a greenhouse
So, you've checked the plant hardiness zone chart, looked at all the new varieties on offer this year, and picked out the perfect arrangement of plants and flowers for your backyard garden – good work! The next thing to do is to start your seedlings early in a greenhouse so that they'll be ready to move into your garden on the first day of the season, which will give you the best chance of having a beautiful garden later on in the summer months. But how do you start seedlings in a greenhouse?
Using a greenhouse to start your seedlings is easy. There are only a few steps in the process, sowing your seeds, watering the seedlings, and then caring for the newly sprouted plants and flowers. Let's briefly go over each of these steps in more detail.
Step One – Sow your seeds
Sowing your seeds is as easy as could be. What you need to do is fill up some gardening trays (or pots) with soil and add two or three seeds to each punnet. Once your seeds have been positioned, you can then cover them over with more soil and give the entire tray a good misting. Next, simply position your tray in your greenhouse, ideally where the seedlings will have access to a good amount of light.
Step Two – Water your seed trays
Once your trays have all been positioned correctly in your greenhouse, you'll want to connect a hose so that you can water them. Alternatively, you can set up automated misting by using timers, but that will be an additional expense that really isn't necessary if you're willing and able to water your seedlings every couple of days.
In general, you should avoid overwatering seeds and seedlings as they can drown very quickly, especially when they first sprout. A light but even misting should be perfect and will have your plants thriving in no time. Consider purchasing a handheld mister or squirt bottle with a mist nozzle, as this will be much more gentle on your young seedlings than a garden hose.
Step Three – Care for your seedlings
Once your seedlings have reached a height of a few inches, it will be time to transplant them. You'll want to transplant new seedlings into a small pot and subsequently into a larger pot before they go into your flower bed. Remember to provide your seedlings with plenty of fertilizer and nutrients during the early stages of growth so that your plants have everything they need to grow their best.
Protect your plants from direct sunlight
So, the time has come to transplant your flowers into your backyard garden, which means you'll need some way of protecting them from the heat and harmful UV rays of direct sunlight. There are a few different backyard garden features that are suitable for the task, but three, in particular, are trending in 2022 and will have the biggest impact when it comes to improving the look of your outdoor space. Let's go over each one in some detail so that you can choose the perfect plant protector for your backyard garden this spring.
Shade Sails
Shade sails are a timeless and beautiful way to enhance the look and feel of your backyard garden. It just so happens that they are an excellent way of protecting your plants from the scorching sun as well. Shade sails come in many different shapes and sizes, so chances are you'll be able to find a color you love in the perfect size to make your garden look its very best. Remember to position your shade sail correctly so that your plants will still get plenty of indirect light without being bombarded by the harshest rays of the sun.
Pergolas
Pergolas are another fantastic option for protecting your plants and flowers from direct sunlight. Pergolas provide shelter for your plants by shading them from behind and on the sides while still allowing your garden to receive plenty of indirect light from the open side, which should, of course, be positioned away from the direct sunlight. Like shade sails, there are all kinds of pergolas available on the market, so it shouldn't be too difficult to find one you love.
Canopies
When in doubt, go with a canopy. Canopies are without a doubt one of the most attractive backyard garden features and do an excellent job at keeping the direct sunlight away from your plants and flowers. The options are endless when it comes to choosing the perfect canopy, so like with shade sails and pergolas, you should look around and find a size, color, and material that will work well with your backyard décor and suit your personal design sensibilities. Pop-up canopies are always a great choice because they can quickly be dismantled and stored for future use when the gardening season is over.
Incorporate your garden shed
Your garden shed is much more than just a place to store your tools and equipment. Sure, it is the best solution for storing these things, but it can also serve as a great focal point that compliments not only your garden but your backyard as a whole.
Remember, it's a good idea to organize your garden shed so that you'll have a neat and functional space where you can easily find all of your gardening tools and equipment when you need them.
Another great idea is to keep a gardening calendar in your garden shed so that you'll know when everything was planted when your garden needs to be watered, and when to add fertilizer and nutrients to your plants and flowers. Also, be sure to record any rainfall on your calendar so that you can avoid overwatering your garden when the weather is wet.
Spring Is Always Around the Corner
With spring around the corner, now is the perfect time to start thinking about and planning your backyard garden for the 2022 gardening season.
There are tons of creative ways to take your garden from good to great, such as picking out the latest and greatest flower varieties, starting your seedlings good and early in a greenhouse, using shade sails, pergolas, and canopies to add flair to your yard while protecting your plants and flowers from the full force of the sun, and of course, keeping a neat and tidy garden shed.
By doing all these things, you can be ten steps ahead of the game when the warm weather arrives, and you'll be able to get the most enjoyment from your backyard garden for the rest of the year.