Renting storage can get pricey whether you need garage storage space for a small landscaping business or bustling construction site. Since the pandemic began, prices for storage rentals have increased due to demand. That's why many people are interested in purchasing customizable storage solutions to fit their unique needs. From fabric to all-steel structures, there are a variety of reasons why these options are a solid investment. Here are 4 garage storage ideas you can personalize to fit your property in order to protect belongings.
Benefits of Storage Solutions
Purchasing customizable garage storage options for a property can be a sizeable investment for a small or large business. But the benefits likely outweigh the costs. Here are several benefits to consider when deciding on which custom storage solutions you need for your home or business.
Personalization: Customizable garage storage solutions provide a wide range of options from size to color and material. The benefit of purchasing these shelters means you don't have to invest in a building that is either too big or too small for your needs. Instead, you can build the ideal shelter depending on its intended use.
Convenience: Having storage solutions on your business' property can help with productivity and certainly level up on convenience. Instead of having to travel offsite to collect what you need, you'll have it on your property at a moment's notice.
Protection: Whether you own a construction or landscaping business, materials and vehicles can certainly fall prey to rough weather. They can also be a target for potential thieves when left out in the open. Having reliable storage solutions on your property will protect items from the elements and burglars so you can ensure your belongings stay safe.
Affordability: Say goodbye to monthly fees when storing materials and vehicles offsite for any industry. These customizable garage storage buildings will save that cash every month while providing incredible value and protection.
Simple assembly: Most of the time, these custom storage shelters won't require a building permit. And compared to a permanent concrete building, these storage solutions are much easier to put together and require less labor.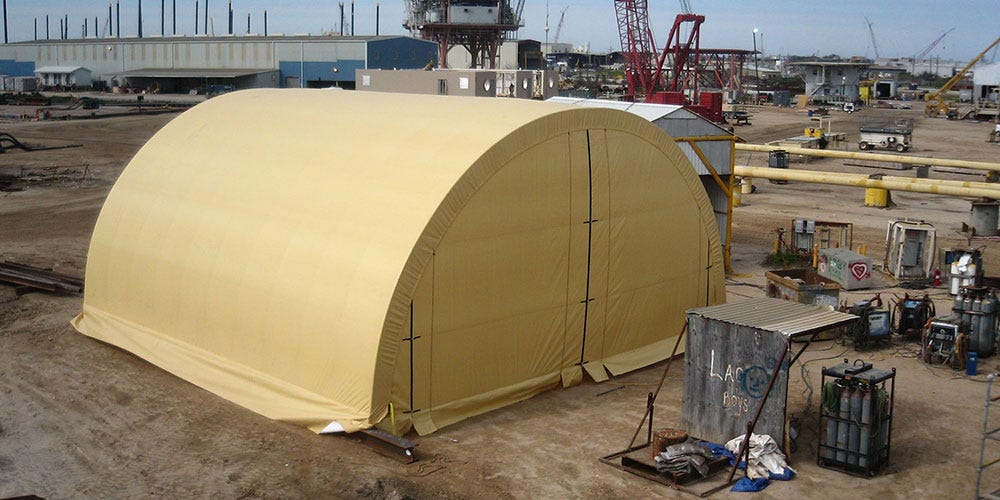 Convenient Garage Storage Ideas
The possibilities are endless when it comes to garage storage ideas. Whether you own a small business or a large corporation, or just need a space for a potting shed, storage solutions can increase efficiency and lower costs. Here are common garage storage ideas.
Construction sites: Construction sites can benefit from custom storage by providing a space to store equipment and materials that will offer protection from weather and potential thieves.
Landscaping business: From lawn equipment to mulch, a landscaping business can benefit from a small shelter to a larger custom building.
Farms: There are multiple ways to use custom storage buildings on a farm, from livestock to hay and large equipment.
Auto repair: Store cars and auto repair tools in a shelter that is fully protected from the harsh UV rays and other elements.
Potting shed: Create your own getaway near the garden complete with a potting bench and all the lawncare tools you need to cultivate the perfect environment for your plants.
Home office: Transform a custom storage unit into a home office if you've just started working from home and need additional space without taking up an extra room in your house.
Healthcare: For small or large companies, a custom storage shelter can act as a place to temporarily keep staff out of the sun and the elements. In addition, it can be utilized as a spot to keep materials during a mobile healthcare event.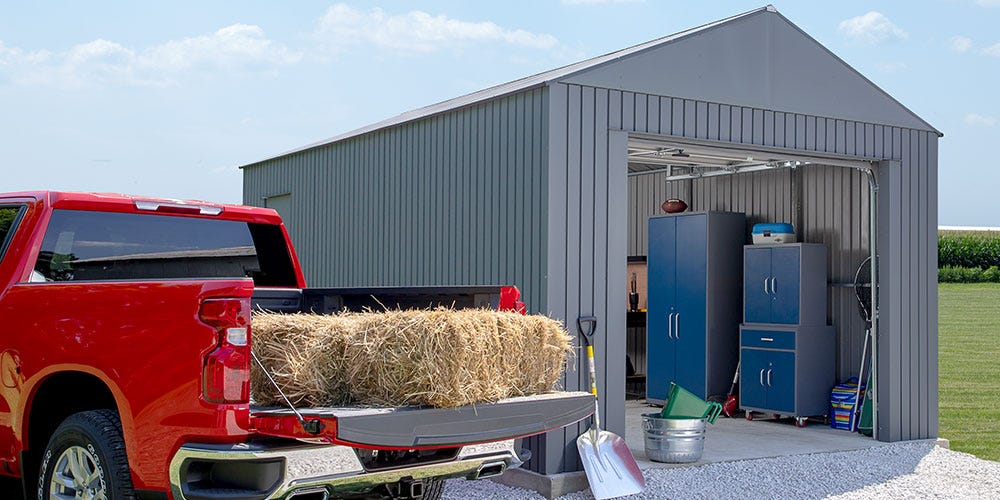 Fabric vs. Steel Garage Storage Buildings
Both options provide premium protection for your belongings. However, it's important to note how these two storage shelters differ in order to decide which one will best fit your needs.
Fabric Storage Solutions: There are several incredible benefits to purchasing fabric buildings. First, they are more affordable when compared to all-steel garage storage options. If budget is top priority, this may be a great option for your property. They can also be built in a flash with easy assembly, taking hours or days as compared to weeks for many more permanent shelters. The portability is also a huge plus, especially if you plan on utilizing them on different parts of your property. Maintenance is also tremendously easy. If a cover rips or becomes damaged, there's always an option to replace it at an affordable price.
Steel Storage Solutions: These garage storage options have unbeatable durability, built to last season after season. Although they tend to be more expensive, they are also made to stand up to Mother Nature. Manufactured with high-quality steel that resists corrosion and chipping, you can rest assured all your belongings will stay safe from the weather as well as potential thieves. These shelters also offer a variety of color options including a durable paint that provides your property with a touch of elegance.
S4 Customizable Storage Solutions for Your Property
Whether you decide on steel or fabric storage solutions, they all provide reliable protection from the elements at an affordable price point. Here are 4 custom storage buildings to personalize in order to fit your needs.
When you need powerful protection, but also need a storage solution to be fully customized to your space, ShelterCoat is an ideal choice. ShelterCoat custom storage options provide rugged, all-weather protection at an affordable price. The all-steel frames offer unmatched stability in wind and snow. You can choose your own size, shape, color, and fabric thickness. Sizes range up to 100 ft. long for a variety of uses, whether you need a backyard storage area or a commercial unit. ShelterCoat also includes:
Strong powder coated frame that staves off rust and corrosion
3 fabric options up to 21.5 oz thickness for incredible protection from the elements
Frame stabilizers and Ratchet Tite system create for increased stability
ShelterTech are another top choice when it comes to fully customizable garage storage buildings for your property. Whether you need space for bulk storage on a large farm, or a small footprint for a DIY auto shop, ShelterTech has a wide array of options for every need. Choose from three shapes including peak, round, and barn. The quality UV-treated polyethylene cover comes in two different options. These wind and snow-rated buildings are built to last, offering supreme protection along with:
Simple assembly thanks to universal foot plates on nearly any surface
ShelterLock stabilizers for sturdiness
Galvanized steel frame for protection against rust and corrosion
ShelterTube Garages
Although these storage solutions are heavy-duty and built large enough for bulk storage, they can also be personalized to fit smaller storage needs. The steel square tube frame creates a building with impressive durability that can withstand up to 80 mph wind speeds and a 43 PSF snow load. Choose color and size options to fit your property and aesthetic, and spend less time erecting the shelter thanks to simple assembly. ShelterTube also offers:
Options to customize length and width options up to 100 ft. long
Stable structure thanks to bolt through connections
Sleek peak-style roof with multiple color options for ultimate personalization
SOJAG garage storage options are spacious and built tough, manufactured with Galvalume steel, which is thicker and more durable than other steel storage options. These garages can be built to your specifications up to 100 ft. long for unique storage needs in any weather. Ultra-high walls and a roll-up door makes storing items easy. A 100 mph wind rating provides unmatched strength and durability. SOJAG also offers:
Premium paint textured finish for stylish aesthetic
35 PSF snow load rating for protection in winter months
Lengths available in 5 ft. Increments for impressive customization
Durable Garage Storage Solutions for Every Property
Whether you choose a fabric or all-steel storage solution, it's important to find an option that can be personalized from start to finish. From sheds with a compact footprint, to spacious shelters for large-scale businesses, there are a variety of benefits to purchasing customizable storage buildings for any property. Choose your own color, size, material, and shape for the ideal shelter that perfectly fits your unique needs. Your belongings will be safe from the elements all at an affordable price with these superior custom garage storage options.