If you're looking for a way to upgrade your outdoor space this summer, you might have started thinking about installing a backyard deck or patio. While both options will provide you with a relaxing space you can enjoy for many years, there are some significant differences.
When it comes to deciding between a deck vs. patio, you'll want to consider your budget, lifestyle, and personal preferences. Here's everything you need to know so you can decide which is right for you.
Deck vs. Patio: What's the Difference?
Before you can decide whether to invest in a deck or a patio, you need to understand the differences. A patio is typically built at or around ground level. These versatile structures are often made of concrete, brick, stone, pavers, or tiles. You can also make a patio out of pea gravel, rocks, or pebbles.
A deck is usually made of wood or wood composite. Some of the most common deck materials include pressure-treated pine, cedar, and redwood. Most are raised, allowing you to take advantage of your home's views. Since they're elevated, most decks also need a railing.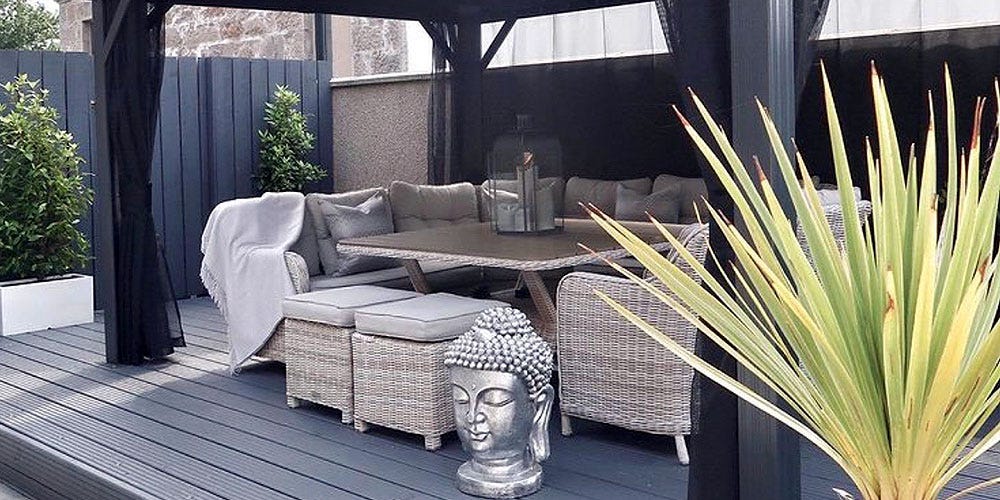 Cost Comparisons
One of the major differences between a deck and a patio is the cost. Generally, patios are far less expensive to install than decks. However, decks may provide a higher return on investment. Here's a closer look at both.
Cost of Installing a Patio
Having a patio professionally installed costs approximately $5 to $50 per square foot, with the average running between $8 and $20 per square foot. For a standard 16-foot by 18-foot patio, you can expect to pay anywhere from $1,450 to $14,500. Your final cost will depend on several variables including where you live, the complexity of the design, and the materials you choose.
The estimates above include a labor cost of about $5 to $15 per square foot. You can save a significant amount of money by building your own patio. However, don't forget that what you save in money you'll spend on both time and labor. The materials will generally cost you between $1 and $35 a square foot, bringing the cost of your 16 x 18 patio down to a range of $288 to $10,800.
Cost of Installing a Deck
Decks are significantly more expensive to install than patios. When determining the overall cost, it's important to remember that there are quite a few variables. In general, having a new deck professionally installed will run you anywhere from $4,086 to $11,224. A standard 16-foot by 20-foot deck with a built-in bench costs an average of $16,000.
A wood deck generally costs about $13,000 while composite materials will bring the price up to about $19,000. If you're adding a deck on a second story or you want a unique design, this will also increase the price. Expect to add about $8 to $20 per square foot to the base price. This represents a cost increase of about 30% to 60%.
Considering a DIY deck? You'll end up paying about 65% of what it would cost you to have one professionally installed.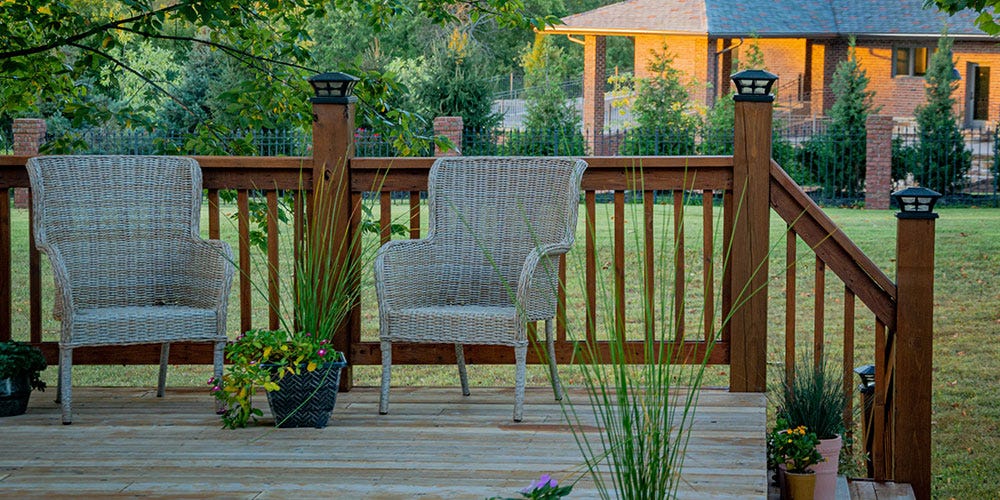 Pros and Cons of Backyard Decks and Patios
If cost was your only concern, then the patio would be the clear winner in the deck vs. patio debate. However, there are many other factors to consider before making your final decision. Let's take a closer look at some of the most important pros and cons of each option.
Return on Investment
Whether you choose a backyard deck or patio, you'll enjoy a nice return on your investment (ROI). With an average ROI of about 80%, the deck is the clear winner here. However, a patio will still bring an ROI of about 55%, which is nothing to sneeze at.
Maintenance and Longevity
Many homeowners prefer a backyard patio because they're very easy to maintain. While a natural wood deck can make a beautiful addition to your home, you'll need to put some effort into ensuring it maintains its like-new appearance. This includes power-washing it every year and staining or resealing it every two years. A wood composite deck doesn't require as much maintenance but is also more expensive.
Patios have a longer lifespan than natural wood decks. However, there's still the chance they may suffer from cracks or stains. If this happens, you'll need to make minor repairs to keep it looking great. Other than that, you'll just need to clean your patio occasionally and inspect it for cracks to make sure you don't end up with water leakage under the surface.
Depending on the materials you chose and how well you keep up with maintenance, you can expect a patio to last 25 years or longer, while the average lifespan of a wood deck is about 10 to 15 years.
View vs. Privacy
When trying to decide between a deck vs. a patio, it's important to consider your home and your lifestyle. An elevated deck will allow you to take advantage of great views, which could be a major benefit if you live near woods or water. On the other hand, since they're generally built close to the house and flush with the ground, a patio will offer you more privacy.
Installation
A patio is an easier DIY project. Installing a patio also typically does not require permits or inspections. This can be a great advantage if you don't want to deal with extra requirements. Of course, you'll want to check your local ordinances before you start either project.
The area where you'll install your backyard deck or patio will also impact your decision. If you're dealing with large slopes or uneven terrain, a patio may not be a viable option for you. In this case, a deck will almost always be the better choice.
Climate Considerations
Stepping on a hot surface with your bare feet is no fun! If you live in a climate where the temperatures regularly soar, you might be happier with a wood deck. They naturally absorb and retain less heat than a concrete or stone patio.
Patios also tend to get slippery when wet. If you live in an area where it freezes, keep in mind that this flat surface can become a hazard if ice forms on it.
Weight Restrictions
If you're planning to add a hot tub, large grill, or other heavy items to your new outdoor space, it's important to note that decks have weight restrictions due to their elevated height. In this case, a patio might be the better option for you.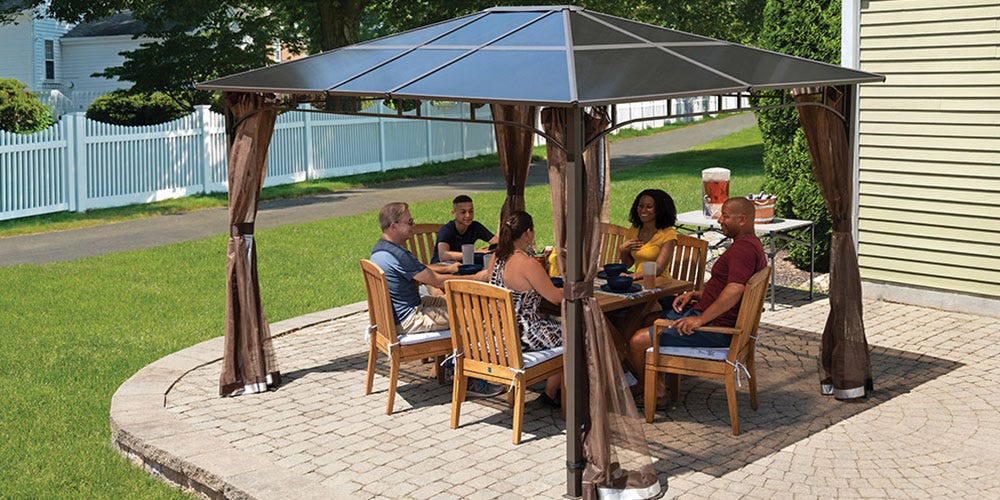 Features and Upgrades
Whether you choose a backyard deck or patio, there are plenty of ways to personalize your new space. Here are a few of our favorite ideas.
Add Some Shade
While you may enjoy soaking up the sun, you and your guests will enjoy your deck or patio much more if you have at least a bit of shade. A decorative sun shade is an inexpensive yet classy option that would cover only a portion of your patio or deck. They're often used for covering your dining or seating area.
If you want to really upgrade your space, consider adding a gazebo to your deck or patio. This will create visual interest while also providing a larger, more permanent shaded area. You may also want to add gazebo curtains, which will offer more privacy while also controling the amount of sun you let in.
A pergola is also a fun addition to a backyard deck or patio. This offers partial shade and is an excellent way to create a separately defined area. You can grow vines along the top or add a motorized shade so you can control the amount of sun exposure. Many homeowners use a pergola to create an outdoor dining area, a reading nook, or even an outdoor bar.
Additionally, a pop-up canopy is a convenient option if you need shade for a party or an event, but you don't want a permanent structure on your patio or deck. Pop-up canopies are simple to set up and take down, and come in a variety of sizes and canopy colors. What's more, they are portable, so you can take them to the park, the beach, and anywhere else where you may need protection from the sun.
Install a Fire Pit
Fire pits are an extremely popular outdoor upgrade. You can either purchase an inexpensive portable fire pit or build one into your new backyard deck or patio.
Just remember that if you build it on your wood or composite deck, you'll need to make sure it has a non-combustible base. Otherwise, embers or sparks could fly out onto the wood, creating a potential fire hazard. Always check the manufacturer's specifications and make sure it won't create an issue with your building codes.
Build an Outdoor Kitchen
An outdoor kitchen is another excellent upgrade for your backyard deck or patio. This will add to your home's resale value and allow for years of enjoyment. While you certainly can go all-out and install a kitchen with all the bells and whistles, it's also possible to add what you need without breaking the bank.
If you're on a budget, consider adding a simple grill gazebo to your deck or patio. This will provide protection from the elements and help extend the lifespan of your grill.
If you want more storage space, add some cabinets and a countertop. Other popular outdoor kitchen features include a refrigerator, pizza oven, sink, dishwasher, and other appliances.
Deck vs. Patio: Which is Right for You?
Now that you know all the pros and cons of a backyard deck or patio, you're ready to settle the great debate for yourself. No matter which option you choose, we've got plenty of accessories to give your new structure all the finishing touches it needs. Take a look through our site today for some inspiration!