When crisp temperatures lead to gorgeous foliage, it's time to celebrate the beginning of fall. From festivals to fire pits, there are so many reasons to enjoy this time of year. To fully take advantage of all fall has to offer, many homeowners decorate their properties to celebrate the holidays. Here are festive landscaping ideas perfect for fall that can also add style year-round.
Begin with Clean Slate for Fall
Before you begin deciding on which backyard landscaping ideas to utilize, it's time to give your space a thorough sprucing up. Start by raking leaves and taking care of your lawn ahead of the cooler weather. Remove branches and cut the grass to provide a clean canvas for your fall décor. Other easy steps to take that will set the stage for all your backyard garden ideas include:
Mulch: Adding mulch to plant beds and garden areas doesn't just make your property look tidier. It also acts as a natural root protector from frost.
Refresh shrubbery: Now is a great time to trim shrubs or even add more to areas in your backyard that need extra love.
Prepare garden for winter: While you're at it, this is an ideal time to clear the garden of summer vegetables and get ready for the winter months by creating compost and preparing the soil for new plants.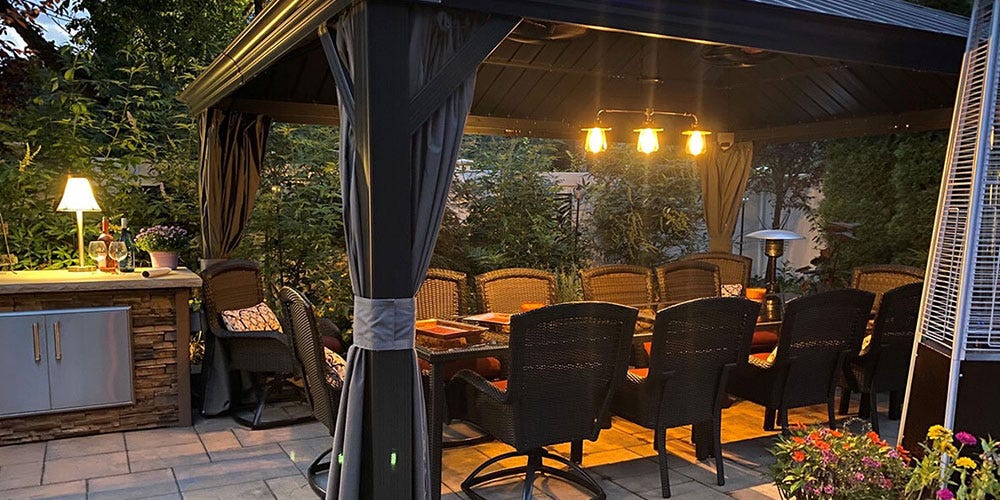 Add Stylish Seating for Fall Flair
The gorgeous fall weather provides yet another reason to take advantage of your outdoor space. Whether inviting family over for an autumn barbecue, or enjoying quiet time reading a book, having a comfortable place to sit is important. One of the best landscaping ideas is to incorporate a gazebo into your backyard. Not only do they offer additional space for guests, but these shelter solutions also add curb appeal and functionality to any outdoor oasis. Choose from two different types of gazebos in a variety of different colors:
Hard top gazebos: For incredible elegance and unmatched durability, a hard top gazebo is one of those backyard décor ideas that will pay off year-round. Manufactured with galvanized steel that resists both rust and corrosion, rest assured these shade solutions will protect your guests while adding a gorgeous focal point to any yard. You can even choose from a gazebo with built in shelves for the grill master to utilize during a fall or even summer cookout.
Soft top gazebos: These attractive seating solutions offer the same style and benefits as a hard top gazebo, but generally cost less. Manufactured with ultra-strong ripstop tough fabric, they are durable enough to stand up to Mother Nature without breaking the bank. The high-quality steel tube frame provides ultimate stability, while simple DIY assembly makes this one of the best landscaping ideas on a budget.
Landscaping Ideas with Functionality
One of the most multifunctional backyard décor ideas is to add storage solutions to your outdoor area that not only provide additional space, but also create a gorgeous focal point for your property. Steel storage sheds offer a variety of products to fit any size or storage need. They feature:
Galvanized steel manufactured to combat rust and corrosion for superior durability
DIY assembly that saves time and money on professional installation
Variety of colors, shapes, and sizes for a unique storage solution
Steel storage sheds provide storage for anything from lawn and garden tools to automobiles. But they also double as incredibly versatile buildings perfect for the crisp weather of fall, including:
Haunted house: If Halloween is up your alley, get your scare on with a DIY haunted house where you don't even have to leave your property to get into the holiday spirit. You can add decorations, lights, and other creepy crawly backyard décor ideas to excite the whole family.
Potting shed: A potting shed isn't just a place to prepare your plants for the next season. It can also act as an elegant addition to your backyard and an ideal spot to relax in the fall weather.
Outdoor bar: Sheds aren't only for storing seasonal items and lawn equipment. More people than ever are utilizing these storage solutions for additional living space. Why not turn your outdoor space into a bar complete with spooky Halloween drinks and trick or treat décor? It will serve as a great gathering place year-round for guests, too.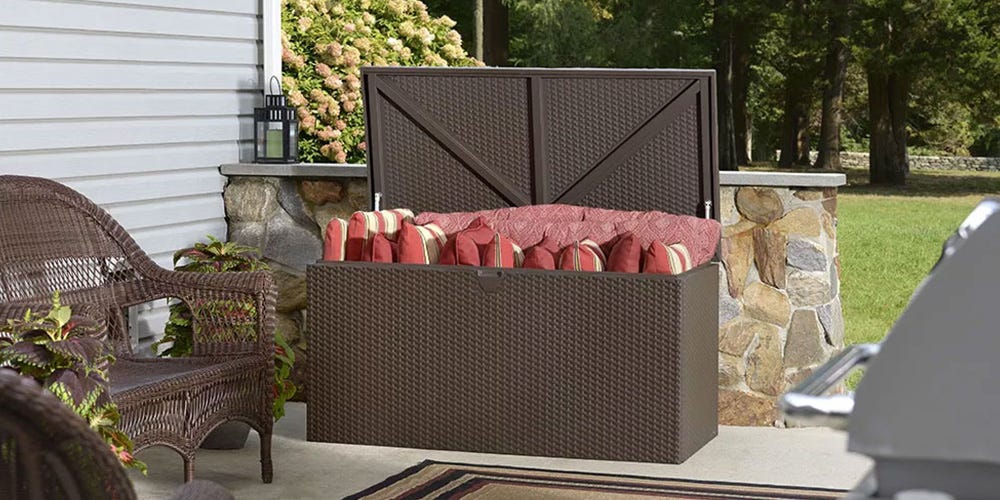 Landscaping Accessories to Beautify and Organize Your Property
There are simple tips and tricks to add fall flavor to your backyard without breaking the bank. These backyard garden ideas and accessories will elevate your style and convenience this fall.
Deck Boxes for Simple Storage
You may think deck boxes are only good for storing pool toys or other summer seasonal items. But these versatile storage solutions are perfect for fall, too. Stow away blankets for the bonfire inside while adding fun autumn decorations around the boxes for additional character. These deck boxes feature:
Two gorgeous fall colors in anthracite and espresso for classic style
Manufactured with hot dipped galvanized steel for superior corrosion protection
Quick and easy 30-minute assembly
Built-in corrugated floor to protect items from moisture and other elements
Choosing the Right Plants and Shrubs
Even novice gardeners know to add season-appropriate plants and shrubs to the garden for the best results. Here are some of your best bets to add autumn colors to your garden this season.
· Oakleaf hydrangea: Add gorgeous shades of red and orange to your plant bed this fall with this plant that also grows well in the shade.
· Anise Hyssop: Whether you have a green thumb or not, these beautiful blue purple plants attract pollinators and as a bonus, can even be edible.
· Pansy: Ideal for adding color to any garden or yard, these stay colorful for months and are great for lining sidewalks, gardens, or any pathway where you need to add a pop of color.
Adding Pops of Color and Other Backyard Décor Ideas
Fall is the ideal time for pops of orange and red throughout your property. Aside from adding the beautiful colors to your garden, there are other fun landscaping ideas to incorporate this season.
Colorful umbrellas: Just because cooler temperatures are here doesn't mean you should skimp on shade. Add a touch of elegance to your backyard with sturdy and stylish umbrellas. LED bulbs illuminate the night for added convenience.
Pumpkins: Pumpkins come in an array of shapes, sizes, and colors to bring a taste of autumn to your property. You can even get creative and paint pumpkins to match your fall décor.
Fire pit: Nothing says fall like a firepit in your backyard. Get creative with colorful pavers and make sure to style the area with a cozy feel for guests.
Backyard Landscaping Ideas to Make Your Home Shine
Enjoying the weather with family and friends is one of the most exciting aspects of fall. Adding seating solutions like gazebos will not only provide a cozy spot for get-togethers, they also add value to your home. Incorporating gorgeous fall hues will offer a unique aesthetic to your backyard, while functional additions like a firepit transform your home into the go-to spot for family gatherings. Style meets functionality with backyard landscaping ideas to kick your fall into gear.