It may be getting cooler outside, but that doesn't mean you need to stop enjoying your outdoor living space. Enjoy the autumn breeze from your backyard with your family and a perfectly grilled steak with a stylish DIY outdoor kitchen.
Your outdoor kitchen is great for hosting fun social gatherings or intimate family get-togethers at any time of year. However, paying someone else to build your perfect setup can get expensive and may not get you exactly what you want.
The solution? Make your own DIY outdoor kitchen! From developing outdoor kitchen plans to designing the unit, we'll give you the tools on how to create your dream outdoor kitchen.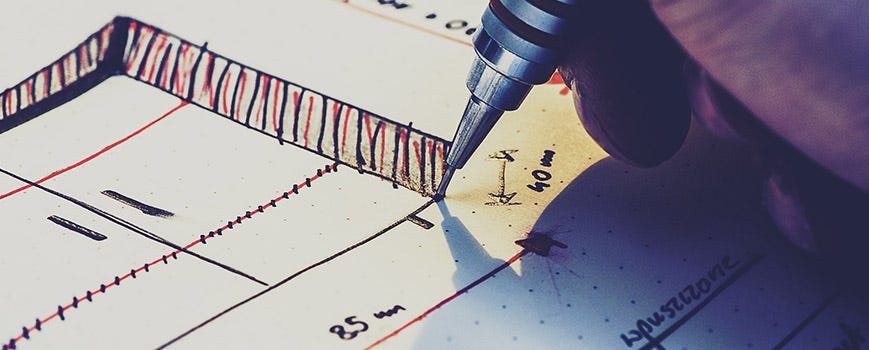 Develop Your DIY Outdoor Kitchen Plans
Before you do anything else, begin thinking about how much time and money you really want to put into your project and how much room you have for it. A full-blown, extensive outdoor kitchen will likely take more time and may not fit in a small backyard. At the same time, a small kitchen island with your grill, some counter space, and a cabinet may be all you need. For inspiration, check out some of these outdoor kitchens.
Property Evaluation
Take a look at your property. Is it sprawling acreage with tons of room? You may want to consider the walking distance between your house and the outdoor kitchen. Is it a small deck with just enough room to fit a few chairs and a grill? You'll want to maximize your space efficiency.
You will also want to consider what you already have and if you'll need to reinforce current structures or add electric or gas hookups. If you're not sure the outdoor space can support your outdoor kitchen plans, talk to a professional about specific requirements for your space.
Decide What You Want
Do you want something that can practically replace your indoor kitchen for the summer months, or are you looking for a simple but elegant BBQ hosting platform to pull out a few times a year? Consider exactly how you plan to use your outdoor kitchen and let that help you decide what you want.
It is also important to consider the weather. If you live in a mild climate, you may be using your outdoor kitchen most of the year. However, if you get more extreme weather, you'll want materials that can handle it, and you may want to look at adding an overhead shelter for shade or rain and snow cover.
Think about one of these configurations and which might fit your needs best when developing your outdoor kitchen ideas.
Along a Wall
This style is perfect if you want a simple, budget-friendly design and already have a separate seating area.
L-Shape
If you have a little more room and want a few extra features, including a seating area, an L-shape may be a good option.
Island
You can make this a permanent installation or put it on wheels and move it around when you need to.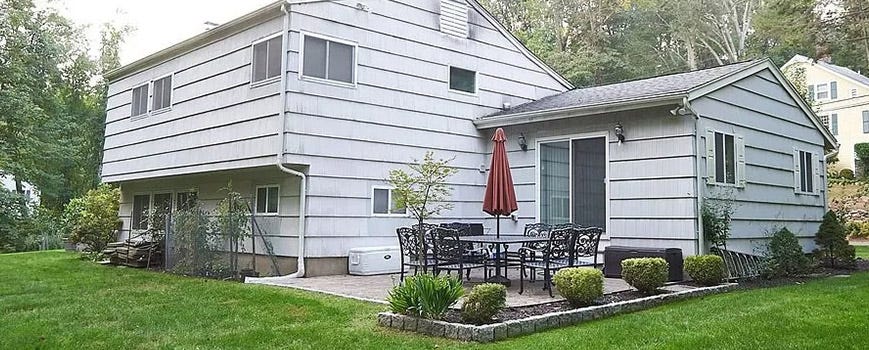 Measure the Property and Location
Measure Your Space
Imagine going through all the painstaking effort to design and create your perfect outdoor kitchen plans only to have the heartbreaking realization that the design is five inches too big to fit into your space. Pull out your tape measure and get the exact dimensions for what you want.
Then measure everything again. You don't want to get this wrong.
Consider Your Location
For convenience, you may want to set up your outdoor kitchen as close to your back door as possible, so it's easy to go in and out. On the other hand, having it further away can let you detach from your everyday, indoor life and provides more of an escape.
Either way, keep in mind whether you'll want to use any electricity with your kitchen, in which case you'll want to have an electrical source close by.
Additionally, make sure to think about the environmental conditions of your location when developing your ideal outdoor kitchen plans. Will it be windy? Will flames be too close to nearby trees? Is there any overhead coverage from the sun? All of these factors are important to keep in mind when thinking about your outdoor kitchen location.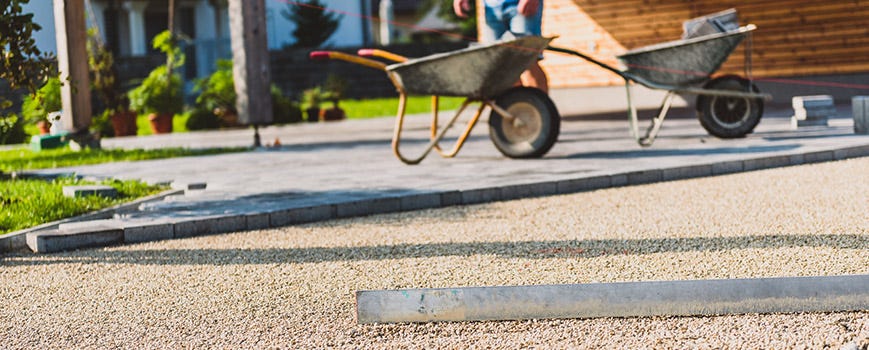 Create a Good Foundation
If you're putting your outdoor kitchen on a pre-existing patio or deck, this may not be an issue for you. However, if you're seriously starting from scratch, you'll want to make sure your kitchen stands on a solid foundation.
Concrete is incredibly stable and holds up to variable weather conditions but isn't the prettiest of flooring. Concrete, brick, natural stone, and tile are all non-slip, easy-to-clean options.
Wooden platforms can also work, but make sure they're able to support your kitchen's weight.
Whatever you choose, make sure your foundation matches your kitchen's specific stability needs as each project will have slightly different requirements.
Anchor Your Outdoor Kitchen
If you're adding a shelter to your outdoor kitchen, you need to make sure you have the right type of anchoring for it. For tips on finding the right anchoring, check out our anchor quick guide. These are general recommendations, and you'll want to take in your specific conditions to find the best solution for your unique outdoor kitchen plans.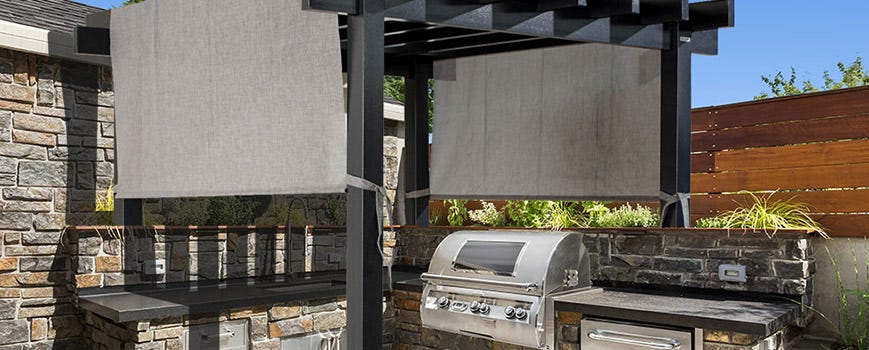 Other Outdoor Kitchen Design Ideas
You might be ready to dive into your new DIY project right away at this point, but before you start placing orders or charge to your nearest home-improvement store, you may want to think about any extra features you want, how it's going to look with your house, and the durability of your materials.
Optional Features
Aside from the classic grill, the sky's the limit for how extravagant you want to make your outdoor kitchen. Here are some popular accessories that you may want to add to your outdoor kitchen plans.
Cabinets and Countertops
Cut your veggies right next to the grill or set up a buffet-style meal prep station with extra counter space.
If you have specific plate sets or utensils for your outdoor space, having cabinets to store them is essential.
Sink
You don't want to have to run inside to fill up your water glass. Rinsing vegetables, washing hands, or wiping down a counter, you never realize how useful a sink is until you don't have one. However, a sink also adds a bit of extra planning because you'll need to sort out water supply and a drain.
Refrigerator
With an outdoor refrigerator, you can keep your drinks cold and your veggies fresh without having to go inside. These refrigerators are a little different from your standard kitchen fridge. Along with waterproof electrical features, these refrigerators are more suited to a wide range of temperatures.
Pizza Oven
What's better than a homemade pizza? A homemade pizza perfectly roasted in a wood-fired pizza oven. Cook pizza, bread, fish, or about anything else you'd cook in a regular oven from the comfort of your backyard – and get a delicious wood-burner taste. Plus, it adds a stylish touch to any outdoor kitchen.
Mosquito Nets
It's hard to relax on a warm summer evening if mosquitoes are swarming you or yellow jackets are coming for your food. If you live in a particularly buggy area, you may want to think about adding a mosquito net into your plans.
Match Your Outdoor Kitchen to Your House
If your home is a southwestern adobe house, getting a super modern outdoor kitchen with stainless steel fittings and marble countertops probably won't do much good for your house's value. Take a look at your home's design and try to match your outdoor kitchen plans to that so you can keep a cohesive scheme inside and outside. Plus, you'll thank yourself when you go to sell the house in the future.
Durability
You might be DIY-ing your outdoor kitchen to do things on a budget, but that doesn't mean you want to skimp on materials or certain parts of your kitchen. You want this outdoor kitchen to last you years, not one summer.
With that in mind, make sure you're getting sturdy, high-quality parts that can withstand rain and time. Additionally, consider getting an awning or gazebo to go over your kitchen, so it doesn't get buried in snow or rain in the winter.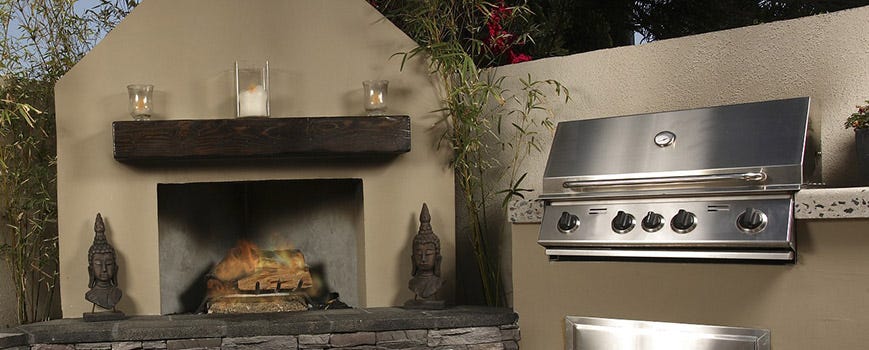 Make Your Perfect Outdoor Kitchen
Now that you have the basic idea of what you want and how you'll do it, it's time to get to deciding on your design and putting in the work. You may think these beautiful outdoor kitchen ideas will take you ages to create, but they don't have to. Some can be assembled in a weekend with the right tools and some helpful friends.
Take a look at these different DIY outdoor kitchen plan ideas for inspiration (or to snag their methods) and get ready to enjoy margaritas or a homemade pizza while watching the sunset from your backyard.