Event tents are an excellent shelter for turning an otherwise good party into a great one. Whether it's for a corporate event, tailgate party, or an epic backyard barbecue, party tents are always a hit with guests and help create a memorable day that won't be forgotten anytime soon. But should you rent or buy event tents?
Well, there are pros and cons to both renting and buying your party tent, and so in this article, we will look at everything you need to know about event tents so that you can decide if you want to rent your tent for a legendary one-time party or buy your tent so that you can have awesome parties for years to come.
What is an Event Tent?
Before we go over the pros and cons of buying a party tent vs. renting one, we should first explain that the terms event tent and party tent are used interchangeably. You probably already guessed it, but a party tent is a large outdoor tent or shelter that you put up for your guests to party in.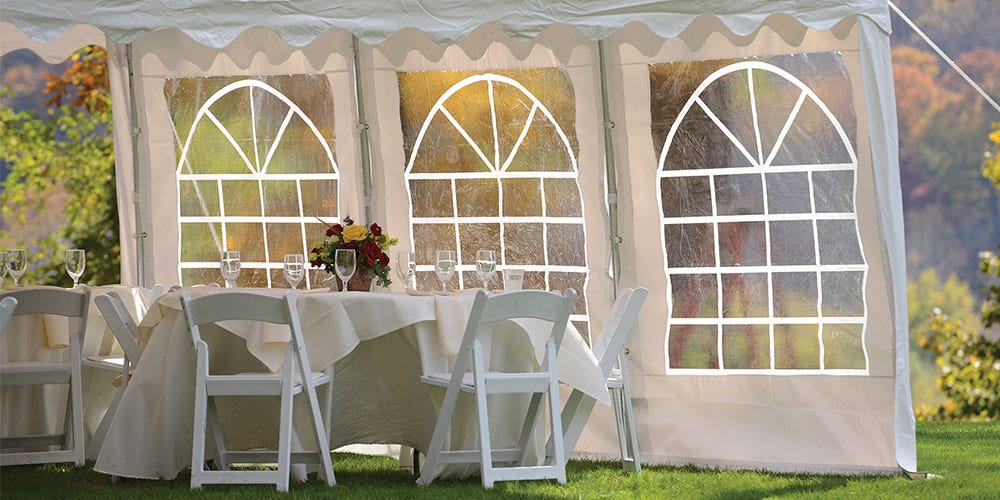 Why are Party Tents Necessary for Outdoor Events?
There are several excellent reasons to use an outdoor party tent at your next event. So, let's look at some of the main benefits you'll enjoy when you have an event tent, whether you choose to rent or buy it.
Protection from the weather
Party tents protect you and your guests from the elements so that your party can go off without a hitch regardless of what mother nature has in store for you that day. Party tents provide shelter from the heat, the cold, the rain, and even from snow so that rain or shine, your big day can proceed as planned.
Protection from the sun
Harsh UV rays from the sun can put a damper on any party. During the hot summer months, shade is essential if you want your guests to have a great time, and so by using an event tent, you can ensure that everybody is protected from the sun and enjoying themselves.
Create a more intimate setting
Another great reason to use an outdoor party tent is because they provide a much more intimate space, creating a unique ambiance and allowing your guests to party all they want while still having privacy from the prying eyes of nosey neighbors.
Versatility
Event tents can be used with or without wall panels so that if you want a more open-air feel, you can provide that, but if you want more privacy or shelter, you'll have that option as well.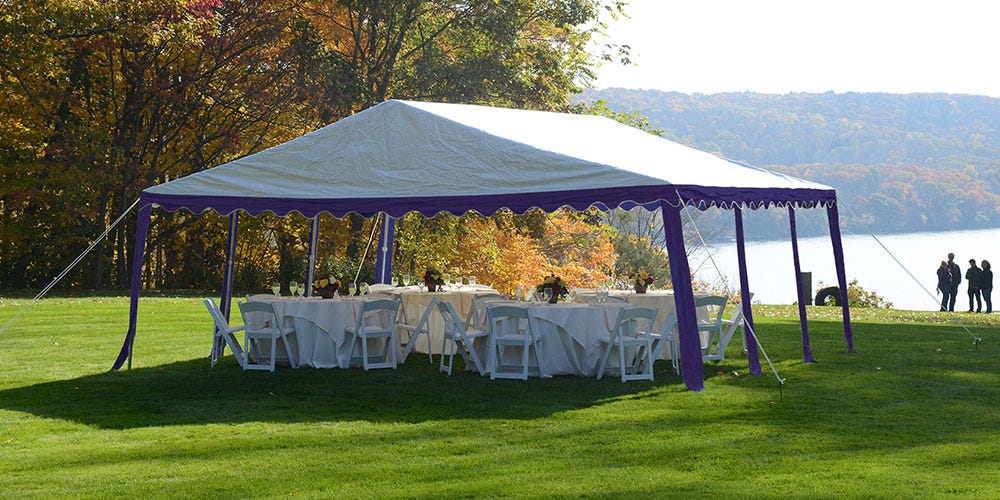 Use Cases for an Event Tent
Party tents can be used to enhance all sorts of events. So, let's briefly go over some of the events you'll be able to host when you're buying a party tent instead of renting one.
Corporate Events
Retirement parties, team building functions, Christmas parties, you name it. Any kind of corporate event being hosted outdoors will be much better with a party tent than without one.
Tailgate Parties
Friends, family, a few drinks, and some homemade food. Who doesn't love a good tailgate party? Every Sunday can be SuperBowl Sunday when you have an outdoor party tent.
Backyard Barbeques
Speaking of family, friends, and good food, what's better than an all-American backyard barbecue? Buying a party tent means you can entertain in your own backyard or elsewhere while providing the shade and privacy needed for people to let loose and have a great time.
Birthday Parties
Have a birthday coming up? Or maybe you want to host a birthday party for someone special. With a party tent, you'll be able to throw an awesome birthday party from the comfort of your own backyard.
School Events
All sorts of school events are made better with a party tent. Whether it's for a university graduation, an after-prom reception, or just to celebrate the end of another school year, you can do it in style with an event tent.
Farmers Markets
If you like to grow and sell your own fruits and vegetables at the farmer's market, then you can step up your game with an awesome event or party tent that will keep your patrons warm, shaded, and coming back for more.
Restaurants
Event tents are also a great way to enrich your restaurant's outdoor dining space. You can add additional seating, provide shade, or cover your patio with an event tent, so that your customers can dine indoors or outside regardless of the weather forecast.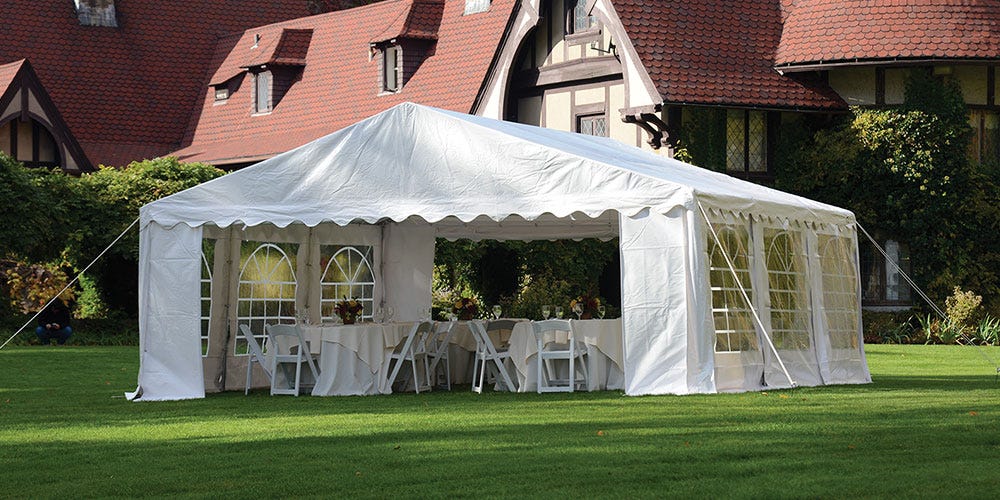 The Pros of Buying an Event Tent
Now, let's go over some of the pros that come along with buying a party tent rather than just renting it for a one-time event.
Overall cost
The overall cost of buying a party tent is much more cost-effective than renting in the long run because you only need to pay for it once, and you'll be able to use it as many times as you want for years to come.
Value
Because you can use your tent as many times as you want, the cost per use is considerably lower than renting. In fact, every time you use it, the value for money increases, so it's an investment that's guaranteed to get better and better over time.
Quality
You really never know what to expect when you rent a party tent. Sure, you might get a nice new tent, but chances are you'll get one that's been used hundreds of times by other people. When you own your tent, you'll know for certain that you'll have an excellent, high-quality unit that's been carefully maintained by you.
Convenience
When you buy your own party tent, you're free to host an event whenever you want to. Your tent is always there, just waiting to be used, and you'll never have to worry about arranging another costly rental again.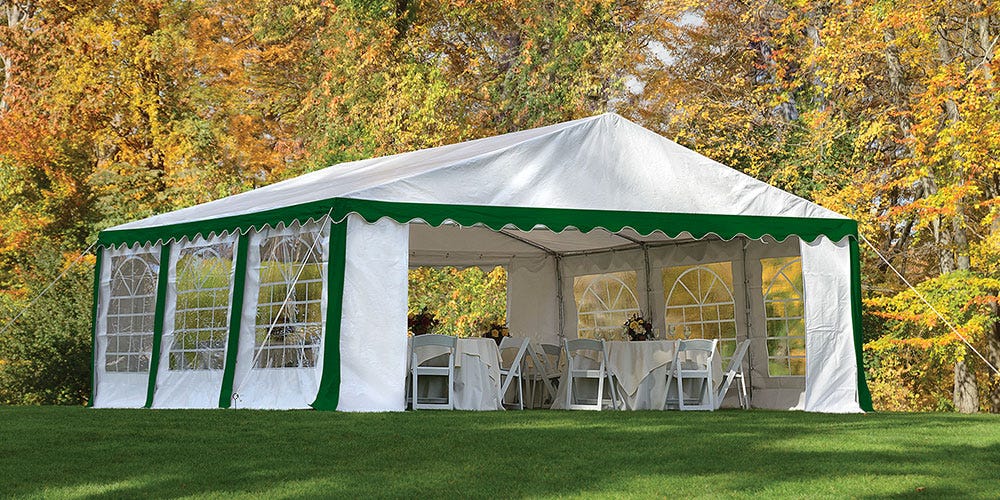 The Cons of Buying a Party Tent
There are many upsides to buying a party tent, but there are still a few cons to consider; let's look at them now.
One-time Cost
The upfront cost of buying your tent will be considerably higher than renting, so if you only plan on using the tent one time, then renting will almost always be better for your wallet.
Skillset
Party tents can be tricky to set up, especially if you don't have help. It's possible to assemble and disassemble your event tent on your own, but it's certainly not an easy thing to do.
Research
When buying, you'll need to conduct all of the research and do your homework yourself, whereas when you rent your tent, the rental company can provide a comprehensive list of estimates for you, which will save you some time and effort in the short term.
Conclusion: Purchasing an Event Tent Will Pay Off in the Long Run
All things considered, it's almost always better to buy than rent anything, and this is true of party tents as well. Sure, if you really only need the tent once, then, by all means, rent it, but by buying, you'll be able to host as many parties and events as you want for many years to come.