Is there a more perfect time of the year than the fall? The temperature is comfortable, the leaves are changing, and everyone wants to be outside. It's also a great time to get to all those DIY backyard projects before the winter weather starts to roll in. Before you get started on your to do list, here are some essential products you need to make your tasks that much easier.
Organizing the Patio Ahead of Winter
One of the most popular DIY backyard projects is cleaning up your pool, patio, or deck ahead of winter. Outdoor storage sheds can be a practical addition to your backyard space, patio, or deck. A Spacemaker deck box is an attractive and versatile outdoor storage bench with roomy, convenient patio storage for pool toys, furniture cushions, and other summer items. It has a built-in corrugated floor to keep your items protected and dry and a pneumatic lift for improved lid opening and closing, which gives you easier access to your items. The Storboss horizontal shed is also an excellent solution for your outdoor storage needs. The Storboss's 6 x 3 ft. footprint and slanted roof design is great for patios, decks, walkways, in the garage or on the side of your house. This attractive shed for backyard storage has a charcoal finish is an easy to access solution for trash cans, bicycles, patio equipment and so much more.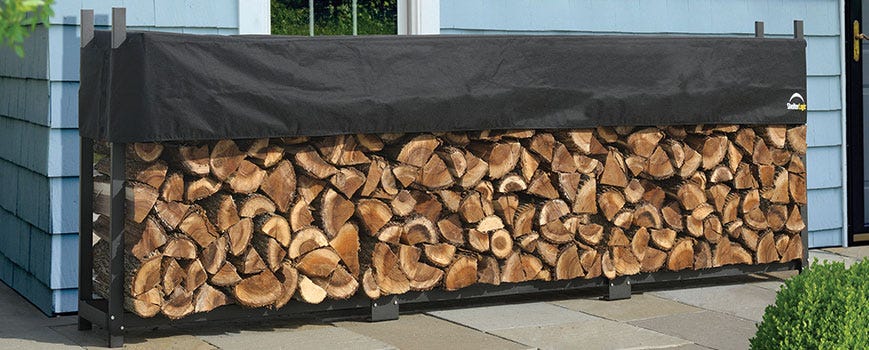 Prepping Your Firewood for the Winter Season
You may not be thinking about seasoning firewood for the snowy season just yet, but fresh firewood should be taken care of sooner rather than later. Sheds for storing firewood are a must have for anyone who likes to burn logs in a fireplace or a firepit. Freshly cut firewood retains up to 45% or more of its moisture content. Too much moisture prevents firewood from burning properly, making it difficult to light, sustain, or effectively produce warmth. Firewood seasoning sheds cut seasoning time in half to provide ready-to-use firewood faster and more efficiently. These innovative and portable solutions feature a strong heavy-duty steel frame for reliable strength and durability. The polyethylene fabric cover effectively retains heat, keep moisture out, and allows just enough light and cross ventilation to aid in the drying process. SHOP FIREWOOD STORAGE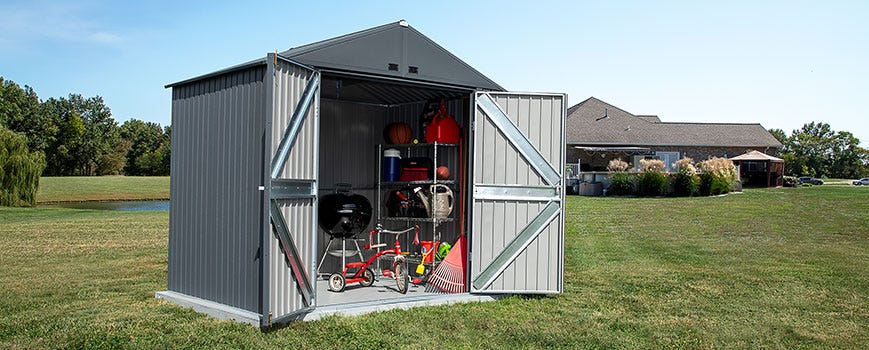 Storage Solutions for Larger DIY Backyard Projects
It may be the last few weeks you're raking leaves and mowing the grass to make sure your lawn is perfectly manicured before the first snow. That means it's time to stow away your lawn mower, maybe even your gardening tools before the snow and ice takes over. You need a durable, roomy, multi-purpose metal storage building that will stand up to the elements and store your goods safely.
The door openings of the Admiral Steel Storage Shed are wide, giving you easier access when you need it. The reinforced roof strengthening brackets also give you a snow load rating of 25 lbs. While this steel storage shed choice gives you an ultra-durable way to keep your belongings safe, it's also easy on the eyes. The painted hardware is complemented with decorative trim and ornamental hinges.
The Arrow Elite series storage shed has an attractive squared wall design and textured wrinkle paint in an anthracite finish, making it a welcome fixture in any backyard, garden, or outdoor setting. Made from PermaPlate, a US Galvalume steel with an aluminum and zinc plating which is highly anti-corrosive, this backyard storage shed is built to last! The Elite series sheds also feature a tall 72 in. wall height and high gable roof for added headroom, plus extra walk around space. Both choices, as well as the full line of metal storage sheds from Arrow Storage Products, are easy to install and anchor in your backyard space*. SHOP ARROW SHEDS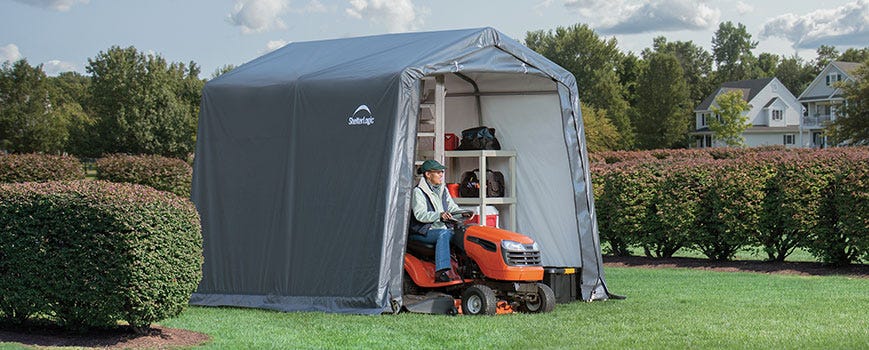 Storage for the Ultimate DIY Backyard Projects
If your fall clean-up project means more than just raking leaves and storing gardening tools and trash cans, you might need to upgrade your shed and find something with extra space. Perhaps you're looking for a place to work on your motorcycle when the chillier weather hits, or maybe you want one central place to store your yard decorations or pool gear over the winter.
A tarp shed like the ShelterLogic Shed-in-a-Box XT has extra headroom for larger and taller items such as ladders, kayaks, umbrellas, and fishing equipment. It has an 8 ft. tall door opening, which means you don't need to duck down to walk in or to back in your riding mower, motorcycles, or ATV. The shed has a strong powder coated steel tube frame and a rugged polyethylene cover keeps stored items dry and sheltered. If you need more room, a temporary portable garage** like the Garage-in-a-Box is big enough to store mid-sized or smaller autos, as well as small trucks and SUVs.
Like the Shed-in-a-Box, it includes an advanced engineered ripstop tough, woven polyethylene fabric cover, which is triple layered, heat welded at the seams for ultimate 4 season performance, and is 100% waterproof. Now that the weather is changing, your biggest projects might be to figure out where to store anything from your boat to your ATVs.
Now might even be the time you're figuring out your bulk storage plans. For the greatest number of size options and roof styles, ShelterTech SP Series Shelters are the ultimate fabric building choice for backyard storage. The strength is unbeatable, and installation is easy. Made in the USA, these shelters are manufactured with galvanized steel and feature heavy duty, wind, and snow load rated covers***.
When you're looking for the most reliable storage solution at a great price to quality ratio, ShelterTech is the perfect choice. The fall is also the ideal time to winterize your gas-powered lawn equipment and motor vehicles. Steel carports are excellent multipurpose structures that look good in your driveway or backyard and will keep you and your toys protected while you tinker. An Arrow Carport is built to take on the tough weather. It can withstand 100 MPH winds and has a snow load of 35 PSF***. You can customize the width and length of carports, from 10 or 12 ft. wide, all the way up to 100 ft. long, and enclosures are available so you can work year-round in comfort. The roofs of these tough Arrow Carports have an eggshell or charcoal finish, which blends with most backyard aesthetics.
SHOP OUTDOOR STORAGE BUILDINGS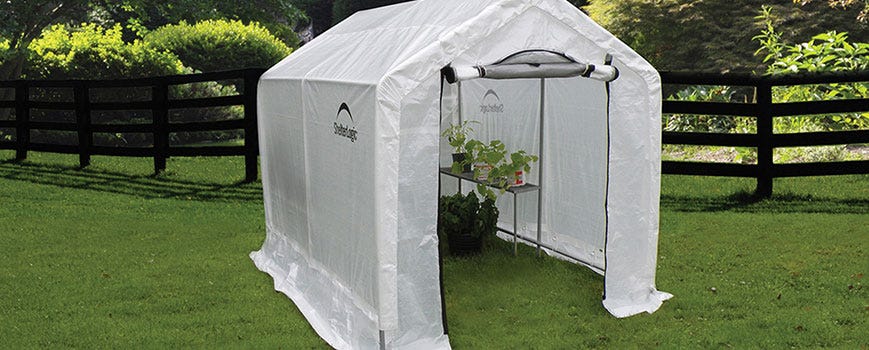 Create a DIY Garden
Now that you've organized your backyard, you might be ready to get your green thumb this fall. If you'd like to get started now growing herbs and vegetables through the winter, a mini greenhouse is an ideal way to give your crops light while protecting them from the impending cooler weather.
A ShelterLogic greenhouse will extend your growing season and keep a compact footprint in your backyard. This option can even be set up in less than 20 minutes, thanks to quick snap assembly! The GrowIt 4-Tier Mini Greenhouse also includes a powder coat finish that resists to chipping and corrosion, sturdy wire mesh shelves, and a double zipper door panels for easy access. Do you have a little more space in your backyard, want to extend your growing season, or start your own winter vegetable garden?
Portable greenhouses like the GrowIT Backyard Greenhouse or the GrowIT Greenhouse-in-a-Box are excellent choices that won't look overwhelming in your backyard. The GrowIT Backyard Greenhouse featuring ShelterLogic's innovative trademark Luminate Diffusion Fabric. That cover can help you grow quality plants faster, extend your growing season by starting seedlings earlier. As a winter greenhouse, it also keeps them safe during the cooler months and protects them from frost. It maintains a temperate environment that retains heat and slows evaporation, so you'll save water and grow strong plants faster.
Like the GrowIT Backyard Greenhouse, the GrowIT Greenhouse-in-a-Box features a powder-coated steel frame with ShelterLock steel stabilizers for added strength and durability. The translucent, ripstop cover is waterproof and UV-treated, and has Easy-Flow side panels and zippered half-moon end-panel vents provide airflow and temperature control. These greenhouses also have Easy Slide cross rails that ensure a snug cover fit, and Ratchet Tite tensioning provides solid cover anchoring to the frame.
SHOP GREENHOUSES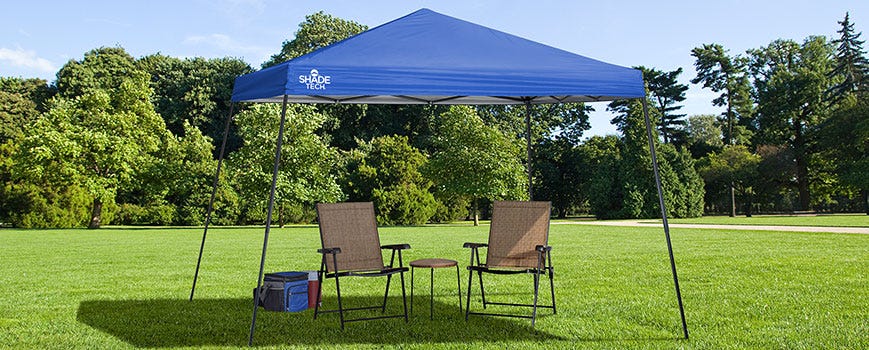 Don't Do Any DIY Backyard Projects Without a Pop-Up Canopy!
The weather can be rather unpredictable in the fall. When you're working on your DIY backyard projects, don't forget to have a pop-up canopy handy! Pop-up canopies can be the unsung hero of DIY backyard projects. You can set one up anywhere in your backyard and give yourself a break from the sun, rain, and other elements. They have sturdy steel telescoping legs that can be adjusted to desired heights, and rugged waterproof fabric canopy covers that will keep you cool and dry. A pop-up canopy is easy to set up and take down, too. They also fold into a compact wheeled bag for easy transportation and storage.
Get a Jump on Fall DIY Backyard Projects
Your Fall DIY backyard projects will be a snap with these attractive outdoor essentials. Now you can look forward to organizing and making your backyard the envy of the neighborhood!
We always recommend a properly anchored structure. Please reference your manual for anchoring best practices or check out this anchor guide.
** Before you buy any temporary outdoor garages, we recommend you check with your local zoning department to see if you need a permit or other permissions to erect one on your property.

*** Wind and snow loads given are for reference only and assume a securely anchored frame according to local building codes and ordinances. These have been calculated using combined snow and wind load provisions in accordance with ASCE 7-05. These calculations are based on an unoccupied, fully enclosed building. Local building code requirements vary by location; conformance to local codes is the responsibility of the purchaser.

[/vc_column][/vc_row]