It's common to decorate the front of your home for the season, but you don't have to stop there! Why not bring some festive fall fun out to your backyard patio? After all, you'll spend much more time there than you will on your front porch.
Adding some fall patio accessories can create a classy autumn vibe and make your next outdoor gathering even more fun! Not sure how to get started? Take a look at these easy fall patio decoration tips.
1. Start with Some Fall Foliage
When it comes to fall decoration tips, there's no need to reinvent the wheel. Classic fall foliage is the perfect way to set the mood for the change in season. Think golden cornstalks, pumpkins, gourds, and plenty of colorful mums. This is an easy way to add impactful pops of fall color to your backyard space. You can even take things up a notch by adding some life-sized scarecrows to flank either side of your patio door.
2. Cozy Things Up
When the temperatures start to drop, there's nothing quite like cuddling up in fuzzy blankets. You'll love the look and feel of bringing indoor comfort outdoors! Add some soft throws, a pile of pillows, and a faux sheepskin cover to your outdoor furniture. This will create a soft, cozy feeling you'll be able to enjoy well into the colder months.
To keep your cozy décor looking and feeling its best, be sure to bring it indoors when you're not using it or store it in a sturdy deck box. This will protect it from moisture and ensure it won't mildew or take on a funny smell.
3. Include a Pop of Plaid
You can instantly give your backyard patio a classy fall look by adding pops of plaid. Dress up your backyard loveseat by decorating it with soft plaid pillows. If you have patio chairs, you can also purchase matching plaid throws and place them over the back of each one.
Remember that not all plaid patterns are created equally. Choose a toasty combination of orange, rust, and cornflower blue for a warm and cozy look that will go well with even the most modern backyard patios.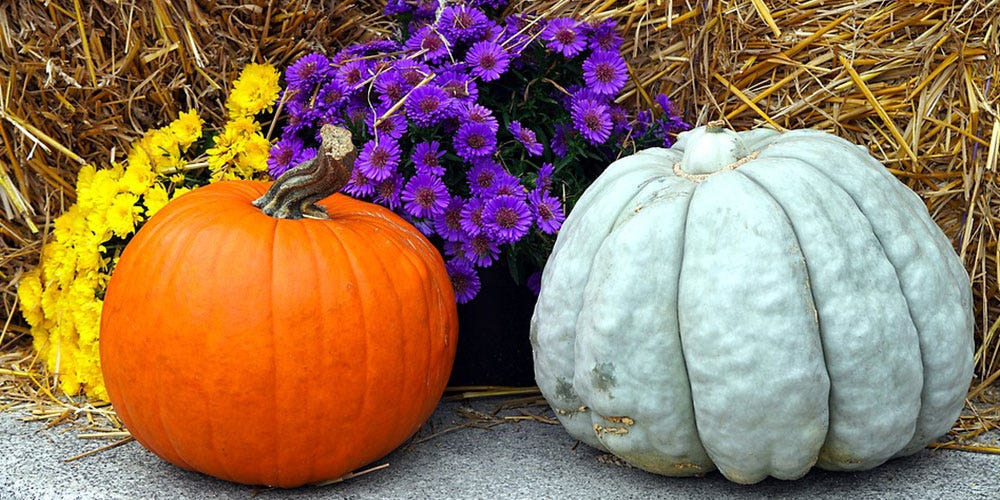 4. Create a Pumpkin Path
Pumpkins are some of the most versatile fall patio accessories. Decorate the stairs leading up to your backyard patio with a colorful path of pumpkins! It will create a bold, beautiful look that will remind you about the bounties of fall all season long.
If you live where the weather is cold enough, choose a variety of real pumpkins and gourds. Otherwise, many faux versions can easily fool the naked eye.
5. Add Some Bale Benches
Bales of hay are another example of classic fall patio accessories. Put down a fall-patterned outdoor rug and strategically place a few bales of hay around the edges. This will create extra seating for your autumn-themed outdoor gatherings. Toss a blanket or strip of heavy cloth over the hay to add some extra comfort.
If you have space, add a few wicker armchairs to complement the rustic look. This will also help accommodate any guests who might not want to sit on the bales of hay.
6. Pile on the Plush
If you want to make things super cozy, there's nothing better than a plethora of plush. So gather up the softest, fuzziest pillows and blankets you can find and pile them up high on all of your patio sitting spaces.
Swapping out your bright summer accents for earth-toned fuzzy pillows will easily set the tone for the change in season.
7. Make a DIY Fall Wreath
Sure, you could go to the nearest store and buy an autumn-themed wreath, but you'll enjoy a much more personal touch if you make your own! This fun DIY project allows you to select colors and patterns that perfectly complement your own personal style.
You can make a wreath with colored corn cobs, fall foliage, pinecones, grapevines, or any other material that appeals to you! You're truly only limited by your imagination. If you're feeling motivated, you could even make multiple wreaths so you can change them out throughout the season. Hang your wreath on the entry door or strategically place them along the walls of your home, along your patio's railing, or on your backyard fence.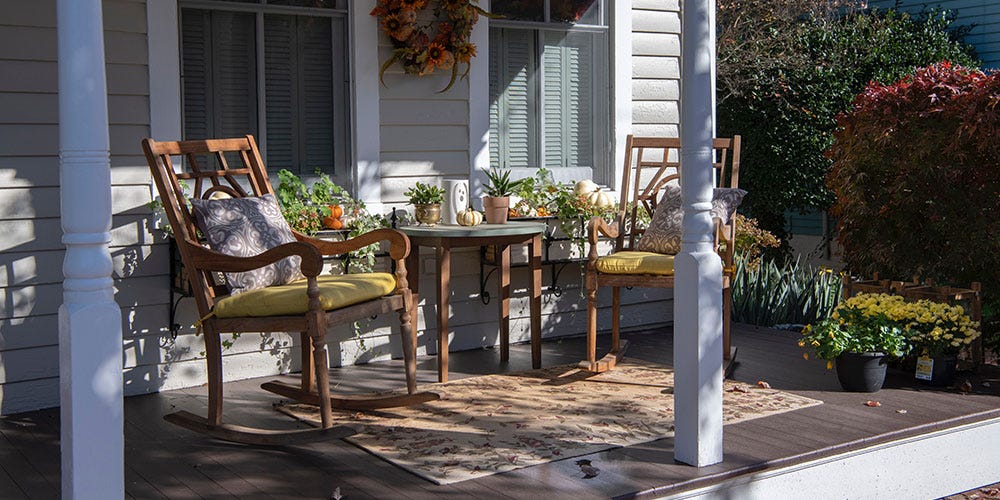 8. Embrace the Farmhouse Look
The "shabby chic" farmhouse look is perfect for fall! You can create a rustic autumn vibe by adding anything from an old whitewashed door to an antique ladder. Add a hand-painted porch leaner or a chalkboard-style sandwich board to share your favorite fall sentiments.
One of the best things about this style is that it's very budget-friendly. You can find tons of unique pieces at your local vintage shop, flea market, or craft store. Weathered wood displays and vintage items look great when mixed with bright orange pumpkins and golden hay. This creates the perfect look by blending old and worn with fresh and new.
9. Use Garlands and Grapevines
Fall-themed garland is another versatile decorating option. You can make your own using strings of fallen leaves or create a garland with a dried grapevine and accent it with autumn-themed items. Drape your garland over your railing or fence, hang it around your door, or drape it over a beautiful bench. You could also wrap small twinkle lights around a thick rope and use it the same way.
10. Get Spooky
Add some Halloween fun to your home by decorating your back patio with a spooky theme. If you have kids, use this opportunity to make some fun DIY Halloween crafts. This could include painted pumpkins, black wine bottle candlesticks, or giant balloon spiders. Add some fake spiderwebs and some store-bought Halloween décor to complete the look.
11. Make a Harvest Box
When looking for fall patio decoration tips, it's fun to get creative. Take a look through your backyard shed to see what types of items you can repurpose. A large rustic container, like a wagon or wheelbarrow, makes the perfect harvest box. Simply fill it with a grouping of fall elements like leaves, pumpkins, and gourds to create a beautiful focal point on your backyard patio.
You could even paint the pumpkins with a welcoming message to give your new decor a personalized touch. This is a decoration that will look great from the beginning of fall well past Thanksgiving.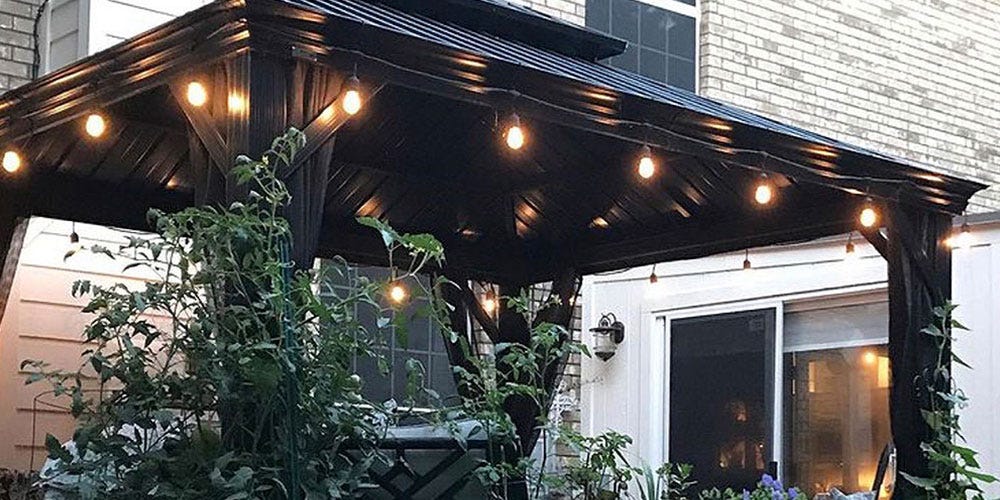 12. Add Some Illumination
Hanging lanterns and bistro lights will illuminate your patio and add some extra warmth during chilly fall nights. You can also decorate with candles for a budget-friendly, hassle-free way to create a warm and cozy display. You can carry the Halloween theme into your illumination by filling glass lanterns with black beans or candy corn and placing some candles inside.
13. Build a Fire Pit
A sleek fire pit is the perfect gathering place for all of your fall parties. If you're tight on space, consider purchasing a portable fire pit and storing it in your shed or garage during the summer months. Otherwise, it's easy to build your own permanent fire pit.
Once your fire pit is in place, add some Adirondack chairs for comfortable seating and decorate them with soft throw blankets and accent pillows. You and your guests will love snuggling up and enjoying fireside chats night after night.
14. Add a S'mores Station
Take your autumn entertaining to the next level by creating a s'mores station on your back patio. If you've already built a fire pit, this is the perfect way to truly enjoy it. Simply use an outdoor serving cart or a folding camping table to set up your display.
You can get creative by purchasing different flavors of marshmallows, flavored graham crackers, cookies, and different types of candy. Display them with some fall-themed decor and let your guests go nuts making their own tasty creations.
15. Marquee Light Letters & Contrasting Pumpkins
Add some glitz and glamour to your fall patio by purchasing some marquee light letters and attaching them to large white-painted pumpkins. This stylish setup will make your backyard patio the envy of your family and friends.
Use the letters to spell out your last name or simply "FALL." To make your new décor last longer, you can choose faux pumpkins and keep them in your patio storage unit when they're not in use.
Enjoy Your New Fall Décor!
These fun and easy fall patio decoration tips are the perfect way to spruce up your backyard patio and get yourself in a festive mood. Whether your purchase new fall patio accessories or have fun taking the DIY route, you're sure to love the result!