No matter the season, amazing patio decor is always in style. Having a gorgeous backyard space can give you an area to get away from the stresses of everyday life. It can even make your home the life of the party during any family get together. Fall patio decor goes beyond just tables and chairs. It includes accessories such as stylish storage boxes and buildings, fantastic shade solutions, and more. Choosing the right furniture, accessories, and patio décor can turn your backyard into a relaxing oasis. Look at some of the patio décor that you can choose to bring out the best of your backyard this fall.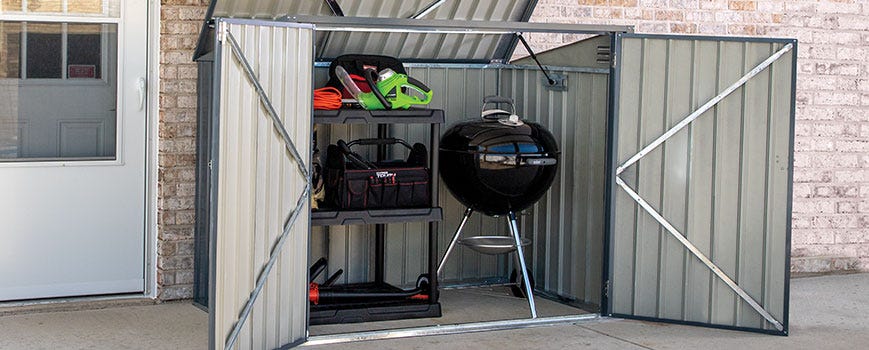 Must-Have Backyard Storage to Complement Your Patio Decor
Everyone wants their backyard to be both stylish and functional. Outdoor storage sheds can provide seasonal storage and not look overwhelming in your backyard or on your patio or deck. To keep your outdoor space chic and de-cluttered, use a deck box or a stylish Versa-Shed or Storboss vertical storage shed to store items year-round. Whether you're storing outdoor gear or pool toys, these boxes in anthracite or espresso will keep you organized. These metal storage boxes can also be used as trash bin storage, allowing you to conceal your garbage cans from your sight and keep the critters away. A small garden shed or a patio shed can also be an attractive storage solution for your patio or deck space. They not only provide space for storing and organizing your garden equipment, they help improve efficiency in your backyard planning and planting. Garden and patio sheds are also designed to complement most backyard spaces.
Need additional storage space for your summer belongings? Why haul it down into your basement or take up garage space when you can get a Backyard storage solution like a metal storage shed or a tarp shed? Metal and fabric storage sheds can be used to store to store patio furniture, portable gazebos, lawn mowers, sports equipment, and other items that can clutter your backyard.
The amount of room you have in your backyard will determine what size shed would be the best storage solution for you. The general rule of thumb is that if you put a shed near a fence or a property line and leave at least 18 to 24 inches of space on each side or the rear. This guarantees easy access installation of both garages and sheds as well as any future maintenance. If you have a narrow backyard or not a lot of usable space, then a metal lean-to-style shed that rests against your house or a fence may be the best choice. If space is not an issue, then a full-size metal shed could add storage value and enhance your landscape. If you aren't worried about neighbors and you have plenty of open space, then a durable fabric shed could fit the bill.
Keeping your Firewood Neat and Organized
Whether you like to burn logs in a fireplace or a firepit, firewood racks can provide attractive, durable, and efficient wood storage on your patio or deck. When logs are properly stacked on a firewood rack, it allows continued air circulation and seasoning of your wood and keeps your wood off the ground and easily accessible. While some firewood racks have a built-in roof to keep your logs dry when it rains, you can also get a log rack cover to protect your firewood from the elements.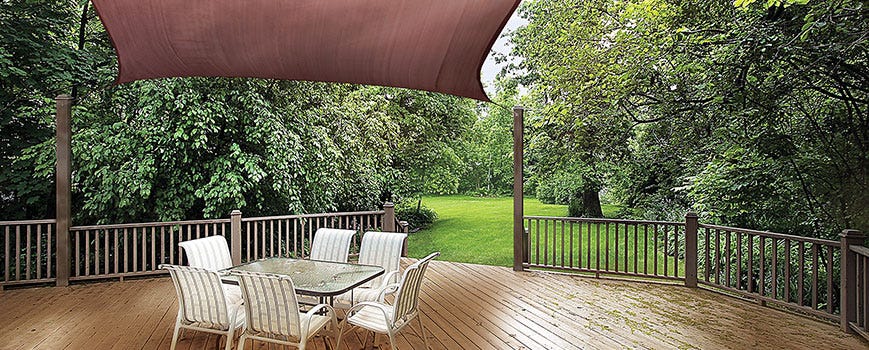 Patio Decor for the Tricky Fall Sun
Even though the summer sun is gone, the fall sun can be deceiving. Though it's lower to the ground, it can still cause irreversible skin damage. As it was in the summer, shade solutions are still an important part of your family's sun management plan. Let's look at some practical shade solutions that will give your patio a nice look this fall.
Patio Umbrellas
Whether it's the middle of the summer, or a chilly fall night, you can always use beautiful umbrellas for an added touch of class in your backyard. These umbrellas are so versatile, with 3 tilt positions to adjust to whatever position you'd like to keep the sun out of your eyes. But these are even useful at night, built with 432 super bright LED bulbs. You won't want to leave with a built in USB socket to charge your phone or tablet! Choose from a lovely red or khaki color.
Shade sails
Shade sails are a practical solution to keep the sun's harmful rays at bay, while providing a stylish decorative piece for your backyard or patio. These exceptionally versatile sails for sun shade come in a variety of shapes and sizes and allow for a degree of customization unlike other shade products. A patio shade sail is easy to install above patios, decks, pools, play areas, and other roofless outdoor living spaces. They easily attach to sturdy connection points such as the side of a home or other nearby building, trees, and posts that are securely mounted.
Metal Gazebos
An outdoor gazebo can add a touch of class to your backyard space. These attractive structures are great for shelter from inclement weather, family gatherings, or even adding an elegant aesthetic to your backyard or patio decor. For an ultra-strong and modern structure to protect you and your company from the elements, choose a metal top gazebo like the Sycamore or the Cambridge. These durable hardtop gazebos have attractive, sturdy roofs that are built to last. They also come with mosquito netting to keep the critters out. Both hardtop and soft top gazebos are an appealing addition to your deck, patio, or backyard space. If you just want something to protect your grill and the person doing the cooking, then you can choose a handy for your deck or patio. A has convenient shelving that can be used as outdoor counter space for serving or preparing meals. A grill gazebo is a must if you need a working area while entertaining. If you're looking to enjoy your patio through the fall and not worry about the weather, then you should consider a wall-mounted solarium. can bring tear-round enjoyment to your living space. You can use one as a shelter for your hot tub, as a dining area, or as a relaxing sitting room. Solariums are made with durable chip-resistant, corrosion resistant powder coated aluminum, and are sturdy additions that can hold up to rough weather.
Transform Your Patio Decor for the Fall
Choosing the right furniture and patio décor can be the difference between a boring outdoor space and a lively area everyone wants to be in. By adding a blend of colorful and versatile items, you will be relaxing in the perfect outdoor getaway in no time.