Halloween is a fun holiday that has the versatility to be enjoyed by people of all ages. So whether you are a kid ready to dress up and head out for a night of trick or treating or an adult ready for a spooky night of quirky drinks and haunted baked goods, there are party options for you to enjoy.
This might be your first year throwing a Halloween party, or you might need some fresh ideas for the next year of festivities. Whatever you need, we have compiled a list of the best ways you can prepare for a unique, fun night of celebrating this spooky season.
Halloween Party Prep and Accessories
Creating a ghoulish atmosphere or a perfected haunted house is no laughing matter. There is plenty of work and planning that goes into a great Halloween party! Get started with our Halloween party ideas, or use them for inspiration to create your own spooky decorations and eerily great snacks.
Start at the Beginning: Haloween Party Invitations!
Whether you choose to use e-vite's or go classic with snail-mail invitation cards, you have the chance to start the Halloween festivities with a mood-setting invitation. Use greeting cards to call out whatever theme you choose, and make sure people are prepared for whatever you might have in mind.
Creepy Crawly Decorations
Halloween started in North America in the 1840s, brought over by the Irish immigrants. Since then, it has become highly commercialized for the benefit of things like fabulous Halloween parties. As a result, you can get all kinds of creepy, ghoulish decorations. Since they are so varied and can fit into a range of budgets, you should figure out your theme before investing too much.
Whether it be bloody decorations that set a scene like a scary butcher shop or a creepy den of spiders and insects, you can find the right decorations to make your Halloween party feel like a theme straight out of the Addams Family movies.
Party Drinks (for All Ages)
The kind of drinks you will serve will change based on the ages of people you plan on attending your party.
For children, you might want some Dragon's Blood Punch, or some witches brew served in a cauldron.
For adults, the real fun arguably begins when you bring out the alcoholic versions of these spooky drinks. From Screamsicle Shakes to Jekyll & Gin, there are options for everyone interested in a boozy Halloween drink.
Halloween-Themed Baked Goods
You can't just have Halloween-themed drinks at your party. You need the baked goods to give people something to wash down. Treats like Dracula Dentures, Pumpkin Deviled Eggs, and even Chocolate Apple Pops can brighten the mood at any Halloween party.
Halloween Costumes (of course)
A good, ghostly Halloween costume is one of the most hallowed traditions of the holiday, pun intended. Get your game on with a scary Halloween costume or something that suits the theme of your party. Here are some of our favorite ideas:
Mummy
Cousin It
Plague Doctor
Harley Quinn
The Joker
Witch/Warlock
There are countless more that range from scary to a fun opportunity to dress like your favorite princess. You can find patterns online to make your costume, or you can invest in one from a local costume shop or Amazon.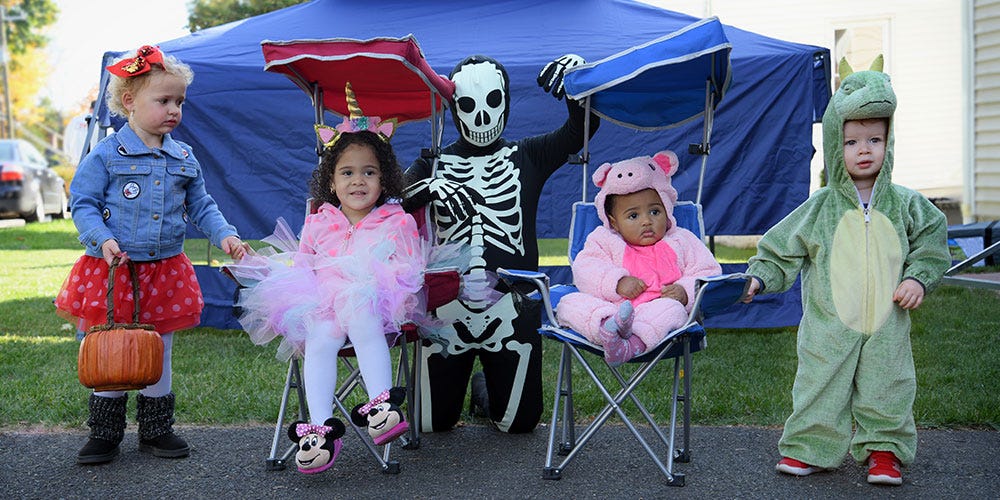 10 Halloween Party Ideas and Themes
Now that your cauldron is brimming with ideas about what to do for this next year's Halloween party, let's pick a theme to go with it. Below, we have listed some classics and other unique ideas to make this Halloween a memorable one.
1. Costume Theme
A costume-themed party is perhaps the most traditional of the Halloween party ideas. It also presents you with countless options for the years to come if you want to stick to a more straightforward type of party. You can have a Marvel movie theme, a Disney theme, or themes based on favorite horror films.
2. Spooky Scavenger Hunt
A scavenger hunt is an excellent way to get people to notice all the decorating work you have done since they will be in and around everything. Once your guests arrive, split them into search parties. A fun way to do this is to give the scavenger hunt a backstory. What is the significance of the items that people are looking for? Is there a prize at the end? Perhaps your guests will have to search for clues to find a murder weapon at the scene of a crime or try to figure out if the house is haunted.
If you are hosting a kid's party, this might be a little over their heads. You can also give it a simple theme by looking for the various parts of a skeleton. The first team who has a complete skeleton wins!
3. Murder Mystery
Another excellent theme for an adult Halloween party is a murder mystery. The costumes people wear can be themed around the setting of the mystery. You can go for a classic old '20s themed party or choose something with more of a sci-fi twist, like a crime committed on a space station.
This option is likely to take up most of your time since it involves quite a bit of preparation. One of the best ways that you can prepare is to set up a party tent. That way, you have plenty of space for both the actors, the guests, and dinner if you decide to have a dinner party to go along with it. Be prepared with plenty of details and small clues so your guests can actively participate in the murder mystery night.
4. Fortune-Telling Fiesta
Another side of Halloween is the magical side. Incorporate this into your party by having one of the highlights be a fortune-telling session. Whether you get a real fortune-teller to attend the party or you make a game out of it is up to you. You can decorate with throws, spider webs, and string lights to make it seem more realistic and fitting for the season.
5. Horror Movie Night
You don't always have to have a party that is quite so activity-centric. Instead, why not have a relaxed party with plenty of food to enjoy in front of the big screen. You can easily set this option up in your backyard by using a gazebo with winter covers or a pop-up canopy. Set up some folding chairs and get a projector to project the movie onto a wall or hanging sheet.
This option works well whether you are hosting a party for adults or children. Pick a movie that is appropriate for the ages or get modern with it and send out a poll with options the party-goers can choose from to make sure the movie appeals to as many attendees as possible.
6. Haunted Bake-Off or Cocktail Make-Off Contest
Another backyard Halloween party idea is to host a bake-off. The challenge would be to make the creepiest cakes or the tastiest but freakiest desserts. Host it in a party tent to get the real bake-off feeling.
Another twist on this night of creativity is to have a cocktail crafting contest. Have a range of potential ingredients and options on hand or someone willing to go shopping after the ingredients have been listed by the contestants. Then, everyone can try their hand at making their own Halloween cocktail. By the end of the session, the party will be in full swing, and you will hopefully have some great cocktail ideas to take into next year!
7. Transylvania Prom
Pick a theme for the prom night, from Transylvania with all its vampires, werewolves, and ghouls to a zombie prom filled with fake blood and moaning music.
8. Creepy Camp Night
Do you have a barbecue in the backyard? Equip it with some comfy camp chairs and finish your night with s'mores around the campfire. You can also take the party away from the city and have an actual night camping under the stars. Tell scary ghost stories and decorate the trees around the space with some ghoulish spider webs.
9. Create a Trick-or-Treat Fortress
With a metal shed or a portable garage, you can create your own trick-or-treat fortress right in your very own backyard. The best part is that you can use the structure for personal or business use for most of the year and decorate it for Halloween in October.
10. Halloween Carnival
Are you ready to go all out for Halloween this year? Work with your friends or organize your neighborhood to create a Halloween carnival for your area. Use pop-canopies and a party tent for the main attractions to give the carnival structure. Fill them with fortune-tellers, bobbing for apples, pin the broom on the witch and consider what your primary attraction should be.
Get Ready for a Scare
Whatever you choose, ShelterLogic Group is ready to equip you with a wide range of outdoor products to give your party the right level of comfort and ambiance.