Recently-released guidelines from the Center for Disease Control and Prevention discourage Americans from taking part in traditional trick-or-treating this Halloween because of the COVID-19 pandemic. Although trick-or-treating is massive numbers brings a significantly high risk in many parts of the country, it doesn't mean your family can't have a safe Halloween.

However, the CDC's recommendation does not mean you have to give up Halloween altogether. A National Confectioners Association poll found that 63% of adults believe that people will find creative, fun, and safe ways to celebrate the Halloween season this year. That includes several fun outdoor family activities that can be done in your backyard or your neighborhood.

Let's look at some of the many creative activities your family, and even your community, can do and still have a fun and safe Halloween.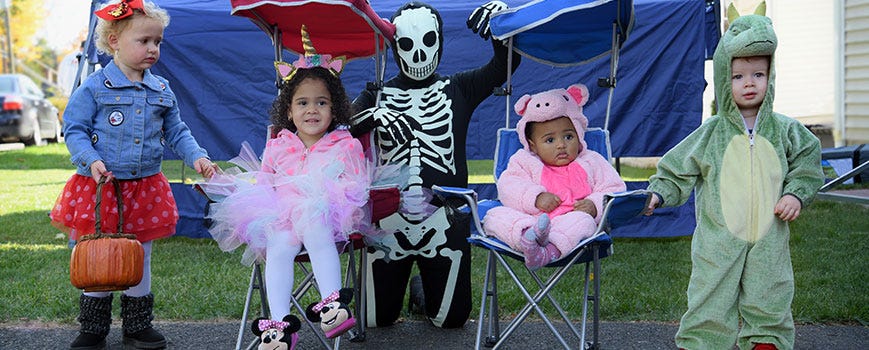 Trick-or-Treating in Small Groups
In areas where the infection rates are under control, infectious disease experts say that trick-or-treating can be done safely in very small groups or cohorts. But there needs to be some established ground rules. For example, the CDC says a costume mask should not be considered a replacement for a surgical or N95 mask or other face coverings unless it is made of cloth and has at least 2 layers of fabric. Also, those face coverings should not be worn with a costume mask as it makes it harder to breathe.

Additionally, hand sanitizer is highly recommended, and should be used frequently along the route. Even if you tell your trick-or treaters not to touch their faces, touch doorknobs, or ring doorbells, it's probably going to happen.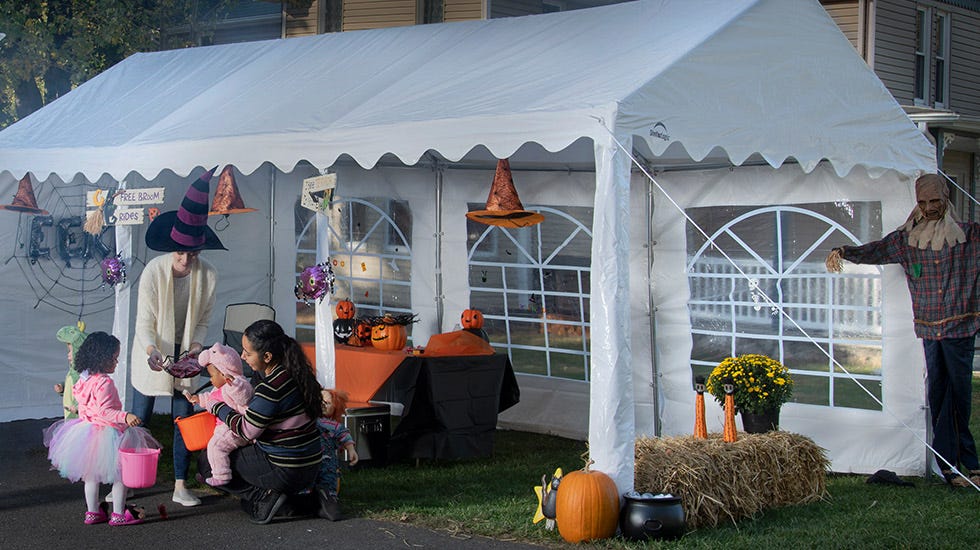 Set Up an Outdoor Candy Station
If you are giving out candy, it's best to do it outdoors this year. We know that trick-or-treaters don't march through your home, but they can touch your door handles, doors, and all the candy if you let them near your bowl.

Incorporate a party tent or a pop-up canopy as part of your outdoor Halloween décor. You can use it as a themed outdoor candy station. You can decorate it like a haunted house or adorn it with Halloween decorations and colors. By using outdoor tents as a candy station instead of having kids come to your front door, trick-or-treaters will be able to stay outside in a safer space.

Set the candy station up underneath a large canopy tent like a 10x20 pop-up canopy. Instead of filling a bowl with candy that every kid dips their hands in, you can make up individual goodie bags that trick-or-treaters can grab and take home. You can put the bags on different Halloween props like haystacks, or simply on a table. It's a contactless way to have a safe Halloween!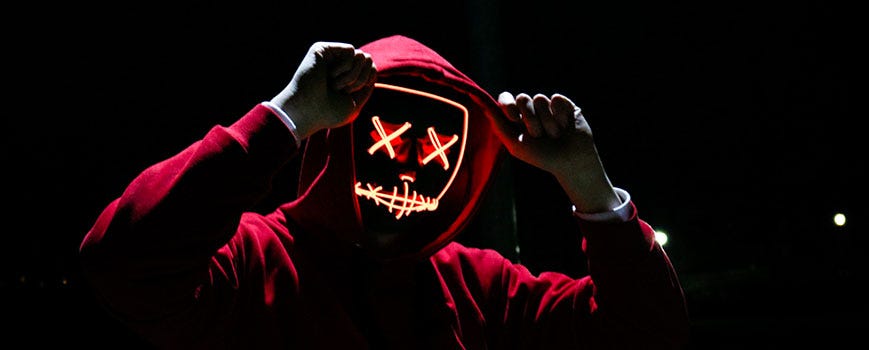 Safe Halloween Scavenger Hunt
Scavenger hunts are excellent sources of family fun and have numerous benefits for kids. You can have a Halloween-themed scavenger hunt outdoors during the daylight or nighttime.

You can have a safe Halloween scavenger hunt in your backyard or go around the neighborhood looking for clues. Having it in a wooded outdoor space can make it spooky family fun. It can be a visual scavenger hunt (like an Eye Spy game), or you can have the kids physically bring objects back to your home base.

And of course, trading in found scavenger hunt items for candy and other goodies is a sweet Halloween reward! After the hunt, your family can relax in folding portable chairs and enjoy the rest of your Halloween night. Or if you're doing your safe Halloween scavenger hunt during the day, you use folding canopy chairs for protection from the sun's harmful UV rays.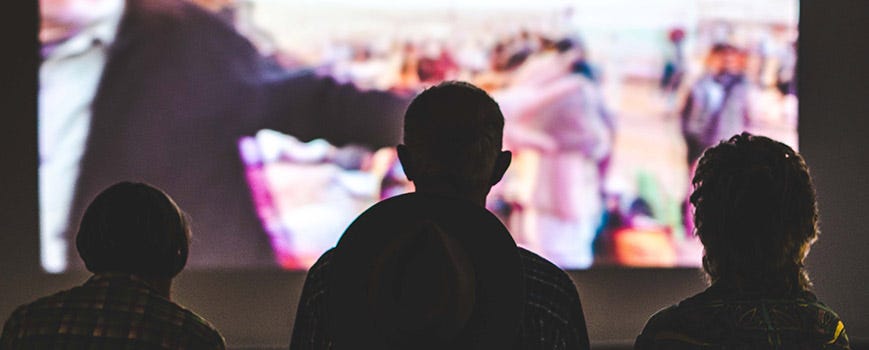 Host a Scary Movie Under the Stars
Celebrate with a movie night and dress as your favorite characters. Do this as a family at home or consider letting your child watch with their friends while video chatting, with everyone starting the movie at the same time.

All you need to have the perfect scary movie night is a laptop, a projector, and a white bedsheet to use as a screen. You can stream one a scary Halloween classic, some silly Halloween cartoons, or a movie that the whole family will love.

You'll probably want comfy outdoor folding chairs and some blankets so you can relax and watch the movie. You can grab some kids folding chairs for the little ones, too.

Invite your neighbors or a few of your kids' friends to your show. You can turn it into a theme night, based on your movies of choice. Since it's Halloween, your guests can come dressed as their favorite movie character.

And don't forget the refreshments! You can make popcorn, enjoy those movie theater-size boxes of candy, and keep your drinks cold in a rolling party cooler!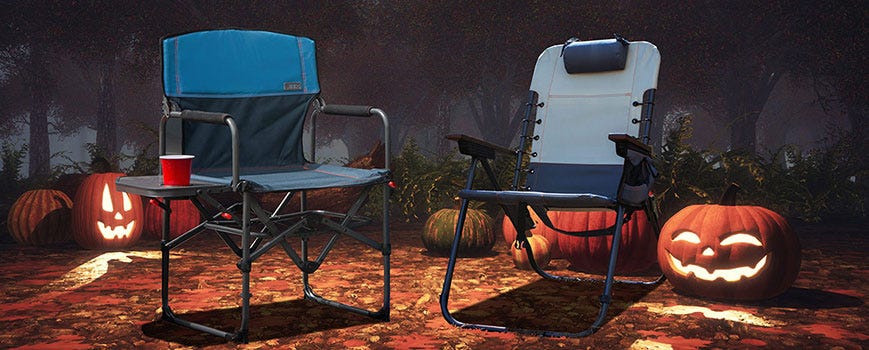 Scary Halloween Campout
Halloween camping is the perfect opportunity to really get into the spirit of the season. Just being at a campground or your own backyard with thoughts of ghosts, ghouls, vampires, and zombies in your head is enough to bring a scare and a chill.

Take out the camping chairs and camp tables and gather the family around the firepit or campfire. Grab some logs from the firewood rack and roll them to the firepit in a firewood cart. You can roast hot dogs over the flame and save some room for s'mores! Don't forget the patio cooler to keep your drinks cold!

It's also a great time to tell some scary ghost stories. You can make them even creepier by playing an eerie soundtrack in the background.

And if you dare, grab some camping cots, blankets, and flashlights and sleep out under the stars. They will help you get a good night sleep… unless the monsters get you!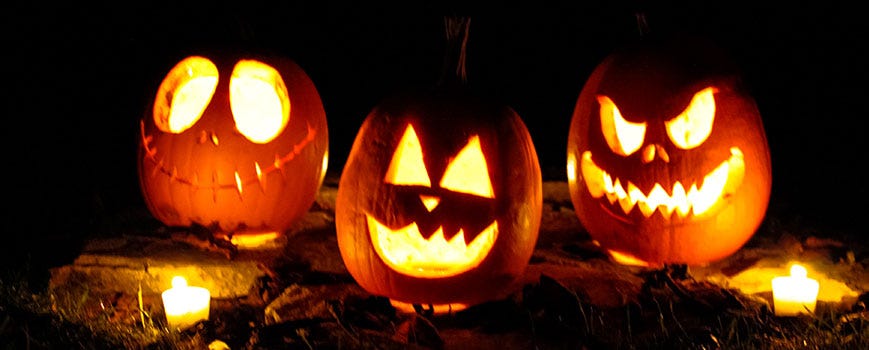 Decorating Pumpkins
This is one Halloween tradition that carries over to a pandemic-safe Halloween! However, you need to be careful to avoid pumpkin carving injuries. Children can draw a face with markers, and then have the adults do the carving.

As we all know, pumpkin carving can be rather messy. Of course, that makes pumpkin carving an ideal outdoor activity! You can set a pop-up canopy tent up over a picnic table or patio table. Hang lights from your tent to create a safer carving station under the portable canopy.

Use the pumpkins you carve as jack-o-lanterns for your front porch or doorstep. To keep it a safe Halloween, you can use a flashlight, tea lights, or glow sticks to illuminate your jack-o-lantern, instead of using a potentially dangerous candle.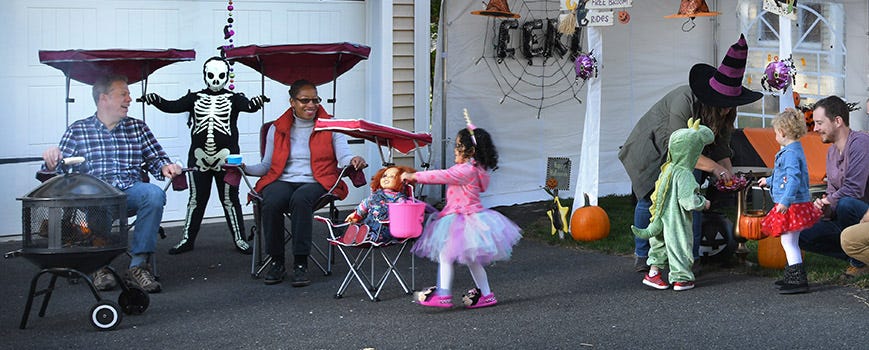 What About Safe Halloween Events in the Community?
Some states have crushed the curve and still have low coronavirus positivity rates. Other states have not crushed the curve and are still seeing high coronavirus positivity rates but have "opened up" for normal everyday activities.

Safe community Halloween events may be in the eye of the beholder. A community may feel it's safe to host outdoor events if safe social distancing can be maintained. However, the ultimate decision to attend or host a community event is totally up to you.

Ultimately, the CDC and several state departments of health have said that outdoor events are safer than indoor ones. While indoor events such as a haunted house should be avoided, not all outdoor events are designed for a safe Halloween. For example, hayrides with people who are not a part of your family are not considered to be high risk. However, a trip to the orchard, pumpkin patch, or corn maze is considered low to moderate risk. At the same time, open-air trunk-or-treat events are a higher risk in some regions.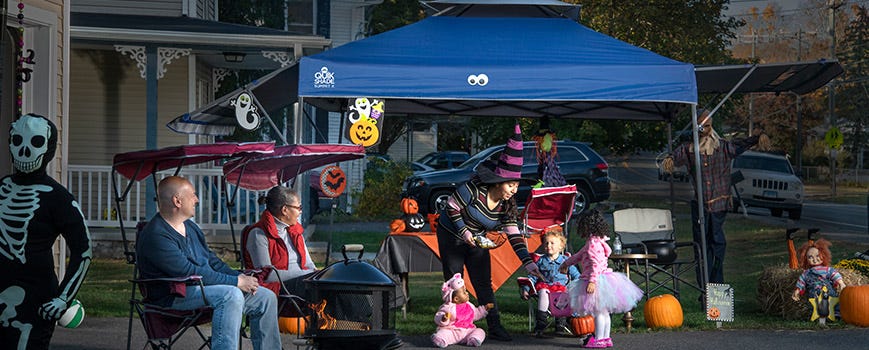 Open-Air Shelter for Safe Halloween Events
Whether you're hosting a safe Halloween event for the community, having a small gathering in your backyard, or greeting trick-or-treaters in your front yard, you're going to need protection from the elements. There are several styles and sizes of open-air shelters you can choose from to help you celebrate a safe Halloween.


Party Tents to Cover Big Areas
Party tents are not just for weddings and banquets. They are a versatile shelter that can be assembled and anchored* by two people in just a few hours and can be configured in many ways.

In its most-basic form, a party tent can be used as a canopy to protect guests from the sun and the rain. PVC panels can be attached to fully-enclose your party tent. You can also attach PVC panels to one side of a party tent to block the wind or cut down on sun glare.

Since they come in a variety of sizes for 10x20 ft. to 20x30 ft., party tents can be used in a variety of ways. You can anchor a party tent in your front yard and set up a spooky candy station, or in your backyard for pumpkin carving contests. In a community setting, a party tent can make a great open-air shelter for a trunk-or-treat event.

Shop Party Tents


Single-Pipe Canopy Tents for Simplicity
Single-pipe canopy tents are like party tents but are designed to be put up and taken down in less time. They get their name because the structure itself is made of pipes which you connect. Like party tents, an enclosure kit can be added to wall of part of or the entire structure.

Other than ease of assembly, another benefit or a canopy tent is the ease of movement. Say you want to use a canopy tent for a safe Halloween gathering on October 30, and to greet trick-or-treaters the following night. You can simply un-anchor the canopy tent and move it from the backyard to the front yard without the need to dismantle and reassemble it.

Shop Canopy Tents


Pop-Up Canopies for Quick Set-Ups
Pop-up canopies can be set up at a moment's notice. They provide convenient protection from the elements wherever and whenever you need it.

Not only are pop-up canopies portable, they provide more versatility than single-pipe canopies or party tents. They have telescoping legs that can be adjusted to heights that best suit your needs. For example, if the sun is hitting at an awkward angle, you can adjust the legs on one side so the canopy can block it better.

Pop-up canopies are also easy to store. They can be placed in its handy wheeled carry bag and rolled to the garage, shed, closet, or basement for convenient storage.

Shop Pop-Up Canopies


Shop ShelterLogic for Your Safe Halloween Shelter and More
From tents to portable chairs to metal coolers and more, ShelterLogic and its brands have all the essentials you need for a successful and safe Halloween. Click on the button below to check out our line of must-haves for Halloween and beyond.

Shop Halloween Essentials

* We always recommend a properly anchored structure. Please reference your manual for anchoring best practices or check out this anchor guide.