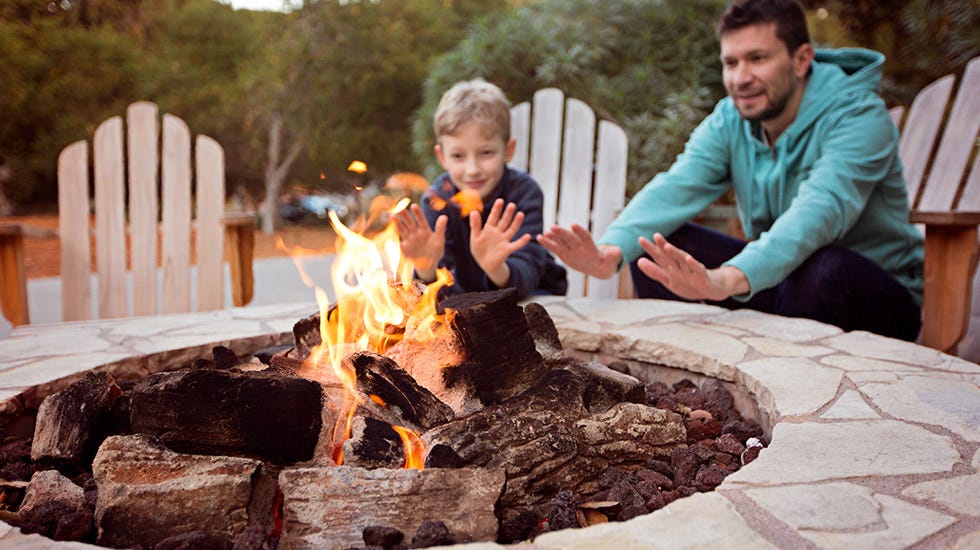 Traditionally, the summertime is a great time to get away with the family. However, work schedules, summer camps, and other activities can keep a family vacation from taking place. But fun family activities don't have to take place on the road. You can make memories with your family right in your own backyard!

There are several family activities that you can do right in your own backyard this summer. Some family activities require strength and teamwork, while others allow you all to relax and enjoy. Also, some of these activities can bring more fun to your next backyard gathering.

From giant board games to family yoga, here are six backyard family activities that will make it a memorable summer.


Set Up a Virtual Campout
Virtual campouts are a relatively new trend that combine backyard camping with video conferencing apps. All you need is a backyard, some camping gear, and access to the Internet.

How does a virtual campout work? You and your family camp out under the stars in your own backyard. You can invite your family and friends to also camp out in their own backyards. Then you meet up with them virtually on Zoom, Google Meet, or whichever video conferencing app you prefer.

There are many activities you can do with your virtual guests. For example, you can tell scary ghost stories or sing songs by a campfire. Campfire games such as 20 Questions, Fortunately/Unfortunately, and I Went to Market can also be played virtually.

Also, your family and friends can prepare meals and dine together, either over the campfire or using an outdoor grill. You can keep it simple and have burgers and dogs and save some room for S'mores for dessert.

You'll want to have some durable camping chairs and some sturdy camping tables so you can kick back and relax during your virtual campout. A strong pop-up canopy tent will help protect your family from harmful UV rays long before the sun goes down. A comfy and convenient camping cot will help you get a good night sleep under the stars.


SHOP SPORTS + OUTDOOR RECREATION
Build Your Own Backyard Fire Pit
Backyard fire pits have become a popular landscaping element, as well as an attractive, functional outdoor gathering space. You can buy an appealing propane-powered fire pit for use on a patio or deck, or a metal firepit to use in your backyard.

However, building your own backyard fire pit can be a fun and fulfilling family project. You'll need some masonry supplies to do the job, including paver stones, capstones, ready-mix concrete, gravel, a shovel, and a hand tamper.

Ideally, a DIY backyard fire pit should be built at least 25 feet from a house, shed, or tree. If your backyard is big enough to accommodate this, then you can plan your firepit! Once you have a plan, you can follow these four steps to build your firepit.

Building a firepit is a family activity that could take a whole weekend to do. But once it's completed, you'll be able to enjoy quiet nights by the fire with your family. You can also invite your family and friends to come over and hang out by the fire.

To get ready for your first fire, there's a few things you'll need. You'll need a firewood rack to keep your firewood dry and neatly stacked. You'll also want some folding chairs that you can store in your shed and take out when you're ready to have a fire. A dependable metal cooler is necessary to keep your drinks and snacks cool and cut back on trips to the kitchen.


Backyard Yoga
Many people who practice yoga do it in a studio or in their living room. However, practicing yoga outdoors can be an enlightening experience. Whether it's on a deck, a patio, or on the grass, yoga in the backyard offers many benefits that just can't be experienced indoors.

Studies show that when two or more of your senses are engaged, relaxation follows. The feel of the sunshine, scents from your garden, and the sound of nature all work together to release tension and dial you into your practice.

In a world where parents and children are so busy, family yoga provides a wonderful place to spend healthy and happy, quality time together. Family activities like yoga can help strengthen bonds and disconnect from the outside world.

While the sunshine can be soothing, you'll want to cut the sun's intensity down a bit. You'll want to have a pop-up canopy readily available, or to install a shade sail over your patio or deck. While the sun can help you find your Zen, you won't want it to cause irreversible damage to your skin.
Backyard Badminton Family Tournament
Does your family get competitive? There are plenty of games you can play in your backyard, such as horseshoes and cornhole. But a game of badminton can really get your blood pumping while you work up a sweat.

Whether you're playing singles or doubles, you can have a family tournament or just play pickup games against each other. The rules of badminton are rather simple, and it's easy to keep score.

You don't need a lot of space in your backyard for a badminton court. However, you do want to make sure the court is not near a fence. That way, you're not leaving your yard to pick up errant shuttlecocks.

Also, when you're setting up your court, you should include a shaded seating area. That space can be used to take a break between games, or for the rest of the family to watch. Folding canopy chairs are easy to store when the matches are done. They also won't take up a lot of room in your backyard, so there's more space to play!
Outdoor Movie Night
What's more fun than a family movie night? How about bringing family activities like movie night to your backyard! All you need to have the perfect backyard movie night is a laptop, a projector, and a white bedsheet to use as a screen. You can stream one of the latest movies, or pop in a family classic that the kids will love.

Your kids may want to sit on the grass or lay on blankets when they watch the movie. But you'll probably want a comfy outdoor folding chair to relax in. With a portable lounge chair, you can kick back and relax like you're in a real movie theater!

Outdoor movie night can also be a great party theme: invite your neighbors or your kids' friends to your show. You can turn it into a theme night, based on your mood or your movie of choice. For example, you can have a drive-in movie theme! The kids can build their own cars out of cardboard boxes, decorate them, and watch the movie from inside them! Also, with cosplay becoming such a popular trend, you can invite your guests to come dressed as their favorite character in the movie.

Remember, no outdoor movie night is complete without an outdoor refreshment stand! You can set up a camping table and stock it with popcorn, drinks, and candy.
SHOP SPORTS + OUTDOOR RECREATION
Build and Play Giant Yard Games
Family activities like game night can take place outdoors. outdoors. Game night can also take on a whole new life when you build giant yard games for the family!

You don't need to be a master craftsman to create your own giant board games. For many games, you just need some wood, a saw, sandpaper, and paint to build some family fun. Games like Jenga, Scrabble, Checkers, and Dominoes can be built by amateur carpenters. If you are an advanced craftsman, you can give a more complex game like Connect Four a try!

Giant yard games can be played during the daytime, too. However, you will want to keep yourself and your family protected from the sun's harmful UV rays. During the day, these family activities should take place underneath a reliable shade canopy.

Also, giant yard games aren't just for backyard family activities. They can be used to entertain at your kids' birthday parties, at the next cookout, brought to picnics, and more. When you aren't using them, you can keep them in a plastic bin and store them in a backyard shed.
Backyard Family Activities Can Make Your Summer Memorable
Family vacations can be a great experience, but there's a lot of stress involved before and after, too. That can lead to tension-filled experiences for you, and memories that aren't as pleasant for your kids.

Life can come at you fast and the only constant is change. Take advantage of your family time and get the most out of your backyard space. The family activities you do this summer in your backyard will create a lifetime of memories for everyone. They'll also help you build an unbreakable bond.