Backyard fire pits are one of this year's most popular home trends. If you've been dreaming of adding a paver patio with fire pit to your backyard, you're in luck! This is a relatively simple DIY project that most people can do in just a few days.
Laying a paver patio generally costs about $350 and will take a full day. Once that's complete, you can add firepit in an hour or two. Depending on the size of the firepit and the materials you choose, you can expect this part of the project to run you anywhere from $50 to $150.
To get started, follow the simple steps below. Once you see how easy it is, you'll wish you had done it sooner.
Gather Your Tools and Materials
It's always a great idea to take stock of the tools and materials you need before you begin a project. To build a paver patio with firepit, you'll need the following items:
Pavers
Paver sand
Paver base
Wall block stones
Tape measure
Wheelbarrow
Shovel
Rake
Level
Hand tamper
Marking spray paint
One 2 x 4
Bricks or stone (optional)
Note that there are many different ways to build both patios and firepits. This tutorial will explain how to build a simple paver patio and wood-burning fire pit made of wall block stones.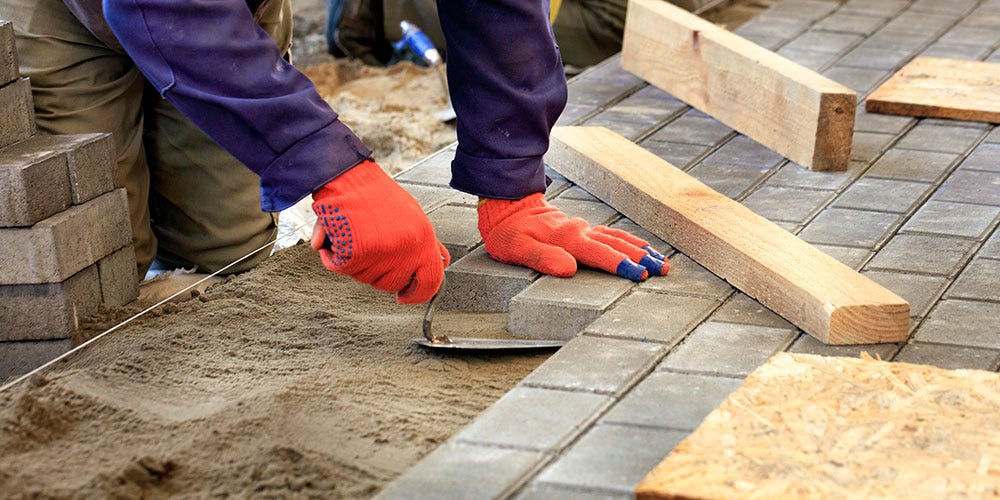 Build Your Paver Patio
Once you've confirmed you have everything you need, you're ready to start building your paver patio. While this can be a single-person job, it is quite labor-intensive. Having at least one helper will make the work go much faster.
Step 1: Mark Your Patio Space
Begin by determining where you'll lay your paver patio. Many homeowners prefer to place their patios directly off the back of their home or along the side. This will allow for easy access from your back or side door.
Next, decide on the size and dimensions of your patio. Once you're happy with your decision, use a tape measure and marking spray paint to mark off the work area.
Step 2: Excavate the Area
Next, remove the grass and weeds from inside the area you've marked. Make sure you dig deep enough. A general rule of thumb is to allow four inches for your paver base and one inch for the paver sand in addition to the depth of your pavers. For example, if you're using a 3-inch paver, you'll want to dig down 8 inches.
If you're laying a small to medium-sized paver patio, you should be able to do this by hand with a shovel. For a larger patio, consider renting a gas-powered turf cutter. While this isn't necessary, it will significantly speed up the process.
Step 3: Lay and Level the Base
Once you've dug out the entire area, lay down approximately four inches of paver base. Use a rake to spread it out, making sure the surface is as even as possible. Then, use a hand tamper to tamp it down.
Next, add a layer of sand to help create a level surface. Tamp it down again to ensure it's even, then use a 2 x 4 to scrim the surface. Use a level to ensure the base is even. If not, tamp and scrim again until you're confident your base is as level as possible.
Step 4: Lay Your Pavers
Starting on the outside edge, begin laying down your pavers. If you're using decorative or multicolored pavers, decide on the pattern you'll follow before you begin placing them down. Work from one side to another, ensuring each paver is aligned with the previous one. Make sure to leave only small spaces between each paver.
Step 5: Fill with Sand
Finally, sprinkle paver sand over your new paver patio, using a broom to sweep it into the cracks. Once the spaces are filled with sand, wet the pavers with a garden hose. This will help them settle into place and reduce future weed growth.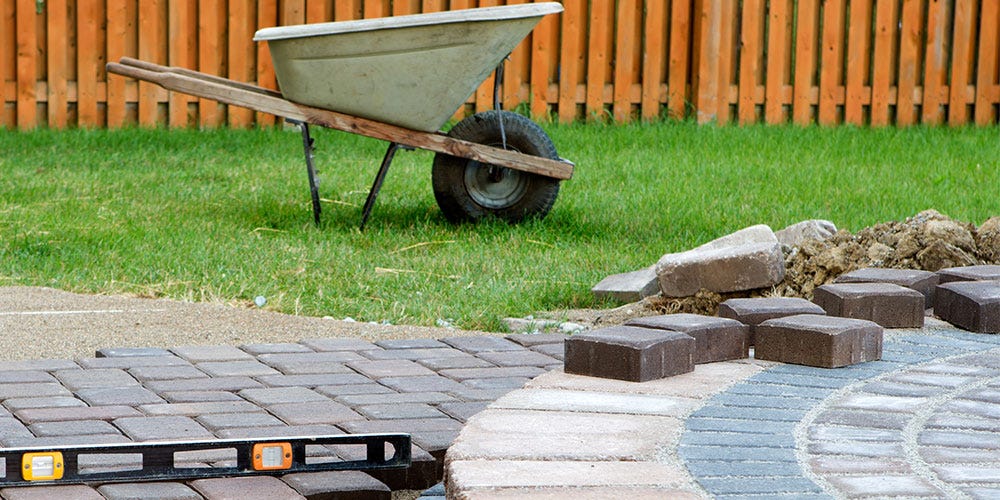 Build the Fire Pit
Once your paver patio is complete, adding fire pit is super simple. Begin by deciding where you want to place your firepit. Some homeowners place it in the center of their paver patio, while others prefer to place it off to the side. There's no right or wrong answer to this, as it's purely a matter of personal preference.
After you've chosen the location, lay down the first layer of wall block stones in the size and shape you desire. Most fire pits are circular and are about 36 to 44 inches in diameter. However, you're free to stray from this if you have a different vision in mind.
When the first layer of stones is in place, use your level to make sure the structure level all the way around. Next, add a second layer of stones, staggering them from the bottom layer so there are air holes throughout the circle. Check again to make sure this layer is level.
Add a third layer, repeating the process. When you're done, your fire pit should be about one foot above the surface of your paver patio. If you want to make sure the fire doesn't ruin your patio, add a layer of bricks or stones along the bottom of the fire pit.
That's it, you've successfully completed your project and you're ready to enjoy new paver patio with fire pit!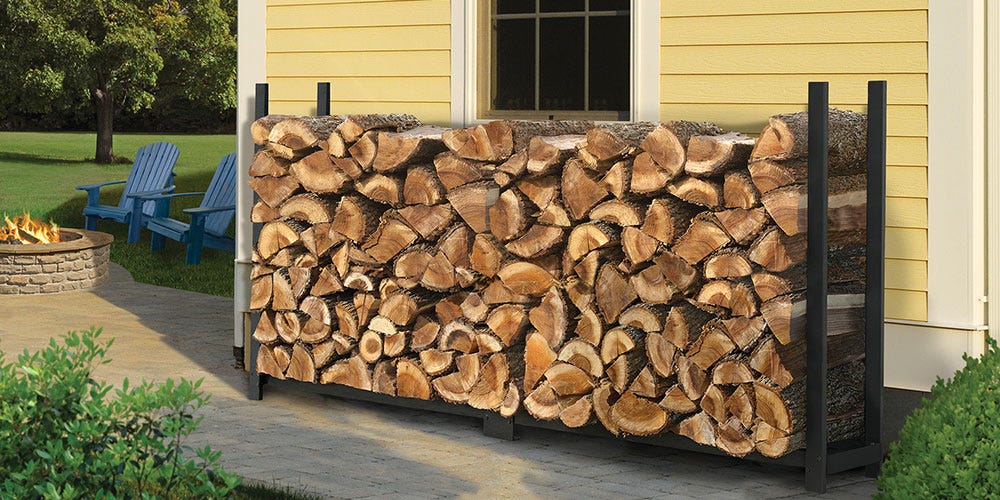 Add Some Style to Your Space
Before you plan your first party, you'll want to add some finishing touches. Not only will the right furniture, accessories, and décor add a sense of style, but it will ensure you and your guests are as comfortable as possible. Here are a few ideas to consider.
Start with Shade
Although you'll typically only use your firepit at night, you'll want to enjoy your paver patio during the daytime too. Adding some shade will block out the sun's harsh rays, keeping you and your guests nice and cool.
While a simple patio umbrella or shade sails will do the trick, if you really want to take things to the next level, consider adding an attractive gazebo to your new patio. This will give the entire area an upscale look and feel.
Hang some string lights around the edge of your gazebo and place a dining set or patio furniture underneath. This allows you to essentially create an entire outdoor room where you and your guests can relax without worrying about the hot sun or an unexpected rainstorm.
Just make sure you position your gazebo away from your firepit. A wood-burning fire creates smoke, which can become toxic in a space without proper air flow. Keeping the two areas separate will also add visual interest to your patio and allow you to have two separate gathering places within the same outdoor space.
Add Some Furniture
Most people use their paver patios for relaxing and entertaining. This means you'll need to purchase some comfortable and functional outdoor furniture. Depending on the size of your patio, you may want to purchase a dining table and chairs, a comfortable loveseat, or some relaxing lounge chairs.
For sitting around the fire pit, we recommend foldable camping chairs. They're lightweight, easy to move around, and won't take up a lot of space when you're not using them. Otherwise, consider purchasing curved loveseats that you can place in a circle around your fire pit. While this is a much more expensive option, it is both classy and comfortable.
You may also consider adding a patio cooler. These durable and versatile standing coolers are a must-have for homeowners who plan to host a lot of outdoor parties. They're both fashionable and functional, making them the perfect addition to your new space.
A deck box is also a great idea. These attractive benches are perfect for storing all of your outdoor accessories when you're not using them. It's also a smart way to add even more seating to your patio area.
Don't Forget the Wood
You'll want to keep plenty of wood on hand so you can enjoy your firepit any time the mood strikes. Consider purchasing a heavy-duty firewood rack and keeping it near your fire pit.
This is an attractive storage solution that will keep your wood up off the ground and far enough away from your home that you won't have to worry about attracting pests. Adding a cover will also keep the wood dry. This will make it much easier to start a fire no matter what the weather.
Need Even More Backyard Ideas?
Once you've completed your new paver patio, we're sure you're going to start spending more time in your backyard. As you do, there's a good chance you'll want to make even more upgrades. Shelter Logic has all the accessories you need to add beauty and functionality to your outdoor space. Take a look through some of our fun and functional outdoor products today!