For a variety of reasons, outdoor cooking has become a popular trend. Increasingly, homeowners aren't just firing up the grill in their backyard: they're transforming their backyard space by adding entire outdoor kitchens. Moving the dining experience outdoors as soon as the weather starts to get warmer. Outdoor cooking has progressed from having family barbeques to hosting family and friends over for a full-fledged outdoor entertainment experience. Whether you're building a new house, or simply making better use of the space you have, an outdoor kitchen is a great enhancement to your backyard space. Creating an outdoor kitchen also doesn't mean you have to break the bank. Learn how to turn an existing outdoor space into the outdoor kitchen of your dreams!
What is an Outdoor Kitchen?
An outdoor kitchen is a place outside your house where one can cook, prepare a meal, and easily clean up afterwards. Typically, an outdoor kitchen is built atop a patio or deck surface and offers the cook and diners some sort of protection from the weather. Several types of appliances and accessories can be included in an outdoor kitchen. An outdoor kitchen should contain countertop space for food preparation, and you can have cabinet space and drawers for utensils underneath. A sink with running water and a trash area are also essential for food preparation, proper hygiene, and cleaning up. In addition, your outdoor kitchen can include appliances such as a grill, stovetop, refrigerator, smoker, and even a pizza oven. Seating is optional in an outdoor kitchen but is far from being out of the question. You can use traditional outdoor dining furniture in your kitchen or set up an island with barstool seating. An island can also give you more space for cabinet storage a mini fridge, and more. You can also just have patio furniture in your kitchen and stick with a casual dining experience.
5 Reasons You Need an Outdoor Kitchen
Every home has a kitchen, so why would you also need an outdoor kitchen? Whether you love to entertain or you just to be outdoors, there are several reasons to have one. Let's look at 5 reasons you need one:
1. Save on Energy Bills
Whether you cook with gas or electric, your stove or oven uses a lot of electricity. Your appliances will mostly run on propane. Also, if you are cooking in natural daylight, you won't have to worry about lighting. Lastly, if all you do outside is grill, you're making multiple trips in and out of the house. Every time you open the door in the summer, you're wasting air conditioning, and in the winter, you're wasting heat.
2. Easy Clean-up
Have you ever wished you could clean your kitchen by just hosing it down? Indoors, that's just not feasible. But outdoors, that's the way to go. You can use a garden hose to clean up any messes that are left on the floor, your outdoor furniture, and more. We recommend that you wash countertop surfaces with a detergent or a disinfectant before you take a hose to it.
3. More Entertainment Space
Let's face it, when you entertain at home, the kitchen, for some reason, becomes a gathering space. Let your outdoor kitchen be the spot where people congregate. Also, if your party guests are staying outdoors. You can give your air conditioner or heat a much-needed break.
4. Maximize Outdoor Entertainment
When the weather is nice, party guests don't want to stay indoors. When you have an outdoor kitchen, you can use it nearly all year long, depending on where you live. This way, too, there's less cleaning up to do in your house before you entertain. Your guests will enjoy your outdoor kitchen, and the time leading up to your party will be less stressful.
5. Great for Resale Value
Depending on where you live, an outdoor kitchen can help increase your home value . Outdoor kitchens built in warmer climates like the south or southwest, have a higher ROI compared to unstable climates found in most Midwest and East Coast states. However, even in warmer climates, the ROI of an outdoor kitchen will be dependent on comparable neighborhoods and the building materials and finishes you use.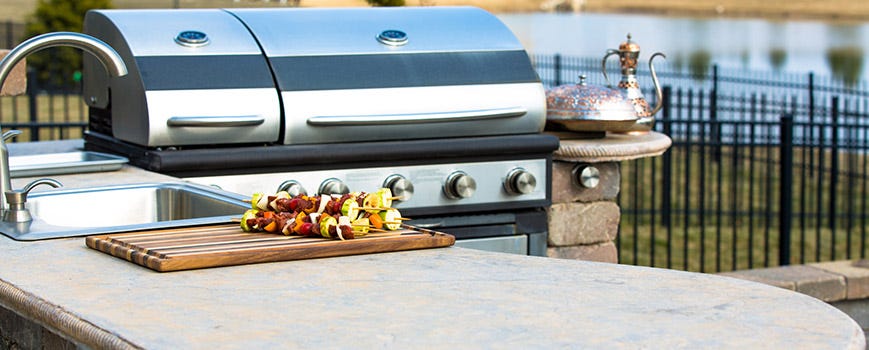 How to Design an Outdoor Kitchen
Designing the best type of outdoor kitchen for your house will depend on your budget, lifestyle, and space, among other factors. You should decide if you want a fully functional kitchen or something simpler. From there, you can determine what is important and what's a convenience, and if your budget and taste have room for the extras. Here are the three most-important things to consider when you're going to design your outdoor kitchen:
Location
For the sake of convenience, it's best to have your kitchen as close to the back door of your house as possible. Building it on an existing patio, over an existing deck, or near your pool makes perfect sense because each would already have an electrical source. This is very helpful should you want your outdoor kitchen to double as an entertainment area. However, there is a caveat. You don't want to have an outdoor kitchen where smoke can blow into your house! Gauge the wind before you make any plans. It may determine if you need to place an outdoor kitchen elsewhere on your property, or if you need to include ventilation as part of your plan.
Flooring
Can you build an outdoor kitchen on a deck? The short answer is yes. If you're building on top of an existing deck, then flooring won't be an issue. You can build your outdoor kitchen atop a concrete slab, but you may not like the look as a floor. However, concrete, natural stone, brick, and tile are good, non-slip, easy-to-clean options for outdoor flooring. You don't want a high-maintenance product outside, but you do want it to be stylish and weather-resistant.
Appliances and Accessories
Whether you're a fan of charcoal, propane, or natural gas cooking, a grill will be the centerpiece of your outdoor kitchen. You can incorporate a portable grill into your kitchen, or you can go all out and have a drop-in grill built into your counter space. However, you get what you pay for: drop-in grills are more expensive because they are made with higher-grade materials and retain heat better. Other considerations for appliances and accessories include:
Cabinets and Countertops: You will need plenty of storage, places to put items on, and counter space to prepare your food. Keep in mind that all of it must all be weatherproof and waterproof. Cabinets and countertops should provide enough space for everything to have a place, and to keep your kitchen uncluttered.
Sink with Running Water: This is a necessity for food preparation and proper sanitation. A sink will require a water supply and a drain. You'll want to add an access door under your sink to provide access to the plumbing.
Refrigerator: Your garage beer fridge just won't cut it. There are two main differences between refrigerators designed to be used outdoors and indoors. First is the ambient temperature range, and second is weatherproofing for the electrical components.
Smoker: If you like slow-cooked ribs, brisket, and other barbeque delicacies, then a smoker is a great add-on for your outdoor kitchen. Of course, if you're concerned about the amount of smoke you'll create, you can leave the smoker somewhere else in your yard.
Pizza Oven: A pizza oven is wood-fired, making it a very authentic style of cooking. Don't let the name fool you; all sorts of food, from fish to dessert, can be cooked in a pizza oven. They are exceptional tools for roasting meats and vegetables, too. They are also expensive, so you may want to consider a pizza stone for the grill, too.
Furniture: How you furnish your outdoor kitchen will depend on your storage needs. If you need additional storage, then an island and barstools can help you maximize space. If storage is not a premium, then you can opt for more traditional patio furniture for family and entertainment needs.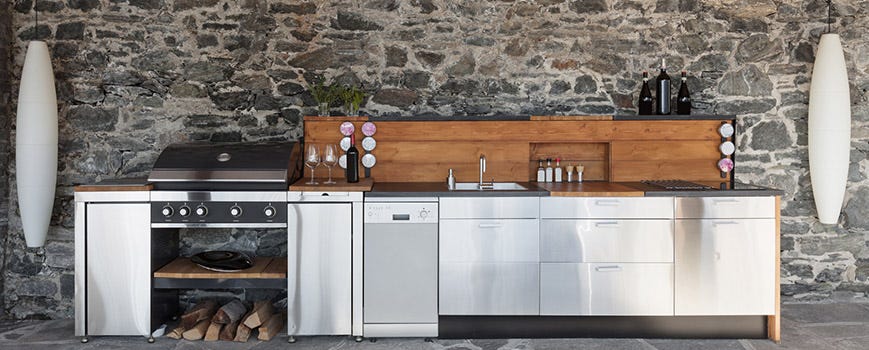 Protecting Your Outdoor Kitchen from the Elements
Your outdoor appliances, fixtures, furnishings, and furniture will be weatherproof and waterproof. However, you will still want to protect your investment from the elements. You'll also want to keep your family and dinner guests protected. For example, if you live in the Pacific northwest, you'd want to protect everything from the rain. Although it's dry in the southwest, you must deal with the blazing sun. Places like Florida can get very buggy, and you don't want any unwanted pests joining you for dinner. Also, outdoor kitchen usage may be limited in Canada and in states with cold, long winters. But an outdoor kitchen does not need to be a completely open-air kitchen. The following types of shelters can give you year-round use of your outdoor kitchen.
An Outdoor Kitchen is a Worthy Investment
Not only will it get a lot of use, an outdoor kitchen can add value to your home. Not only can one be used as a place to cook and dine al fresco, it can be a great place to entertain your family and friends. An outdoor kitchen also lets you extend your living space. Even if it seems the climate can limit your usage, the right shelter can make your outdoor kitchen a year-round place to cook and entertain.