Did you know that a sunroom can drastically increase your home's resale value? Whether you intend to sell your home or not, a sunroom can add coziness to it.
A sunroom can allow you to enjoy the outdoors during inclement weather, free from insects and protected from the wind. But a sunroom, which is also known as a solarium or a Florida room, is only comfortable until it's wintertime, and you may end up spending less time using it.
Fortunately, with a relevant heater for a sunroom, you can comfortably heat a sunroom in the winter and enjoy your time there as though you're still in summer. Want to find out how you can heat your sunroom in the winter? Read on to draw insights!
Install Weather Strips
Weather stripping can shield your sunroom from external moisture or rain, which can penetrate through the windows or doors. A weather stripping can also help you contain your interior air to save you unwanted energy bills while maximizing your winter comfort.
You can choose a V strip tension seal along with your sliding windows or along the sides of your double-hung windows. This V strip can also act as a good seal for your door sides. Also, you can use a felt around your window and door sashes.
Utilize Plastic Window Kits
Plastic window wrap kits can reduce drafts and make a solarium feel warmer during the winter. They are also a relatively inexpensive way to reduce condensation buildup and lower energy bills.
Window wraps are clear plastic sheets that stop cold air from entering through unseen gaps in your window framework. These window kits can be purchased at just about any local hardware or home improvement store.
Installation requires little more than scissors, a utility knife, tape measure, hair dryer, cotton balls, rubbing alcohol and some double-sided tape or magnetic tape.
Use a Fan
A fan can help you heat a sunroom in winter. It can help circulate warm air within your Florida home.
Typically, a fan draws air from your house upwards. But, when you reverse the direction, the fan blades push air from your house's top downwards. Consequently, your sunroom shall heat up as this warm air circulates.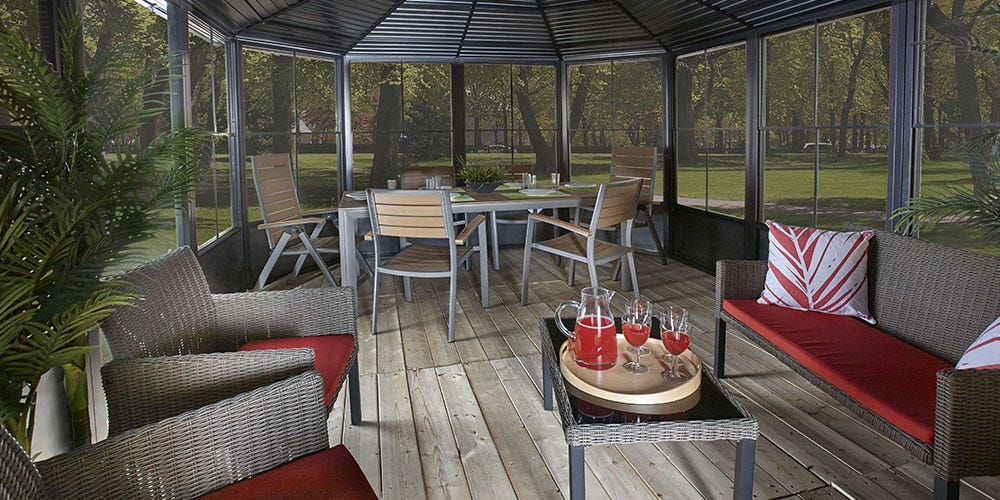 Insulate The Floor
A vapor barrier can help you heat a sunroom in winter. It can keep condensation and vapor off your floor. So, install this barrier between your floor joints and below your sunroom's flooring materials.
You can also seal up your floor's underneath sides from the outside using a wire mesh to sustain the insulation. This can also help you keep critters from nesting onto your insulators.
It's also essential to choose a high-quality R-value insulation material is also crucial for the best results. Besides, you must gently fill your floor joists with insulators to allow them to trap enough air.
Otherwise, densely packed floor joists may not keep as much air as they should. Likewise, you can cover your floor's insulation with a plywood layer.
Tint Your Windows
Tinted windows are a cost-effective way to keep your three-season solarium's heat from escaping. However, you must be ready to sacrifice your view of the outdoors.
This strategy can also allow more sunlight into your Florida home and prevent the escape of this solar energy. It can keep your sunroom comfortably warm.
Alternatively, you can apply window coverings. These can insulate your sunroom, cool it in summer, and warm it in winter.
Get Some Baseboard Heaters
A Baseboard heater is an ideal heater for the sunroom. Likewise, radiant heating can help you heat your home all year round.
Baseboard heaters run effortlessly in the background and are very energy efficient. Not to mention, they are compact to save you space.
Baseboard heaters are easy to install. They are safer than using electric fireplaces in a home with children and pets.
Fix Thermal Curtains
Thermal curtains can significantly block the cold from creeping into your Florida home during winter. Besides, they can prevent heat loss to the outside, keeping your sunroom warmer.
Also, you can use them with gas inserts or a fireplace. This way, the heat that your fire generates can remain within the sunroom.
Thick, thermal curtains can also add to your sunroom's coziness allowing you to choose winter-suitable colors of choice. And, you can benefit more from leaving your thermal curtain drapes open in the daytime.
This can allow the sun to warm your sunroom naturally. The warmth will remain indoors, even at night comforting you in those chilly winters.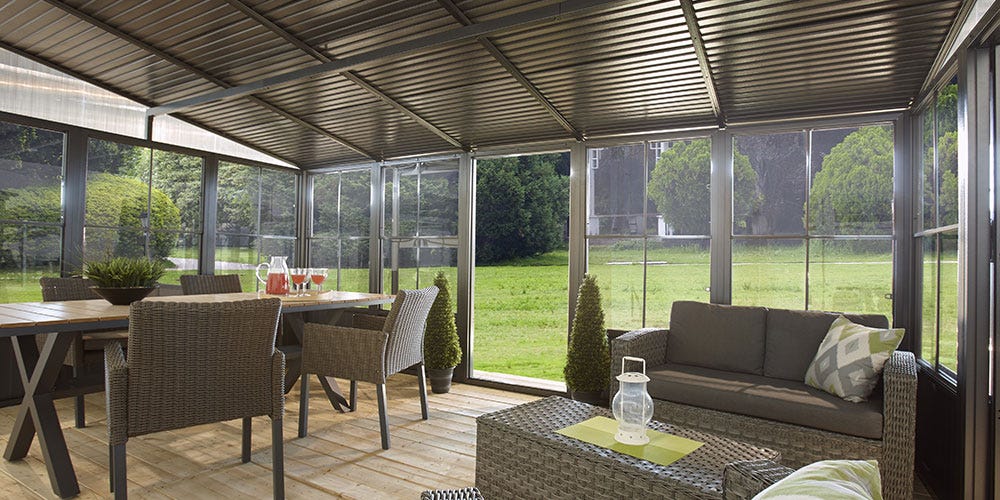 Rugs and Carpets
Besides insulating your floor coverings, simple strategies like using rugs and carpets can make heat your sunroom in winter. The rugs can protect your feet from the cold and make the floors comfortable for children to play.
Alternatively, you can install radiant flooring while designing your sunroom. Unlike other traditional heaters, these floors are energy efficient and don't require extra space. Radiant flooring is safe and easy to install.
Install an HVAC System
An HVAC system can heat a sunroom in winter. And for better results, you can connect your HVAC to your sunroom. This can keep your sunroom's climate comfortable in harsh winter.
While it's an expensive solution, it's also comprehensive and more permanent. Yet, a ductless system can be more relevant. It's more efficient and straightforward to handle and install compared to traditional HVAC systems.
This HVAC system can allow you to switch it off when you're leaving your sunroom to save on energy. It can also allow you to heat the specific part of your house you want to heat.
Get a Fireplace or Stove
Except that it can eat into much of your sunroom's space, a wood-burning fireplace or stove is a good solution. It can heat your sunroom in winter.
Besides, it provides a convenient environment to have some storytelling sessions with friends and relatives as you enjoy the clear view of your outdoors.
Get Portable Heaters
You have lots of portable heaters options to heat your three seasoned sunrooms. These heaters are compact to save you space.
They're also affordable and convenient as you can move them from one part of the house to another. Likewise, they are effective and can constantly keep your room temperatures optimum.
They can provide you with a pleasant relaxed environment. You can choose space heaters or electric fireplaces based on your preferences.
Also, you should consider the size of your sunroom. Most portable heaters may not heat larger sunrooms. However, these heaters can add some visual cues to your sunroom, increasing its coziness.
Keeping Your Sunroom Warm in the Winter
Above are some strategies you can use to heat your sunroom in winter. Some of them, like flooring and thermal roofing, are permanent solutions.
Heaters, shutters, and weather strips are temporary solutions you can use at your convenience. Therefore, think about winter during your sunroom's installation if you leave in areas that experience harsh winters.
This can inform your sunroom's installation. It can help you incorporate such permanent elements as ThermalDucts and radiant flooring.
Also, think about your children and pets as you choose a suitable heater for a sunroom. Electric fireplaces are safer than burning wood fireplaces.