Whether you're an experienced road warrior or a rookie planning your first trip across the country, you can have an incredible RV adventure when everyone is prepared. There's no better feeling than heading out on a road trip in a vehicle that can take many of the comforts of home along for the ride. With nothing but the open road ahead and many places to discover, you're in for the trip of a lifetime.
This guide will share the basic steps you need to take to plan an RV trip, what apps and tools to use, and other practical preparation you need to make. Among the hot items to bring are pop-up canopies, portable furniture, and outdoor living accessories that create a "home away from home."
The ABCs of RV Road Trip Planning
If you want to plan an RV road trip, ask yourself these basic questions. Many considerations go into a road trip with a home on wheels, but you can set off on your adventure in no time with some preparation.
Do you plan to rent or own an RV? Owning vs. renting an RV have their pros and cons. Both methods require RV insurance, regular vehicle refuels, and upkeep. Do your research before committing to either method of vehicle acquisition.
Do you want extra travel safety nets? Travel insurance and roadside assistance are added expenses but give you more security while on the road.
What size RV is best for you? A 40-foot RV is luxurious and has the most amenities, but it can be more intimidating to drive and needs to be parked in approved spaces. Overall, they are not for first-timers. On the other hand, RVs under 30 feet in length are more portable and can usually fit in a standard campground. Seasoned RVers that travel in small groups (think couples) recommend an RV between 19- to 22-feet long to have enough room for a bedroom and storage while still being small enough to park almost anywhere.
Where do you want to travel? The RV you choose must be able to go on the routes you want to see. When you know your RV's length and height, plot your course by booking campgrounds in advance. This ensures you have somewhere to stay along your path.
Plan a method to charge the battery. RVs have a house battery that needs to be charged so that you can live comfortably. To keep it running, you must use one or a combination of these methods: drive a few hours daily, plug your RV in a campground, use solar panels, or run a generator.
What's your budget? Gas, lot/campground fees, and food will be your biggest bills. To save money, you can boondock your RV or take advantage of the many free campsites in the U.S. in national conservation areas.
What accessories do you need to be comfortable with? Consider all the outdoor furniture, shelters, cookware, clothing, and other comforts you want to bring for a cozy long-term trip that embraces a lot of outdoor living.
By answering these basic questions, you will be on your way to planning a trip that makes sense with your personality, budget, comfort level, and interests.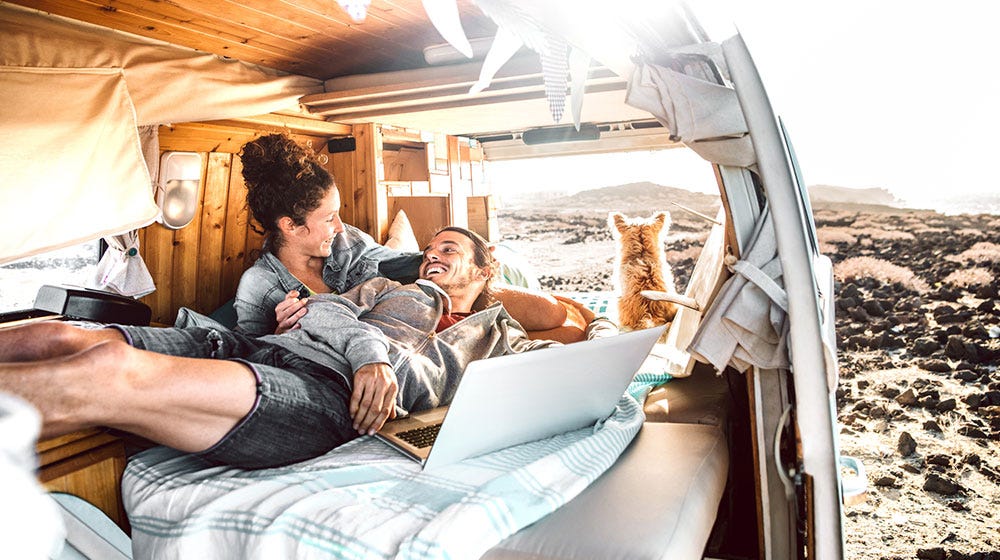 Plan Your Trip - with Room for Spontaneity
When you plan a long-term course, your RV trip will have a predictable path. But what about those surprises that you find on the way? It's easy to swing a sedan around and stop at a surprise overlook, but what about when you want to check out something interesting while driving your RV? With the help of modern technology, you can easily find RV-accessible parking through smartphone apps. These resources even help you find parking at busy tourist attractions!
Apps like Togo RV make it simple to find out where to go with RV-specific GPS navigation. After entering your vehicle's specifics into the app, it will show you parking spaces and calculate routes based on weight limits, height clearances, terrain grades, and propane restrictions on campgrounds. When you know the lay of the land, you can be as spontaneous as possible.
This list of free RV planning trip tools also brings modern solutions to RV road trips so you can travel safely and have the most fun without unexpected disappointments. Among these apps, you can find all the campgrounds that can house your RV or even find private spots on websites like Hipcamp.
So What about the Internet?
All this talk about using apps for travel begs one question: what about the internet? To use online resources almost anywhere, your source of data and the internet must be self-sufficient. RVers typically depend on smartphone hotspots as their router. You will need to use a national network that can get reception in remote areas, so steer clear of any budget or local plans.
Seasoned RVers that need the internet for more than just web browsing supplement their big downloads (such as Netflix movies) at coffee shops, libraries, or fast food stops where there is free WiFi. Meanwhile, cell phone hotspots are used for apps and casual web browsing while on the road. Since hotspot data can get expensive, it's important to ration your use of personal internet by using an app like NetLimiter so that you don't run out of data before your next billing cycle.
RVs: Creature Comforts and Travel in One
When you want your travel life to feel like home, there's no better way to make it happen than to use an RV. This home on wheels brings the creature comforts you crave, such as a familiar environment and personal space without sacrificing privacy or dealing with unpredictable hotel quality. So how do you make sure your trip goes off without a hitch? Here are some tips on making your RV rest stops comfortable.
Cook in your RV
While fast food on the road is fun to grab from time to time, one of the biggest benefits of an RV is the ability to cook healthy, affordable meals anytime. Equip your RV kitchen with everything you need, such as multi-purpose cookware and time-saving gadgets like an air fryer. Embrace minimalism when it comes to your pots, pans, and dishes so that nothing becomes clutter.
Think about what types of skillets and saucepans you need and leave the unnecessary gear behind. Also, it may be easier to use paper plates and disposable cutlery for some meals because of the smaller sink space, so plan accordingly based on the amount of time you have for chores.
Bedroom Essentials
This home on wheels is yours for the traveling season, so take care to make it your own. Get the comforters you need, and don't be afraid to jazz things up with your favorite artwork and space-saving furniture. Portable seating from brands like Tommy Bahama can fold up when not in use.
This allows you to have extra seating away from the common area without taking up space with a permanent chair. This chair can also be taken outside when your RV is parked at a campsite and slide right up to an outdoor table for mealtime.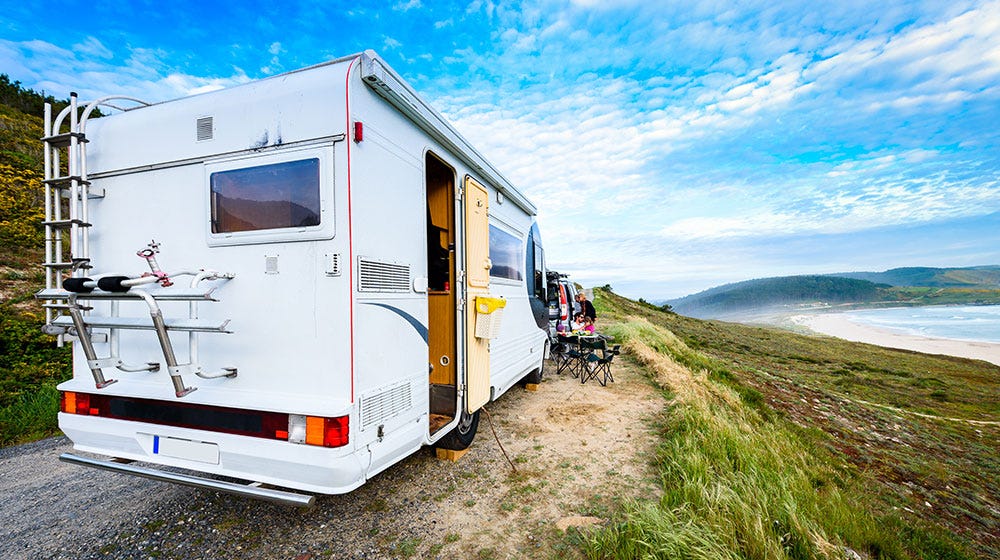 Prepare for Outdoor Living Space
RVs are big and can be challenging to park in just standard spots, so it's common for road warriors to park their RV at an RV lot or campground and spend a few days or weeks exploring a new area. Larger RVs may also tow a small car for local exploring.
This means that you have plenty of time on an RV lot where outdoor living is important. Maximize your trip's value with comfortable outdoor living essentials like tables, chairs, outdoor storage, canopies, and more. Gear from brands like RIO makes it easy to create cozy outdoor living spaces.
Shelters and Canopies
RVs differ in the amount of coverage they offer for outdoor "front porch" living space. For instance, Airstreams and deluxe RVs typically come with a retractable roof covering the front door area to provide shade and coverage for grilling and outdoor enjoyment. Whether you lack this space with your current setup or need more coverage, solutions like Quik Shade shelters and canopies can maximize your shade area without a lot of work.
With options ranging from standard to deluxe, you can choose your level of involvement with setup. Standard grade canopies are quicker to set up, while deluxe canopies are designed to be semi-permanent structures. If you plan on being in an RV park for a season, then it doesn't hurt to go for the canopy upgrade for long-lasting shade.
Portable Tables and Chairs
While most RVs come equipped with indoor dining areas, these areas can be cramped. You may also want a change of scenery and some fresh air. A folding table doesn't take up much space while you travel and can easily be set up in an outdoor space as a safe place to cook, dine, and entertain.
Need more outdoor storage space to reduce the burden on your RV at camp? Shelterlogic portable storage sheds come in all sizes and can reduce clutter inside your RV when you're parked for a while. Store outdoor camping gear, chairs, kindling for fires, and more without worrying about having enough indoor closet space.
Lounging Chairs
Many people get an RV to enjoy the simple things in love and to soak in leisure time. You earned your RV and your free time, so make every aspect of your life comfortable. Portable folding chairs from the Margaritaville line aren't just functional and comfortable, but they are also stylish and durable.
Check out options that include highboys, canopy chairs, foldable chairs, and more. Portable lounging chairs can come in various materials, while canvas is the lightest and easiest to carry and clean.