If you're trying to keep your car in perfect working condition, you probably make sure to get the oil changed regularly and rotate your tires. But often times, you may not think about how important it is to prevent rust. Not only is it unsightly, it can also badly damage your vehicle. Here are some tips and tricks to use to learn how to prevent car rust.
What Exactly is Rust, Anyway?
By definition, rust is a reddish or yellowish-brown flaky coating of iron oxide formed on iron or steel by oxidation. Rust occurs when iron reacts with oxygen and water. It's something you certainly don't want to see on the beautiful shiny paint job on your car. And it's not only a cosmetic problem: left untreated, it can actually damage the integrity of the structure, according to
Metal Supermarket.
That's why it's so important to learn how to prevent car rust.
How to Prevent Car Rust Before It Starts
By now, you know oxidation can wreak havoc on your vehicle. What's the easiest way to prevent rust? You should keep your car out of the elements. Parking your car in a
storage garage
is the most important step to take first. No matter what vehicle you own, the
ShelterTube Garage
is the ultimate fabric cover shelter that will keep your car safe in a harsh environment. If you're wondering how to prevent car rust, this is your answer. The best part about this storage solution is the customization. The 12 ft. wide shelter can be ordered up to 100 ft. long! That means if you want to store something even larger than a vehicle, or want to add some more storage space, you have that option. In addition, you can also choose from three different covers, ranging from standard 9 oz. to an ultra-duty 21.5 oz. cover. All three are waterproof and UV treated, ensuring your vehicle is safe from the elements that produce rust. The ShelterTube Garage also includes:
Heavy-duty frame made from industrial grade square tube frame
Two zipper doors for drive-through access
Wind and snow rated for your vehicle protection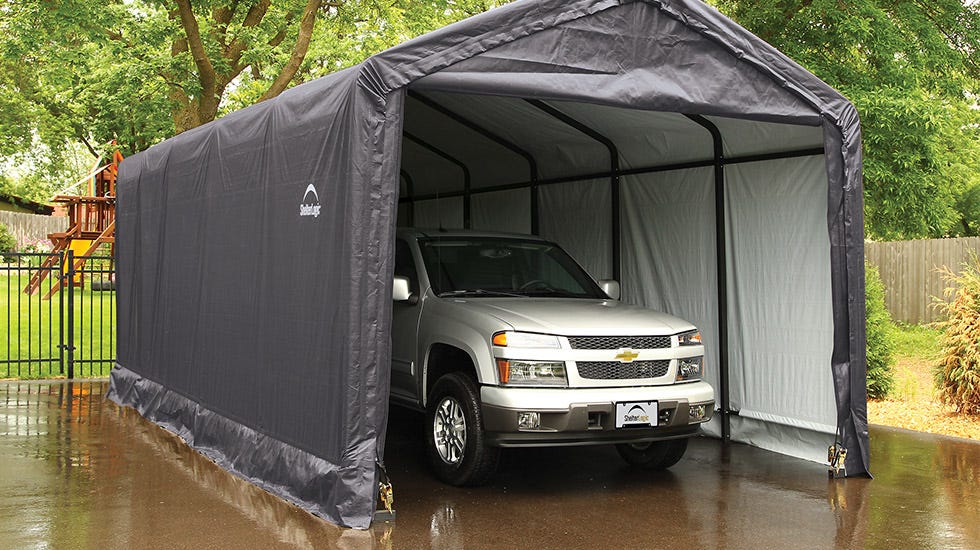 Proper Maintenance to Prevent Car Rust
Of course, keeping your car inside your garage is ideal. But obviously you didn't buy a car to leave it in the garage all the time! That's why it's important to perform simple maintenance tasks that will keep your car looking clean and rust-free.
Wash Your Vehicle Regularly
: We all like when our vehicles look shiny and brand new. But washing your car also keeps away damaging chemicals as well as salt from the roadways that are known to cause rust formation.
Your Mechanic
recommends washing your car twice a month for the best results.
Wax Your Vehicle:
Wax your vehicle twice a year if you are parking it in a garage, but more often if it's left out in the elements. Sure, it gives your car an extra shine you're excited to show off when you take it for a spin. But it also keeps a layer of protection between your car and water. It's easy on the wallet and easy to perform.
Use Other Rust Prevention Products:
There are multiple sprays and oils on the market that will help prevent corrosion.
Driving Geeks
recommends anything from a drip oil spray to an electronic rust inhibitor.
Pro Tip: Don't forget to clean the undercarriage of your car. It's an overlooked area that comes in contact the most with salt and other debris that can damage your vehicle.
Now that you know how to prevent car rust, you can build your very own ShelterTube garage based on what you want to store inside. For more ideas on how to personalize your new garage,
read our blog
to learn more!