Decorating for the holidays makes everything more festive and fun! However, after the holidays have passed, putting everything away can feel like a logistical nightmare. Not only is it always a struggle to find enough room, but it's important to keep everything organized, so it's easy to decorate again next year.
Knowing how to store outdoor Christmas decorations will help you put everything safely away without turning it into a major project! Follow these smart Christmas decoration storage tips, and you'll be back indoors relaxing before you know it.
Porch & Yard Décor
While those light-up reindeer and holiday snowmen might look great in your front yard, figuring out how to put them safely away is one of the biggest Christmas decoration storage challenges. The first step is to figure out what you should box up and what's better left out on its own.
While outdoor décor is built to withstand the elements, you'll still need to protect them when they're not on display. To store inflatables, carefully fold them up, wind up their electrical cords, and put them together inside a weatherproof box. Clear plastic storage boxes with tight-fitting lids are one of the best options. They'll keep out dust and moisture and allow you to see what's inside.
Larger porch and yard decorations are often safest if they're left out and placed in a safe corner of your garage or storage shed. If the decoration has a power cord, wrap it up and use a piece of twine to attach it directly to the figure. This will save you the hassle of searching for the right cords next year. If you can, try to store your figures up off the ground, so they're not exposed to excess moisture.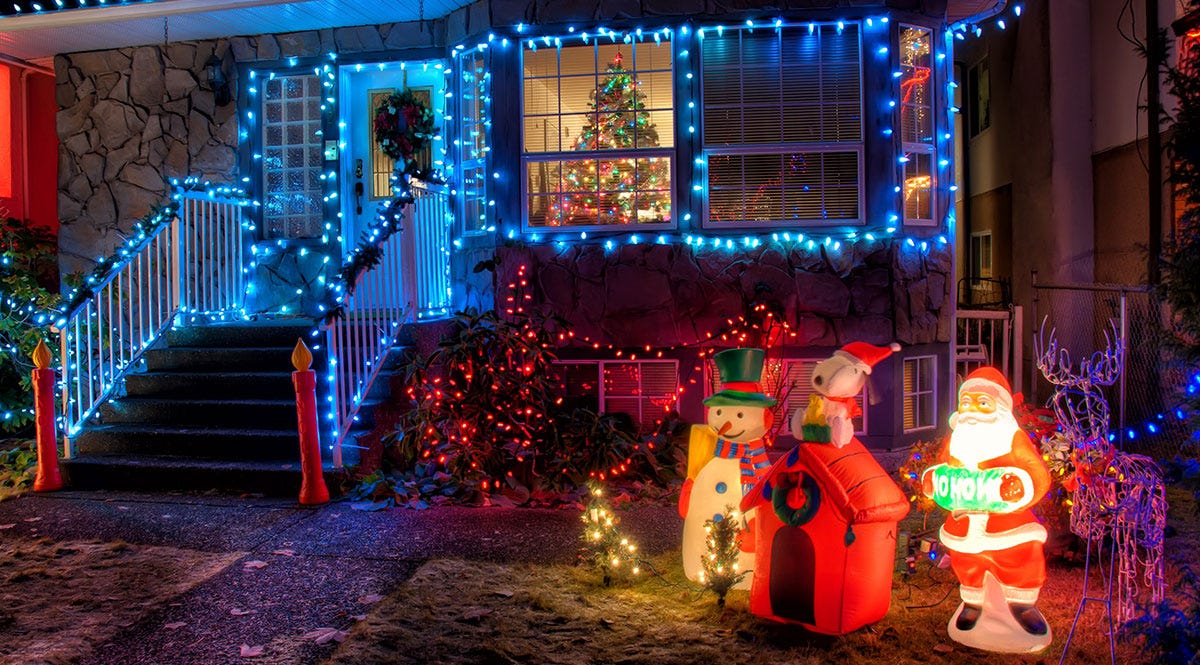 Artificial Trees
Whether you use artificial trees inside, outdoors, or both, storing them presents a challenge. Since learning how to store outdoor Christmas decorations is mostly about maximizing space, the key is to make your artificial trees as small as possible.
While you could take each tree apart and put it back in its respective box, this is a major effort. Not only that, but artificial trees rarely fit back in their original boxes after they've been opened and spread out.
Instead, leave your trees assembled, leave the lights on, and wrap them up with shrink wrap. Then, you can stand them up a few inches away from the wall, where they'll take up very little space. Next year, you can cut the shrink wrap, fluff the branches back up, and plug them in.
If you're not quite comfortable with this solution, you can look for a store-bought heavy-duty storage bag. You'll have to disassemble your tree to use this method, but you can be sure it will keep your tree safe until you're ready to use it again.
Another option is to place your artificial trees inside concrete tubing. Not only is this a strong and durable solution, but you can also easily roll them in or out of your garage.
Ornaments & Bulbs
While outdoor ornaments and bulbs are often more durable than their indoor counterparts, you'll still want to store them with care. An egg carton is the perfect storage solution for smaller bulbs. Also, start saving the cardboard drink holders you get from the drive-thru. These are great for safely storing larger ornaments. Use these to separate your ornaments, then stack them carefully inside a sturdy plastic container. This way, they won't bang together while you're transporting them in and out of storage.
Outdoor Wreaths
When storing your outdoor wreaths, it's a good idea to remove any large decorations and put them in a separate box so they don't get damaged while in storage. Just make sure you take a picture before you do, so you'll know exactly how to put it back together next year.
If you think you'll store your wreaths on a shelf, consider purchasing a store-bought, crush-proof case. This is an easy and cost-effective solution that will protect it from damage. You can also hang your wreaths on hangers and put them inside a garment bag for protection.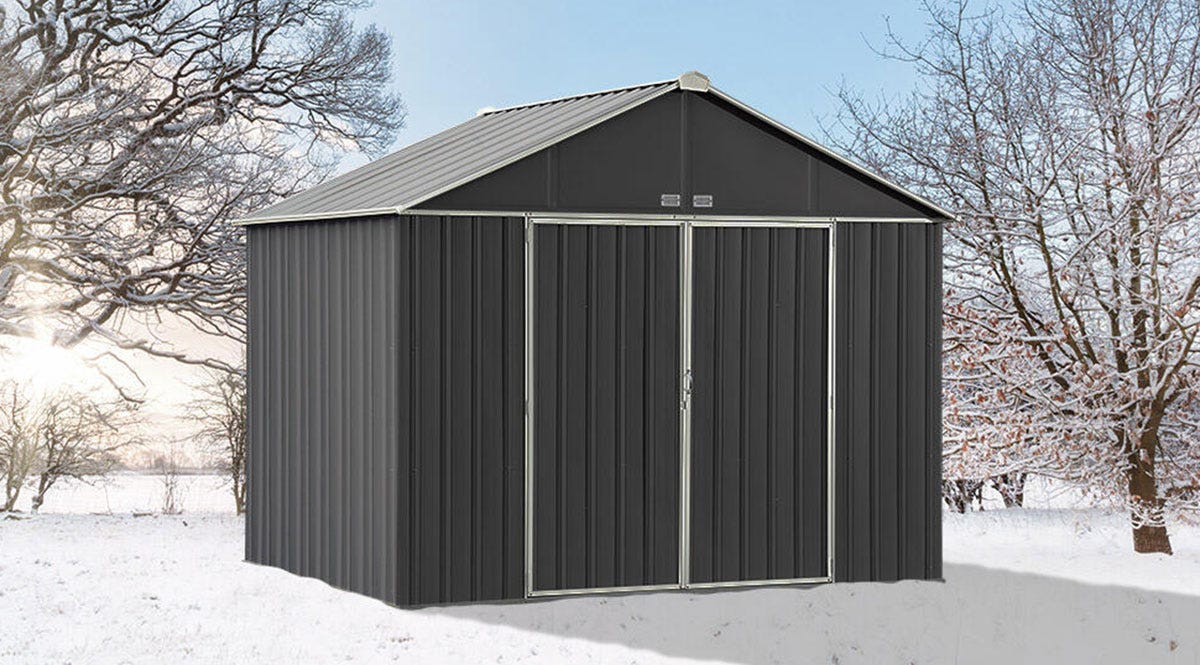 Outdoor Lights
If you've ever tried to untangle a mess of string lights, you know how important it is to put them away correctly. There are many ways to do this. The right option for you will depend in part on how many lights you need to store and on your personal preference.
If you don't have a large volume of string lights, you can keep them from tangling by wrapping them around a washed coffee can. Cut a slit in the can's plastic lid and push the plug inside. Then wrap the rest of the string along the outside. You can do something similar using box tops or scraps of cardboard instead.
Not a fan of DIY? Purchase a store-bought plastic wheel that's specifically made for light storage. This is an inexpensive solution that will work well year after year.
If you have tons of outdoor string lights or ones with large bulbs, you may want to invest in some small traffic cones. Secure the end of one strand of lights to the bottom or one traffic cone, then wrap the strings of lights around them in a figure-eight pattern. Plug the end of the next strand into the wrapped one and continue until you've used up all the space or you've stored all your lights.
Maximizing Your Storage Space
Up until now, we've talked about ways to keep your holiday decor safe while it's in storage. However, even if you implement everything you learn about how to store outdoor Christmas decorations, you may still find that space is an issue. The following tips will help you get creative and make the best use of the space you have available.
Raise Your Items Up
If you're already storing tons of outdoor Christmas décor, artificial trees, and other items, you may find that you quickly start running out of space on the floor and shelves. You can give yourself even more room by installing heavy-duty ceiling racks in your garage. This can be the perfect place to store your artificial trees and other large items that you want to put out of the way.
Install Some Coat Racks
Placing a coat rack along the wall of your garage or storage shed will give you even more organizational options! The rack will allow you to hang items, like wreaths, without taking up extra room inside your closets.
You can also store your wreath decorations in labeled boxes and place them on your coat rack's side or bottom shelves. This will help you maximize your storage space while also keeping everything up off the ground so it doesn't get ruined by moisture.
Explore Outdoor Storage Solutions
Many homeowners find that having a separate designated space for their Christmas decoration storage helps relieve much of the stress. If you don't already have a garage and there's enough space on your property, now may be the perfect time to install one. A high-quality steel garage doesn't have to break the bank! In fact, you can install a small 12-foot by 10-foot garage for less than $3,000.
A steel storage shed is another solution that doesn't take up much space and is very affordable. They come in a range of sizes, so you can pick one that's the perfect size to store all of your holiday décor. You can even purchase a small portable shed for less than $100! Choosing one of these options will help keep everything organized and ensure it doesn't get ruined while it's waiting to be used again.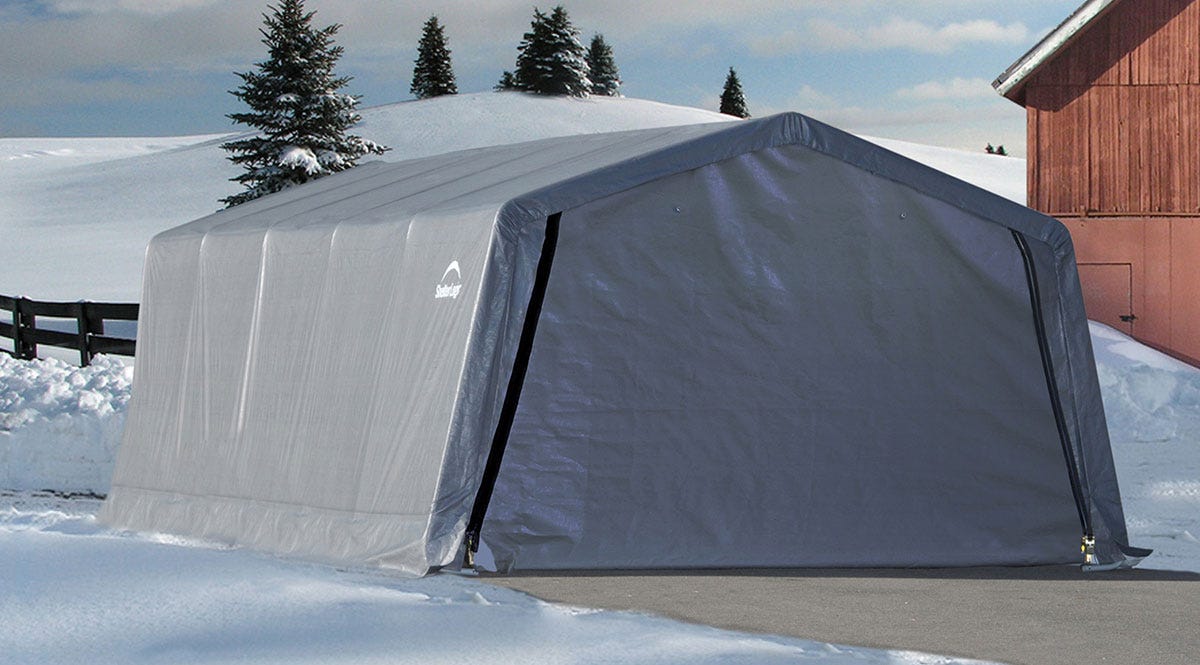 Tips for Staying Organized
The more holiday décor you have, the more important it is to stay organized while planning your Christmas decoration storage. We love using clear plastic containers so you can easily see inside them. However, sometimes this isn't enough. Using a label maker to label each box clearly will save you from wasting time digging through one box after another looking for the item you need.
When putting your boxes away, it's also smart to place the items you'll need first upfront. Pay attention to the order in which you usually put up your decorations, and put them away in the opposite order. This way, you won't have to shuffle things around when you're ready to start decorating next year. Before you take everything apart, it's also a good idea to take photos of each holiday display. This way, you'll know exactly how to get that perfect look next time the holidays roll around.
Make Christmas Decoration Storage Easy!
If you're constantly running out of space and wondering how to store outdoor Christmas decorations, we've got the perfect solution. Take a look through our huge selection of outdoor sheds, garages, and outdoor storage buildings. You're sure to find exactly what you need at a price you can afford.