With a carport enclosure or carport covers, you can treat your freestanding carport more like a makeshift garage or outdoor shed of sorts all year long. You won't have to worry anymore about rain or snow damaging your valuables because a carport enclosure creates a durable and protective barrier. Let's go over the different types of carports and how they work.
The Benefits of a Freestanding Carport Enclosure
Carport enclosures are easy, quick to install, and help transform your carport into a valuable storage unit or living space regardless of the weather.
Added Protection from the Elements
The biggest and most obvious benefit of carport enclosures is the extra coverage it provides for everything inside the carport. How much protection will largely depend on the material you use to enclose your freestanding carport, but even a lightweight fabric tarp enclosure will add some water and wind resistance along with UV protection.
More Privacy
Fully enclosed carports can essentially act as their own private room. It's not going to block much sound, but it can easily cover for a quick clothing change or let you workout in peace without nosy neighbors or other people looking in.
Does Enclosing a Carport Add Value to Your Home?
Long story short: it depends, but a nice looking enclosed carport can definitely add an additional appeal to prospective buyers. The enclosed carport in many ways becomes an outdoor shed or garage, which if done right, can potentially add value to your home when it comes time to sell.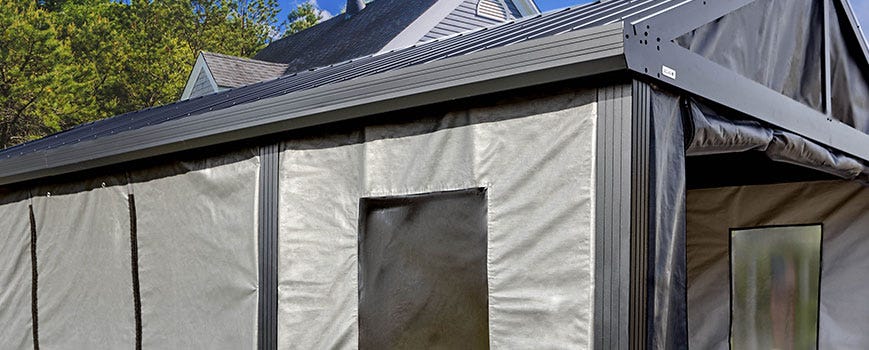 Types of Freestanding Carport Enclosures
There are a number of different ways you can enclose your carport from an extensive permanent conversion to a temporary fabric setup for the winter. There are fabric enclosure options for the steel Samara carport from SOJAG and a fabric enclosure option from Arrow Storage Products for the Arrow carport.
Fabric Carport Enclosures
Ripstop Polyethylene fabric carport enclosures like ones used in the Arrow or Samara carport enclosure kits are relatively inexpensive and easy to install options. These kits use UV-treated triple-layer woven polyethylene which provides a good amount of water resistance and protection from the elements. The kits are easy to install and remove so you can enclose your steel carport when you need extra protection, then open it back up when you want more fresh air again. Plus, going with fabric to enclose your carport means you don't need to mess with any sort of construction materials. The fabric enclosures also have easy zipper doors in the form of front garage-style doors, side doors, or back garage-style doors to adjust the amount of coverage. Some even have pre-built, clear plastic windows. Read on for more specifications between the Arrow and SOJAG Samara carport enclosure kits.
The Arrow Carport Enclosure Kit
The Arrow carport enclosure kit is specifically designed for the Arrow Storage Carport by Arrow Storage Products measuring 12 by 20 by 7 feet. This fabric cover is UV treated inside and out to protect you and your car from harmful UV light. It also protects against mold, fading, and yellowing. Each of the four panels of ripstop fabric is made from 7.5-ounce triple layer woven polyethylene material to last you years of water-resistant use. This useful enclosure kit comes with one front panel with a double zipper door that you can zip open and roll up to act like a garage opening. The rear panel does not have a door. This fabric enclosure is simple and straightforward to offer basic all-around coverage for your carport so you can treat it more like a garage even in the winter.
The Samara Carport Enclosure Kit
The Samara Carport Enclosure Kit from SOJAG is specifically designed for the 12 by 20-foot Samara carport. This durable polyethylene fabric enclosure kit can provide additional protection to your vehicle during harsh winter months. Unlike the Arrow carport enclosure kit which has four panels and one opening, the Samara kit comes with eight panels of 7.5-ounce polyethylene with four plastic windows, two side doors with a zipper open, and two large doors at the front and back with double-zipper closures. The two windows are great for allowing light in if you want to transform the carport into a sitting or living area instead of just a storage area. The fabric also meets CPAI-84 fire-retardant international safety standards and is suitable for all weather conditions.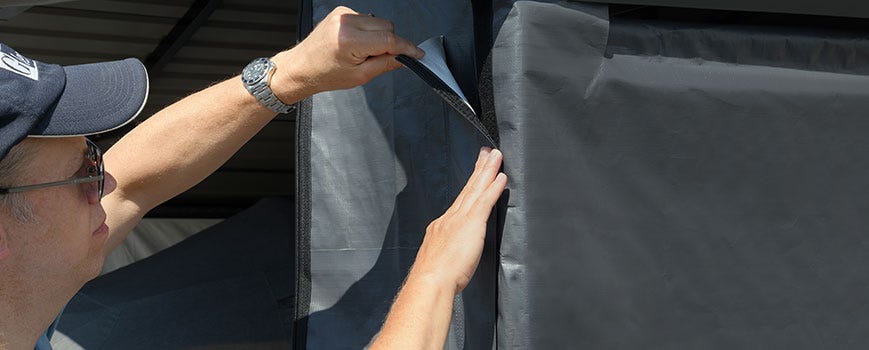 How Do You Enclose a Freestanding Carport?
Your process for enclosing a carport will mostly depend on what type of enclosure you choose. For this instruction, let's assume you've chosen a pre-made fabric carport enclosure like the Enclosure Kit for Arrow Carport.
How to Enclose a Metal Carport with a Fabric Carport Enclosure Kit in 9 Easy Steps
Once you've gotten your enclosure kit and unpacked it, here's what you'll need to do to get it up. You will want to have at least two people to install the enclosure and you should expect it to take around an hour to install. (This is also the same process for taking the structure down for the summer months, just working backward.)
Step 1
Gather the necessary additional items that you'll need for installation that do not come with the kit. This includes:
Eye protection
Ladder
Adjustable or 7/16" wrench
Step 2
Lay out all the materials from the kit in front of the metal carport and make sure you have everything. The kit should include:
2 end tarps with zipper doors
2 side tarps
24 attachment pieces with an attachment on each side
16 attachment pieces with one attachment
32 Screws
32 Hex nuts
56 Bungee Fasteners
16 Poles with B ends
16 Poles with C ends
Step 3
Put on your protective glasses and lay out the side tarps outside face down on either side ready to be set up.
Step 4
Connect each B-end pole to a C-end pole so you have a total of 16 poles.
Step 5
Thread the poles through the loops on the top of the side tarps and make sure they all come out on either end of each loop.
Step 6
Attach the side tarps to each side using the attachment pieces, screws, and hex nuts. Start at one end of the carport and work your way to the end with each metal support of the carport. Attach the top first. Just finger tighten all the screws at first to ensure everything is up correctly before you use the tools to tighten fully.
Step 7
Thread the remaining poles into the bottom loops on each side and connect them to the carport supports.
Step 8
Once both sides are up, fully tool-tighten all the bolts to ensure the fabric is secure.
Step 9
Use the bungee fasteners to attach the front and back and seal each corner together with the attached velcro.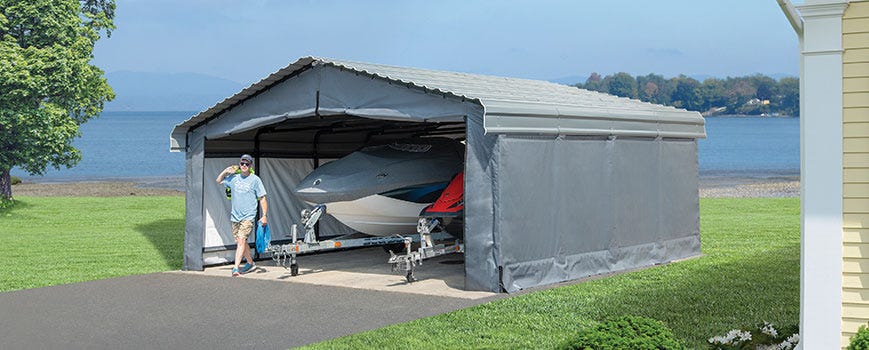 4 Creative Carport Enclosure Ideas for Use (Aside from Storing Your Car)
Now that you have your fully enclosed carport. How are you going to use it? There are endless possibilities! A she-shed? Man cave? Gender-ambiguous personal hangout space? Here are four ways you could use your newly covered carport (aside from storing your car).
Barn
If you live on a farm or have farm animals, you could transform your carport into an amazing barn where you can store equipment and animals can take shelter. During the winter, you don't want your farm animals to get overly cold or exposed to too harsh of conditions.
Workshop
Set up a workbench and you've got a great place to work on all your DIY projects that won't get in the way of the rest of your house. The enclosure kit will ensure your tools stay dry and rust-free.
Storage Shed
If you're struggling to cram everything into your house, an enclosed carport can act as an extra storage space for equipment or outdoor gear. You can keep your bikes, sports gear, gardening tools, or outdoor furniture stored safely out of the elements in a converted storage carport.
Home Gym
Transform your heavy duty carport into a sweet gym set up with as much equipment as you want. Some ideas could include a squat rack, kettlebells, dumbbells, weight bench, stability ball, or cardio machine.
How to Maintain Your Carport Enclosure
To make sure your carport enclosure lasts as long as possible, we recommend retightening a fabric cover every month to keep it from sagging or collecting dirt. When you're not using your enclosure, be sure to store it somewhere dry. Now that you understand the benefits of a carport enclosure, consider our carports, and the accompanying Arrow and Samara enclosure kits, for your property.