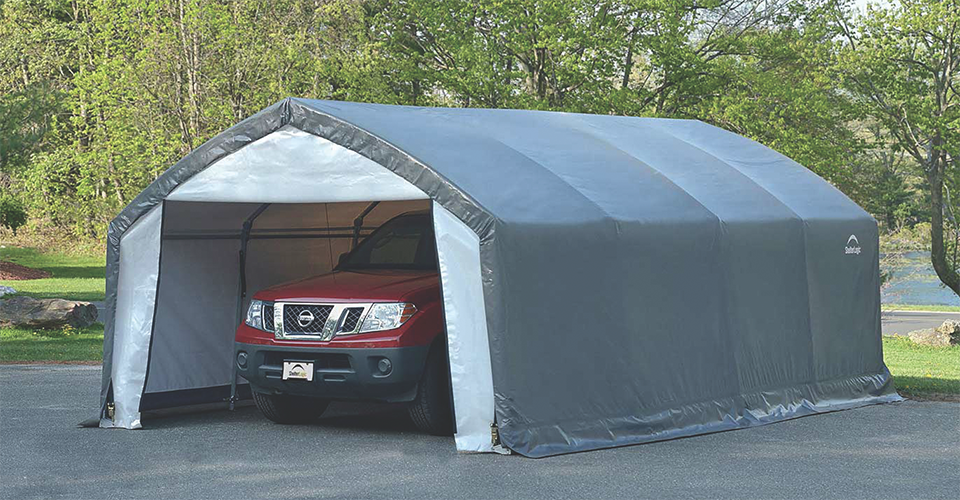 The AccelaFrame HD Shelter: Seasonal Storage Tent and Outdoor Garage with Faster Assembly and Disassembly for Easier Storage.
When our engineers set out to design the perfect seasonal storage tent and outdoor garage, they looked at the needs of customers and worked to design a shelter that would eliminate some of the challenges customers currently struggle with. One of these challenges is the assembly time.
The AccelaFrame HD Shelter: Built Strong, Faster Assembly
The design of the
AccelaFrame HD Shelter
is unique: with its pre-assembled ribs, this outdoor garage has fewer parts; meaning assembly and disassembly is faster. In fact, in our trials, two people were able to assemble the AccelaFrame HD Shelter in 30 minutes [LINK TO VIDEO]. This is the ShelterLogic garage with the fastest assembly time of any shelter of this size. But we did not sacrifice strength of the building for quick assembly time. Instead, our engineers designed a shelter that's also built strong.
AccelaFrame HD Shelter Features Tough All-Steel Joints and a Strong Steel Frame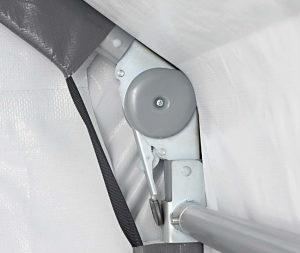 The
AccelaFrame HD Shelter
is a tough building made of strong materials. With a frame made of high quality steel, the
AccelaFrame HD Shelter f
eatures heavy-duty joints that are made of 2-½ mm. thick steel. These all-steel joints increase the strength of the building for stronger, more reliable protection of what matters to you. The cover fits snug thanks to our patented Ratchet-Tite Tensioning system, which ensures maximum cover protection for the unit. Our tough 7.5 oz. cover is waterproof to ensure your stuff stays dry, and carries a 1-year warranty.
A Unique Geometric Design for a Strong and Stable Structure
One of the most unique attributes of the ShelterLogic
AccelaFrame HD Shelter
is its shape. First, the curve of the rafters facilitates easier assembly and disassembly with easy fold-up ribs. The rounded joints also make the frame of the
AccelaFrame HD Shelter
easier to fold and unfold. The unique geometric shape of the rafter also provides strength to the building; because an arc is stronger than a straight rafter as the load is more evenly distributed. In on-site tests, the AccelaFrame HD Shelter's unique design eliminated excessive snow accumulation on top of the structure – which can contribute to the general wear and tear of a building.
Quick Assembly System, Attractive Design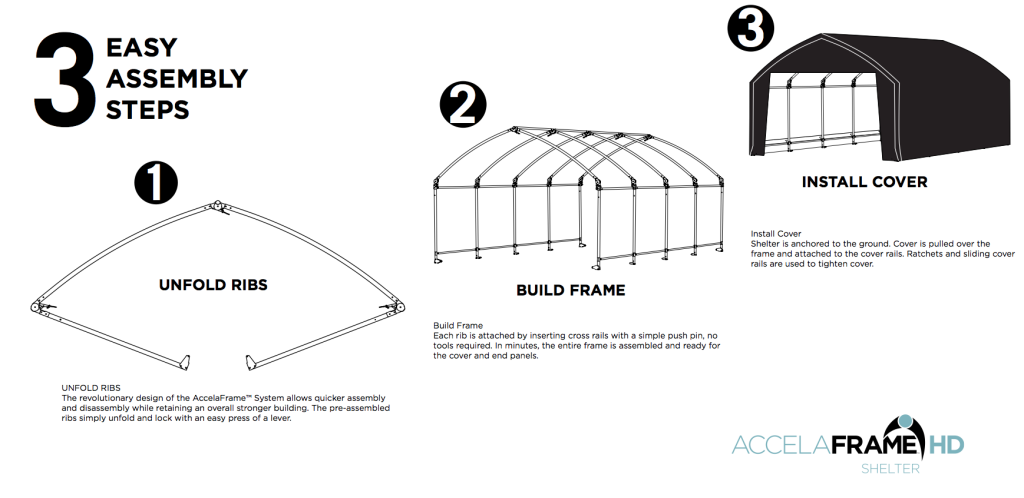 The
AccelaFrame HD Shelter
has been designed to be a strong garage with faster assembly compared to other units. Our quick assembly system is broken down in 3 easy steps: simply unfold the ribs, build the frame and install the cover. It has been engineered to be a convenient and practical storage shelter that can be used seasonally, or as an all-year garage. When used as a seasonal garage, the
AccelaFrame HD Shelter
is a storage tent and outdoor garage that assembles and disassembles more quickly and easily, making it simple to build when you need storage in the winter, and quick to disassemble in the spring and summer when weather conditions improve. It's also strong enough to use as a storage shelter all-year round. Built tough with heavy-duty materials, the
AccelaFrame HD Shelter
is a reliable and strong all-year shelter. Its unique design eliminates snow accumulation and improves weight distribution. See for yourself how the AccelaFrame HD Shelter is the perfect outdoor garage and storage tent.