When you're a fan of both kayaking and camping, nothing is more enjoyable than combining the two for an exciting and relaxing kayaking trip that lasts more than one day. But when heading to a campsite via boat, it means you'll have to be creative when packing gear for kayaking and camping all at once contained within your watercraft. In order to have a successful trip, have a concrete plan for kayaking gear that will keep you safe and comfortable once hitting the campsite.
Plan First for a Successful Camping and Kayaking Trip
When getting ready for kayak travel, whether it's one day or a week, it's important to create a plan first. Mapping out the entire trip will provide a safer and more enjoyable experience as a whole. Decide whether you plan to cook or bring shelf stable food, and what types of outdoor shelters you may need for the campsite. Know where you're headed and for how long which will help to decide which kayaking gear to bring, along with food and shelter needs for the length of your trip.
Once deciding on the details of your kayaking trip, get pen and paper ready. Write down what kayaking gear to pack, and where you plan to store it in your boat. This will avoid having to pack an entire boat only to realize you're missing something, requiring you to unload and repack. The time spent planning ahead for kayaking travel will save you trouble once embarking on your trip.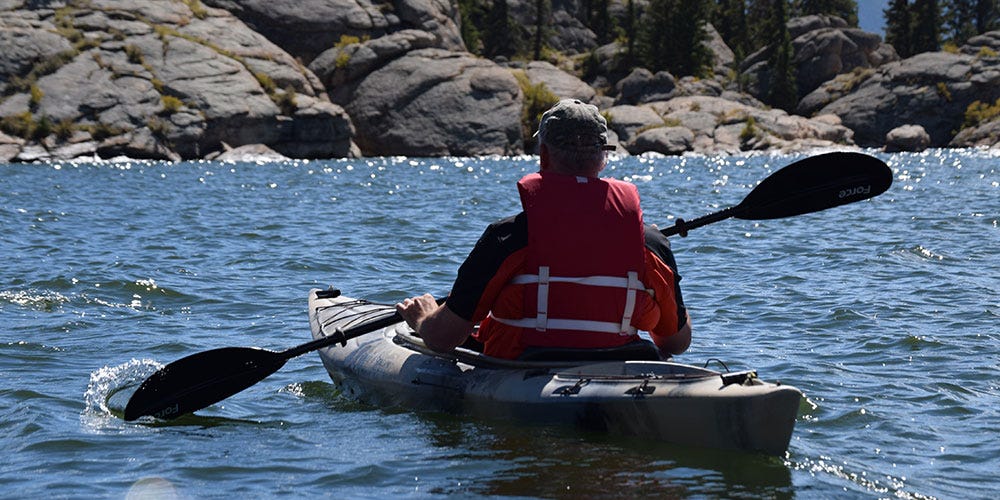 Must-Have Gear for Kayaking
When packing belongings for kayak travel, separate items into bags based on your needs. For example, one bag for clothing, one for food, emergency gear, and so on. This way, you'll know where to find items and also have a strategic way to pack them. Things like water and sunscreen can be stored closer to the cockpit of the boat for easy access, while items you'll only need at the campground can be stored out of arm's reach.
Everyone's kayaking trip list might vary slightly due to the part of the world you are visiting. For example, if you're kayaking in bear country, you may want to bring bear spray. If you plan to bring your boat to a beach to camp, you can definitely leave your bear spray behind. Here are some important things to add to a list for kayaking travel no matter where you're spending free time.
Comfort
Sleeping bag: If you're heading to the campsite straight from a kayak, don't forget a comfy place to sleep.
Toiletries: Add everything from a toothbrush and hairbrush to toilet paper for additional comfort outdoors.
Sunscreen: Protect yourself from skin cancer and also avoid an uncomfortable sunburn while kayaking. A sunburn can also lead to dehydration which can be incredibly dangerous on a kayaking trip.
Seating: Once arriving at the campsite, you'll want a spot to kick back and relax. Try a backpack chair for convenience on your kayaking trip. It will give you a reliable seating solution along with a backpack to store more belongings for the trip.
Sustenance
Water and food: Pack enough food and water for your trip, but not so much that it will weigh down your kayak. A good rule of thumb is 2 liters of water per day. Shelf stable food like granola bars will stay safe in the heat.
Filtration: Since you don't want to weigh down the boat with water, bring a water filter to purify rainwater or other water you find on the trip.
Kitchen items: Bring utensils, a bowl or plate, a pan to cook, and anything else you may need to prepare food while at the campsite.
Clothing
Bathing suit: Chances are you'll get wet, or want to jump in the water to cool off.
Moisture wicking clothing: Cover your arms and legs with a moisture-wicking long sleeve shirt and pants that will dry quickly, but also protect your body from the sun.
Wetsuit: Depending on the weather, you may want to wear a wetsuit to stay warm in and around the water.
Waterproof shoes: Slip-on water shoes will protect your feet and add in a level of comfort for your trip.
Hat: Wear a wide brimmed hat that will protect your face and neck from the harsh UV rays.
Sunglasses: Sunglasses are essential on the water to help you see and to protect your eyes from the sunlight.
Shelter
Tent: Aside from a tent to sleep in, a sun shelter is also a great product to add to your kayaking travel checklist. A RIO Beach Tent provides UPF 50+ protection under an ultra-durable 75 denier polyester fabric. This product can also be used after your kayak trip for a quiet day at the beach or even a picnic.
Pop-up canopy: A small pop-up canopy will be a welcome addition to any campsite. It is also lightweight and compact enough to put in some kayaks depending on the model.
Emergency and Safety
Flotation device: Even the most experienced kayaker should wear a life vest on the boat because anything can happen out on the water. Find a life jacket that fits comfortably and you won't even notice it's there during your kayaking trip.
Navigation equipment: Whether you bring a compass, GPS, or locator beacon, make sure to bring equipment that allows you to properly navigate to your campsite.
Flare: Although you hope to never use it, always have something in the boat that can help get the attention of rescuers.
Knife: You'll be surprised how many different instances you may need a knife during a kayaking trip for both safety and convenience.
First aid kit: A first aid kit might be the most important item you have on the boat. In case of injury, there will be bandages and other items needed in a pinch.
Spare paddle: When paddling a long distance, it's possible one of your paddles may break. It is very difficult to navigate with one paddle, so it's smart to bring an extra one on a camping trip.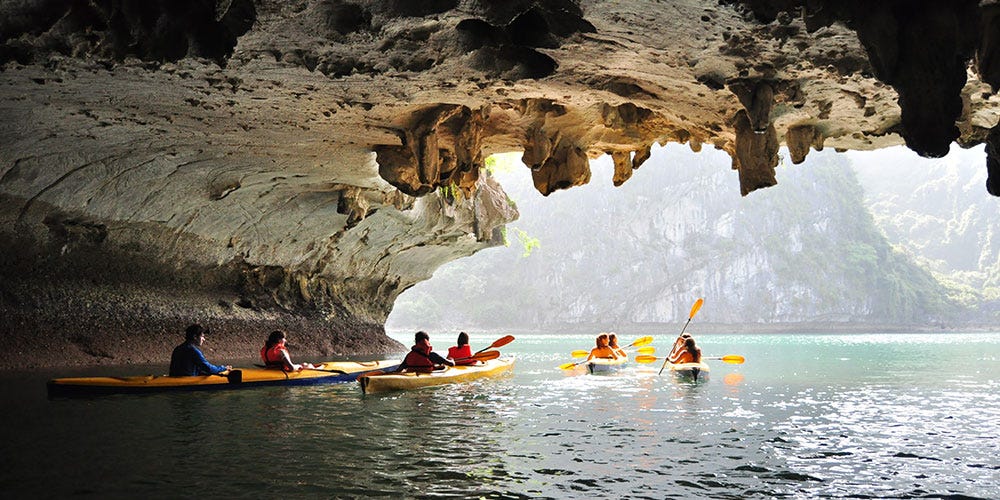 Tips for Kayak Travel
When embarking on a kayaking trip, you can be pretty confident that at least some of your items will get wet. If you can pack your boat by waterproofing items, you will be much happier when reaching the campsite with a dry sleeping bag. Utilize dry bags for your items, but you can also line the inside of dry bags with trash bags for even more protection.
When packing, it's also a good idea to label your bags to know exactly which items are contained inside. This will make it simple when you need your belongings in a pinch without having to dig through bags or unpack.
Finally, keep a bag close to the cockpit of the kayak at all times containing water, food, and anything else you will need multiple times throughout kayaking travel. Once you're on the water, it will be incredibly difficult to access items on the ends of your boat when you need them.
With a little planning prior to kayaking travel, you can make any camping trip successful and comfortable. These key items will protect you from injury while providing an enjoyable trip in the great outdoors.