To throw the perfect dinner party, nothing says glamour more than being under the stars. That's why I love Sojag Gazebos! The best of both worlds - shelter and nature in one (plus I love the mosquito netting for hot summer nights). Typically I love having a dinner party in the late afternoon when the sun is at its finest.
For your tablescape, think about this…
Start the table off with a fresh, seasonal arrangement of flowers. Find a cool container to house the like a vintage vase. Potted plants are also key for a natural vibe. I love ferns, succulents (you can always bring an indoor plant outside for just a night).
They say eat the rainbow, but the rainbow is also pretty to look at! Bring a lot of color and vibrancy to your table with plates, placements, or chargers. Don't be afraid to mix and match plates with different patterns.
I love using table runners for a pop of color. If you want a more neutral vibe - think texture like woven fabrics. Don't have placemats or a runner? Find some flat palm leaves and use them under bowls and plates. Or grab some leaves for Fall nights.
Choose foods that have a lot of color and texture differences. And always something green!
Lighting is key! Everyone looks good and feels dreamy in candlelight. It also looks great with fresh florals. From lanterns to string lights, think about how lighting can set the mood. I'm all about flameless candles for safety and wax-free mess. And just think, your twinkle lights are holiday ready.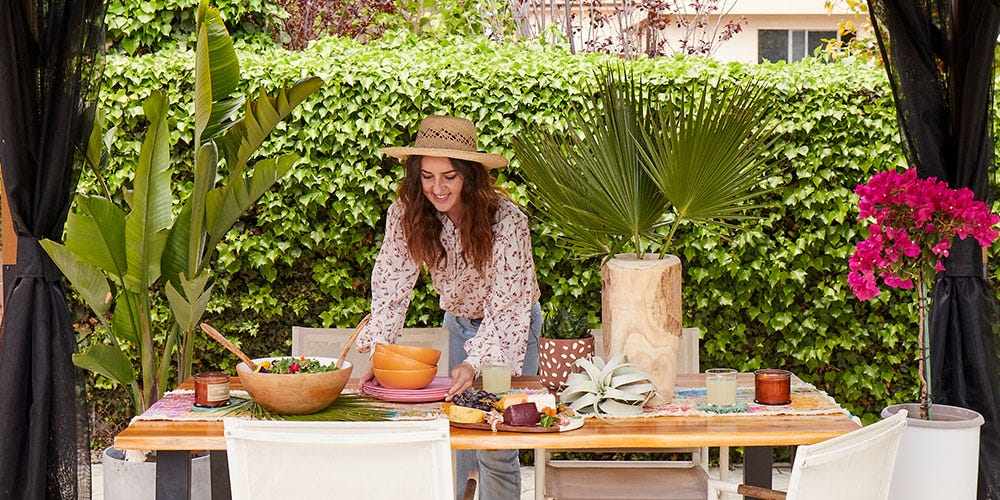 Live Your Best Backyard Life with Sojag
It's time to transform your backyard into a stylish retreat with Sojag Gazebos. A place to entertain and enjoy the outdoors your way. Bring your indoor style outdoors and decorate for lunch for two or a relaxing night gazing at the stars.
I designed this fabulous look that can suit many design styles from California Boho chic to Cape Cod.
Here's some tips:
Modern Recliners
We all like to lounge. These chairs from Home Depot look like they were made for a Sojag gazebo. We like neutral-colored chairs so you can dress them up with pillows. Go with textured pillows or a pop of color.
Texture with a Capital T
You don't need a barrage of colors. Texture from linen throws to woven baskets can make all the difference. Target and World Market are the real deal when it comes to shopping for pillows, baskets and planters.
Go Green
Greenery is not just for grass. Your gazebo will feel super homey with plants, like palm or fern, and potted flowers. Think out of the planter box for flowers like a vintage vase. Having a bowl of lemons and oranges adds just the right touch.
Twinkle, Twinkle
From lanterns to string lights, think about how lighting can set the mood. We're all about flameless candles for safety and wax-free mess. And just think, your twinkle lights are holiday ready.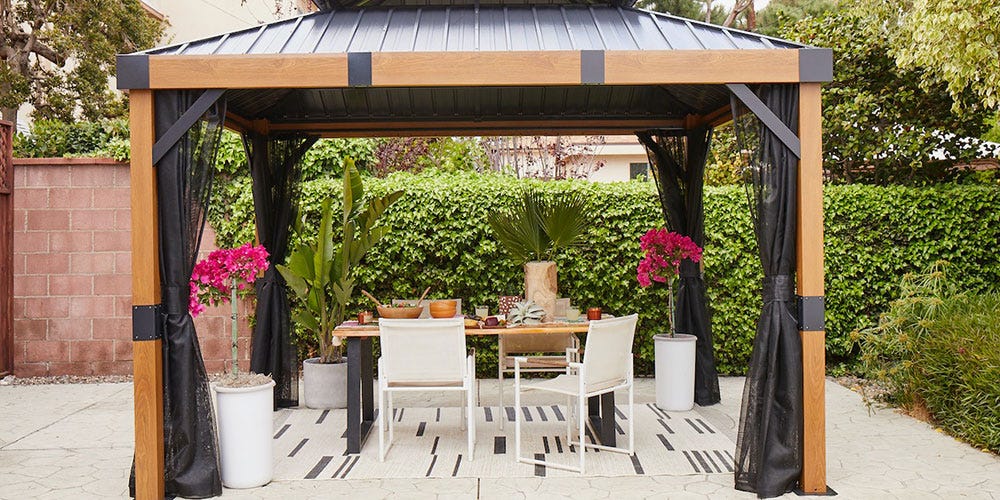 How Else Can You Use a Gazebo?
You can use a Sojag Gazebo as more than just a place to host the perfect dinner party. A gazebo is a versatile outdoor structure that provides outdoor shade and shelter, which is a main reason why people desire them for their backyard space. A gazebo also enhances a landscape, protects furniture, and covers essential equipment like grills.
Here are a few ideas of how you can use a gazebo to add a functional aesthetic to your backyard:
Backyard Retreat
A gazebo is a perfect spot to spend your downtime. You can enjoy your morning cup of coffee in peace or create a quiet spot to read in the afternoon heat. A secluded retreat can give you a sense of calm whenever you need it.
Exercise or Meditation Area
Backyard gazebos can be transformed into an exercise area. Workout in nature and take advantage of the fresh air. You can also roll out a mat, do some stretching, or meditate in a quiet nook in the garden.
Poolside Shelter
Another way to make the most of your enclosed gazebo is to incorporate it into your pool design. Use it as a pool cabana and escape the hot sun and lounge by the water, or even create a poolside bar. When friends and family come by to use the pool, easily close the curtains to give your guests added privacy while changing.
Hot Tub Shelter
An outdoor enclosed gazebo can make a great hot tub shelter. Use your gazebo to keep out the bugs on summer nights and keep in the heat on cool winter nights. Your gazebo will also give you added shelter and privacy.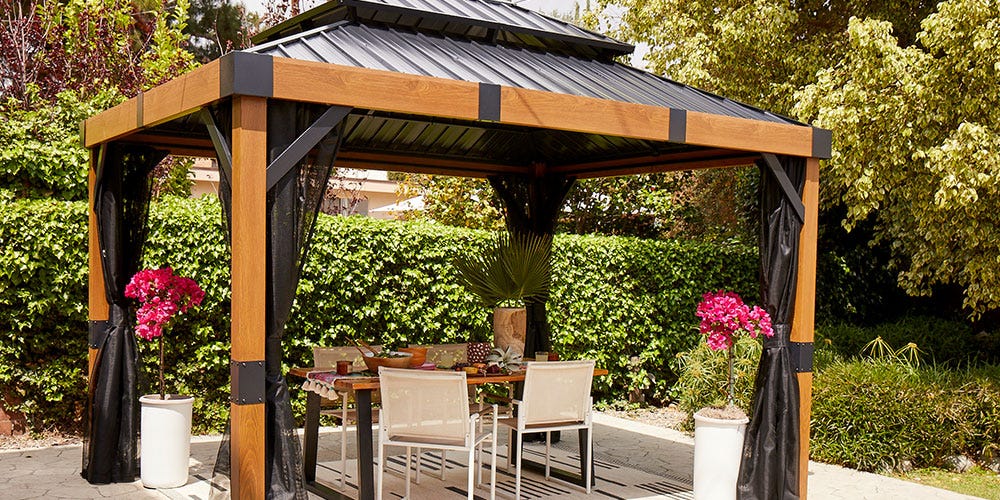 Other Outdoor Shelters for Your Best Backyard Life
A gazebo is not the only option for adding a functional, decorative area to your backyard space. Sojag makes other sturdy, dependable, and attractive structures that can help you live your best backyard life.
Wall-Mounted Gazebos
As the name suggests, wall-mounted gazebos are attached to an exterior wall of your home and are great for upgrading your backyard deck or patio. On hot days you can enjoy the cool breeze blowing through the three open sides of your wall-mounted gazebo. Then, on cool evenings, you can opt for added protection from bugs or cold weather by using mosquito netting or curtains. You can enclose the gazebo to create a sheltered space and extend your outdoor season well into the fall or winter.
Pergolas
A pergola is an excellent option if you want a shelter that is airy and open. Perhaps you want something that enhances the aesthetic of your outdoor space? A pergola with flowering vines growing over the top and lights strung through the rafters is a great way to do exactly that. A pergola is more for visual appeal and delineation than anything else but can make a great sitting area.
Solariums
Also known as sunrooms, solariums provide endless possibilities for backyard fun and entertainment. They're designed to let in natural light while still protecting you from the elements. Freestanding solariums can be placed anywhere in the backyard, while wall-mounted solariums are secured to an exterior wall of your home. Also, they have sliding windows and large doors can be opened or closed to suit the weather.
Live Your Best Outdoor Life with Sojag
Adding a permanent outdoor canopy like a gazebo, pergola, or solarium to your backyard space will give you and your guests years of enjoyment. It's a cost-effective solution that's easy to install and well worth the investment. If you're ready to upgrade your backyard, you're in the right place! Browse through our wide inventory of quality outdoor structures today.