When you're running a fast-paced household or business, it seems like you can always use more storage space. Seasonal furniture, sporting equipment, yard tools, and gardening supplies can cause clutter in garages and attics quickly. While storage rental units are an option, you must pay for them indefinitely and drive to a different place to retrieve your goods. Portable building kits address the inconveniences of rental units, providing affordable, on-site storage for your home or business.
Portable garages, greenhouses, and shed kits can improve your lifestyle in many ways. From providing shelter for your outdoor furniture to becoming secure storage areas for seasonal belongings, there is a solution to meet your needs at ShelterLogic. What are the benefits of owning a portable building kit? Today we will discuss the perks of owning portable shed kits, garage kits, building kits for commercial storage, and portable greenhouse kits.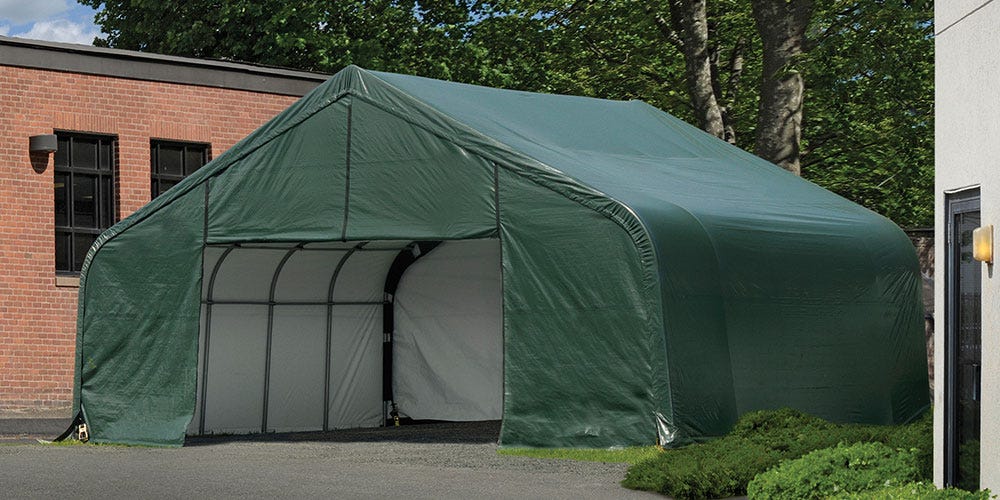 The Advantages of Owning Personal Storage
Having personal storage and shelters on your property, whether they are at home or a business, presents several immediate advantages. First of all, these places provide shelter and protect your belongings. You may need a shed to store your patio furniture or a temporary garage to keep your yard equipment out of the rain.
Businesses can benefit from large storage units to house shipments. Canopies and pavilions can also provide employees with an outdoor space to relax. Portable garages are also excellent temporary shelters to keep operations running if there is construction going on in the main building. Since there are many types of personal storage, there is sure to be a solution to meet your needs.
Benefits of Fabric Shelters
If you want to set up a shelter without spending a lot of time or money, then you should use a fabric shelter from a portable building kit. Two of the many benefits of owning a fabric building include its speed in setup and affordability. Therefore, when you need something immediate to protect your belongings, there's no better solution than getting a shelter kit. Fabric shelters also offer these advantages:
The ability to move from place to place easily
Can be maintained with little effort
Is customizable to your needs
When you need something immediately to keep excess belongings protected, then a fabric shelter will provide that coverage required for as long as you need. ShelterLogic's fabric shelter options are all made of durable, waterproof materials that will keep your belongings dry and out of the elements.
Addressing Concerns about Fabric Shelters
One of the many FAQs of fabric shelters includes one burning question: Are they durable? Yes: they are constructed with high-quality, durable fabrics that are colorfast and waterproof. For example, the ShelterTech SP Series has a UV-treated, 100% waterproof cover that fits over galvanized steel frames. The Ultra-Duty 21.5 oz cover comes with a 15-year prorated warranty. Accessories like anchors and vent kits also improve the stability and function of fabric shelters, making them just as reliable as permanent sheds and garages.
There are several sheds and portable buildings that you can customize in terms of looks and dimensions. What types of portable building kits can improve the function of your home or business? Consider these four popular shelters:
Portable shed kits
Portable garage kits
Portable building kits for commercial storage
Portable greenhouse kits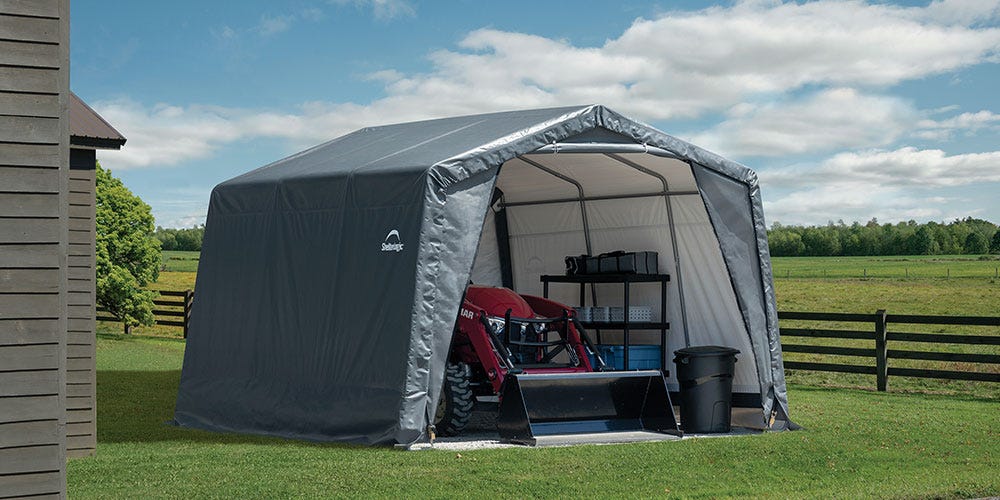 Portable Shed Kits
Portable shed kits offer many temporary storage solution benefits that include versatility, portability, easier assembly, minimal maintenance, and affordability. You don't have to commit to a lengthy installation or large bill when you choose this option.
Shed-in-a-Box
A Shed-in-a-Box is an ideal solution for any property owner who needs a quick and affordable shed. With their strong galvanized steel frames and 100% waterproof covers, they set up and tear down in no time. There aren't fancy tools required to set up and maintain these shelters either. If you need to keep these in place for a long time, then prepare a simple foundation of cinder blocks or a wooden pallet and anchor the shed down with one of our many anchor accessory kits.
Custom Options
There are as many storage needs as there are people out there, so it's important to offer customizable products. Thankfully, there are many custom storage options that you can personalize. For instance, you can customize a ShelterCoat product's style, length, width, height, material, and color. By adjusting its size and other specifications, this product can house anything from farm equipment to seasonal odds and ends.
Portable Garage Kits
There are many garage options to suit different scales of storage needs, including the AutoShelter, ShelterTech, AccelaFrame, ShelteCcoat, ShelterTube, and the convenient Garage-in-a-Box. Each model can store your seasonal vehicles and equipment and offer unique advantages. For the most complete information, explore our evolving collection of outdoor garage products.
Why Use a Portable Garage?
There are many reasons to buy a portable garage. If you have a car out in the open, it is more at risk of losing its luster and will get dirty more quickly. There are also other dangers like hail and heavy snow that can make getting ready for work in the morning a nuisance. If you don't like frost and defrosting frozen doors in the morning, then a portable garage can protect your car from this nuisance too.
Benefits of Using Auto Protection
The benefits of using auto protection include protecting your vehicles from many harmful outdoor elements. For example, the UV-treated cover keeps your car protected against constantly being out in the sun. This ensures that the paint lasts longer and needs fewer treatments. You can also spend less time at the car wash since dirt and debris is less likely to accumulate on your vehicle. You can even lower car insurance costs if your policy allows a discount for having a vehicle shelter.
When you need to store seasonal farm equipment and yard care vehicles, a portable garage is a valuable asset. This shelter keeps your equipment out of the rain and near all relevant tools and accessories, such as fuel cans, oil, and extra blades. Staying dry and out of the sun safeguards driving mowers and weed whackers against developing rust. When you stay on top of your equipment's routine maintenance, this can prolong their life and improve your finances.
Portable Building Kits for Commercial Storage
Businesses can also benefit greatly from using portable storage. Municipalities use building kits for many reasons, such as a temporary storage space, a swing space, pavilion covers, classrooms and meeting space, portable offices, landscaping storage, fleet parking, concession stands, seasonal equipment storage, and more.
Large Scale Items for Big Needs
Running a business requires a lot more storage in space than running a household. Therefore, our portable building kits for commercial needs can be customized to be large enough for your temporary storage needs or long-term solutions. The type of shelter that is right for you depends on your unique business needs. Large shelters can protect mass shipments and vehicles so that your operations can continue to run smoothly.
Portable Greenhouse Kits
Being able to grow fresh vegetables throughout the year and extend your growing season has many health benefits. There are also mental health benefits to gardening and cultivating Greener, especially when the weather and landscape don't look as cheerful. Therefore, ShelterLogic portable greenhouse kits play a vital role in your garden cycle. Here are some ways to use our portable Greenhouse kids to your advantage.
Prevent Frost
Portable Greenhouse kits can extend your growing season by allowing you to move garden beds inside a protective space during cold nights and frosty mornings. By protecting your plants from extreme cold, you can keep them outside and enjoy the outdoor landscape for longer compared to them being out in the open.
Start Seeds Early
Greenhouses also allow you to start the planting season early by starting seeds in a protected space. Their translucent coverings are designed to lock in heat and let in sunlight while blocking harmful UV rays that burn plants. This means you only get the additional warmth from a greenhouse about any of the negative effects.
Protection from Animals
Greenhouses are enclosed spaces that deter common garden pests like bugs and rodents. Since the zip-top closure seals them in at night, you can have an active barrier against natural garden invaders who like to snack on your vegetables. This is especially useful when you're in the seed starting phase and the vulnerable seedlings need to be protected.
Portable Building Kits for Sale at ShelterLogic
ShelterLogic offers a variety of building kits that can benefit your home or business. Search our online catalog for garages for your cars, storage sheds for your seasonals, large pavilions for your municipal needs, greenhouses to keep your garden going all year, and more.