If you've got a green thumb and you're looking for a fun way to make some money, setting up a farmers market stand is a great idea! Fresh, locally grown produce is in high demand, and growing and selling your own food is incredibly rewarding.
Even if you don't live on a large farm, you can still grow a wide variety of fruits and vegetables to sell at a farm stand. In fact, urban farming has become one of the hottest new trends. From hydroponic systems set up on rooftops to outdoor greenhouses, there are plenty of creative ways to get your garden growing.
Before you can start selling your goods, you'll need to set up your space. Luckily, creating a roadside farm stand is a simple project that won't cost you a ton of money. Here's a look at some of the best farm stand ideas for setting up produce stands at outdoor markets.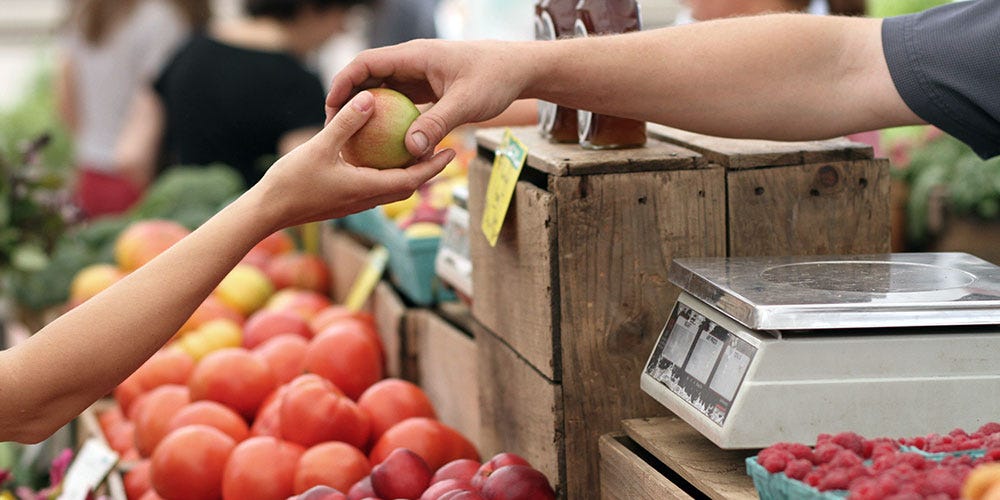 First, Learn the Rules of Setting Up Produce Stands at Outdoor Markets
If you're setting up afarm stand at an established farmers market, check with them to make sure you understand all the rules before you get started. You'll need to make sure they've approved the items you're planning on selling and that the farm stand space you set up meets their requirements.
If you're planning to set up a roadside farm stand, you'll have much more flexibility. However, you'll still need to make sure you follow state and local regulations. This may include getting any licenses or permits required to sell food and making sure your produce stands meet other regulations. If you're going to build a permanent structure on your property, you may need permits for this as well. Taking the time to do proper research early on will help prevent you from running into any unexpected issues after you've opened up your farm stand.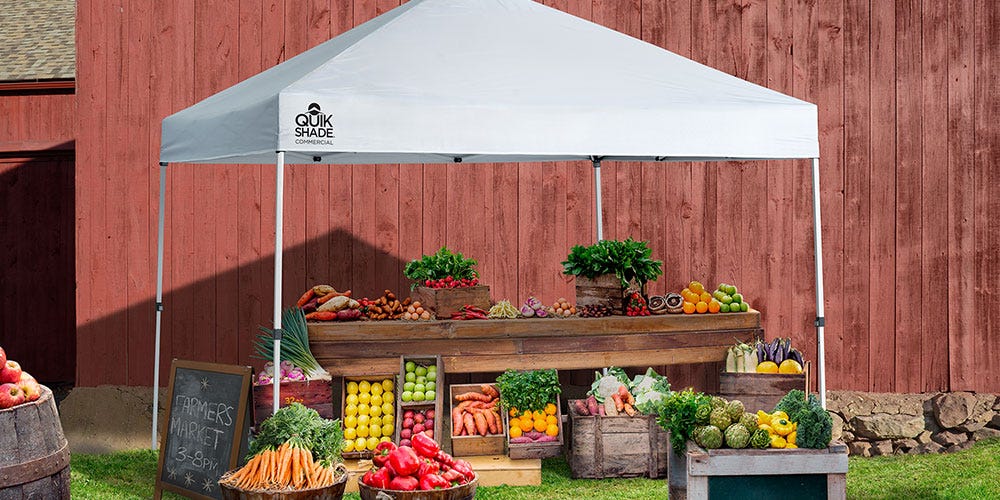 Protect Yourself from the Elements
Selling produce outside all day can be hot, sweaty work. Make it more pleasant by ensuring both your farm stand workers and your products are protected from the elements.
A Quik Shade Marketplace or Commercial series pop-up canopy is a great option for creating a roadside farm stand. They come in a variety of sizes and styles. Depending on your preferences, you may want to choose a small 10x10 foot stand or a larger 20x10 commercial-quality canopy. Some pop-up canopies are even available with an awning, like the Quik Shade Summit X, which will give your stand a more professional look while also providing shade and comfort for your customers.
Since they're so lightweight and portable, pop-up canopies are also perfect for farmers market stands that don't have a permanent location. There are also many other cool and creative ways to use a pop-up canopy, making them an excellent investment.
For extra protection, you may want to add a wall kit to your canopy. Not only will this keep your products safer, but you can also pull down the walls to let passers-by know when you've closed up shop for the day.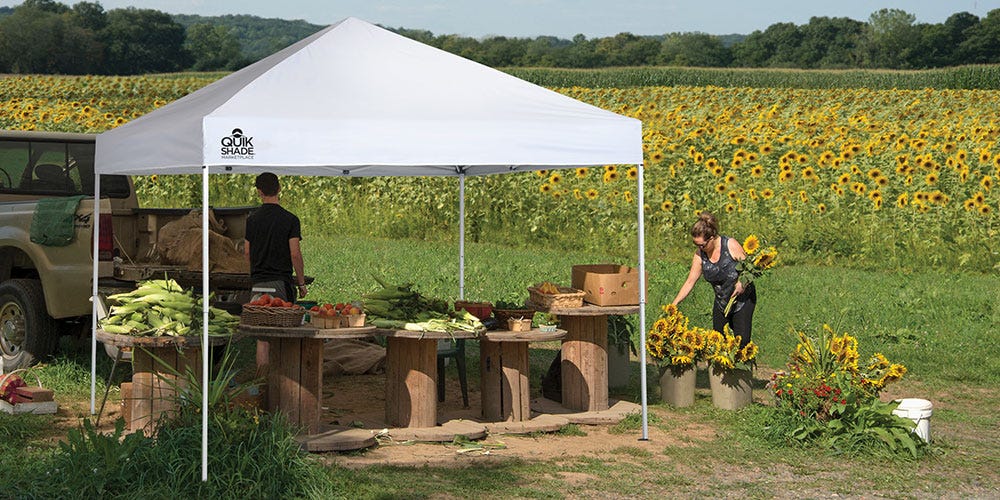 Remember the Essentials
Once you've chosen your cover, it's time to set up the essentials. You'll need at least one high-quality folding table, more if you're going to set up a large display. Look for a model that's sturdy enough to hold all your goods, but still lightweight enough so you can easily move it from place to place. This is particularly important if you're setting up a farmers market stand that you'll need to take down at the end of the day.
Also, don't forget to pick up a couple of comfortable folding chairs so you can have a seat and relax in between customers. Trust us, your feet will thank you! Remember, you'll probably be manning your roadside farm stand all day, so don't forget to pack a cooler with ice, cold drinks, and some snacks.
Depending on what you plan to sell, you may also want to add a large patio cooler to your farmers market stand. This will give you plenty of room to hold any temperature-sensitive items, and the convenient draining system makes clean-up easy. Look for one that has wheels as this will give you more flexibility to rearrange your display when the mood strikes.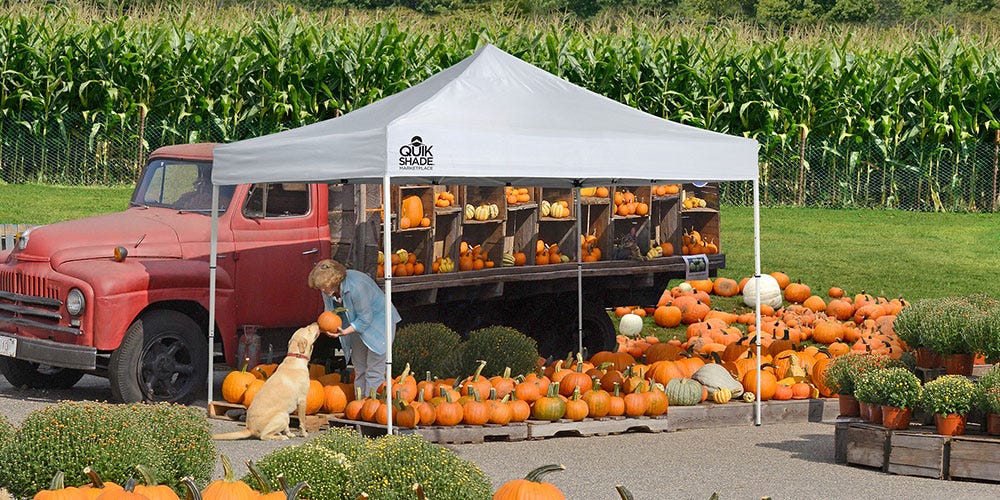 Perfect Your Display
Now that you've got all the basic items you need, it's time to set up your produce stands at outdoor markets. While this may not seem like a big deal, the right farm stand ideas can significantly improve your sales! Visual merchandising of your farm stand is an important part of any shopping experience, and this is even more true when you're selling beautiful, freshly grown produce.
Make sure you bring plenty of food so you can cover your entire table and have enough to restock as you sell. This will help you create a feeling of abundance, which encourages people to buy even more. As you're creating your display, also make sure to put your freshest items front and center. If visitors see wilted lettuce or brown apples, you're going to have a hard time selling your goods.
You'll also want to use risers or even simple wooden boxes to vary the height of your products. This creates a dynamic display that is visually interesting and will help your customers more easily see all of your products.
To give your farmers market stand a more professional look, consider decorating your table. Start with a simple tablecloth and don't be afraid to add some baskets, trays, or even photos. Finally, make some attractive sigs that clearly indicate the price of each item you sell. Customers often don't want to ask and may decide not to buy rather than deal with the hassle.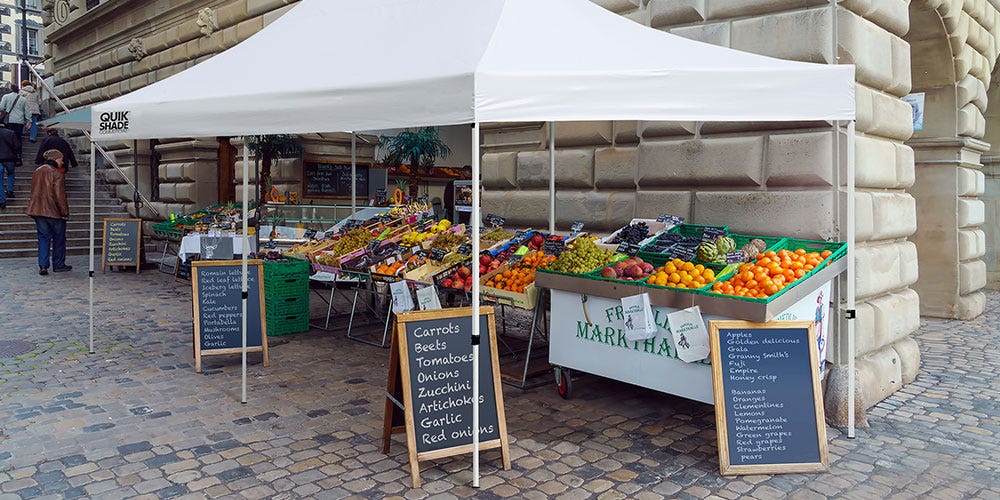 Attract Attention
If you want people to stop and visit your roadside farm stand, you need to catch their eye! Plan to invest in large, attractive signs that can easily be seen as you're driving down the road.
Use them to attract attention and give people an idea of exactly what they'll find when they stop and visit. Remember that your signs are a representation of your business, so don't just whip one up using a piece of cardboard! Instead, consider having a designer create something you can feel proud of. After all, if things go well, your signs will become a sought-out landmark for new visitors who are seeking out the area's best new produce stands at outdoor markets.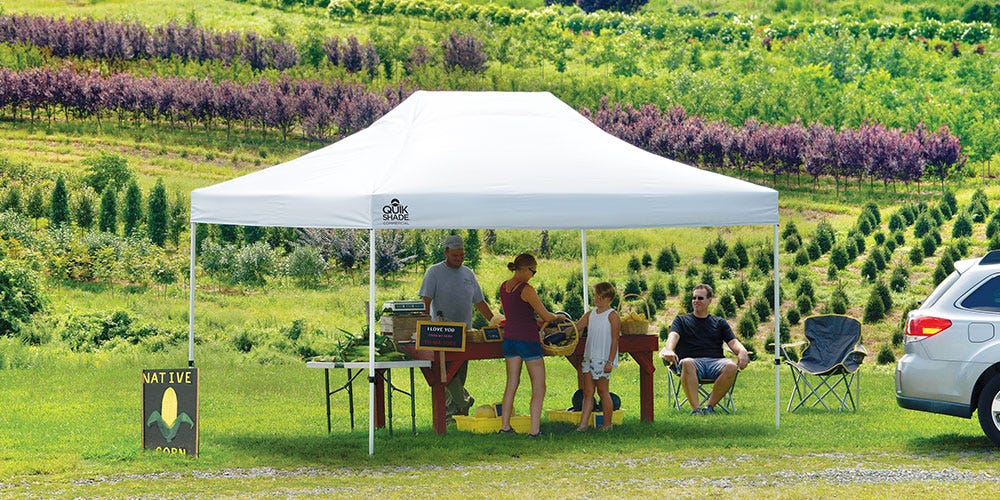 Add Some Extras
When coming up with farm stand ideas, there's no harm in thinking outside the box. Adding some fun extras will improve the customer experience and help you build a reputation for yourself at outdoor markets.
You may want to consider selling homemade jams, jellies, or marinades. If you do, make sure you have some tasting spoons available so you can give out free samples. During the autumn months, you may want to offer hot cider, coffee, or tea as well as fresh baked goods. This is also a great way to make some extra money on days when your supply of crops might be a little thin.
If you're interested in building your brand, consider investing in canvas tote bags with your logo on the front. This will make it easy for customers to carry all their goods home from your farmers market stand. Even better, you'll enjoy free advertising as they wander around the rest of the farmers market or take your bag with them next time they head out to the grocery store.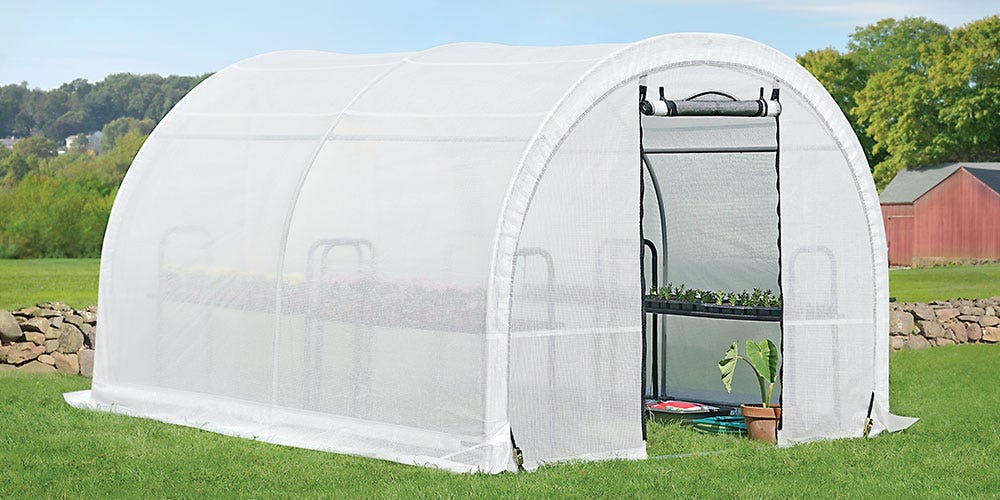 Increase Your Production
It's always a good idea to start off small when beginning a new business venture. However, if your stand starts to take off, you might want to increase your production.
A high-tunnel greenhouse is a great option! These large, commercial-grade structures will allow you to extend the growing season and produce a much higher yield. They also protect crops from harmful hail, early frosts, and other potentially dangerous elements. This will help ensure you can keep your farmers market stand stocked with a variety of high-quality fruits and vegetables all season long.
High-tunnel greenhouses are very cost-effective when compared with a permanent greenhouse. While it does require an up-front investment, it also offers a significant return. If your roadside farm stand does well, you'll likely be able to pay it off in just a few years.