The change in seasons brings a new season of activities with it. Some of these include attending sporting events as sports like football begin to reach a fever pitch. Fall is a great time to host football parties outside. One of the primary challenges is the weather. If you are excited for the next season of tailgating to happen but don't want it to rain on your parade, we have got some great setup options for you, from portable canopy tents to sturdy backyard gazebos.
What Is a Tailgate (or Football-Themed) Party?
First, before you learn all about the awesome things you can do to have a stellar tailgating party, you need to understand exactly what it is! Some of you seasoned football fans will be able to skip right past this section since you are more than familiar with the concept.
For those who aren't yet familiar with the fun of tailgating—A tailgating party is one of the most common ways to host a football-themed party outside. It is a social event that you hold on or near the open tailgate of a vehicle. A tailgate party can be in your backyard, but it is often held outside the football stadium before and during the game.
You can also host other kinds of football-themed parties if you don't have a vehicle that lends itself well to tailgating. Of course, some people would argue that such vehicles don't exist, but those would be the hardcore tailgating fans.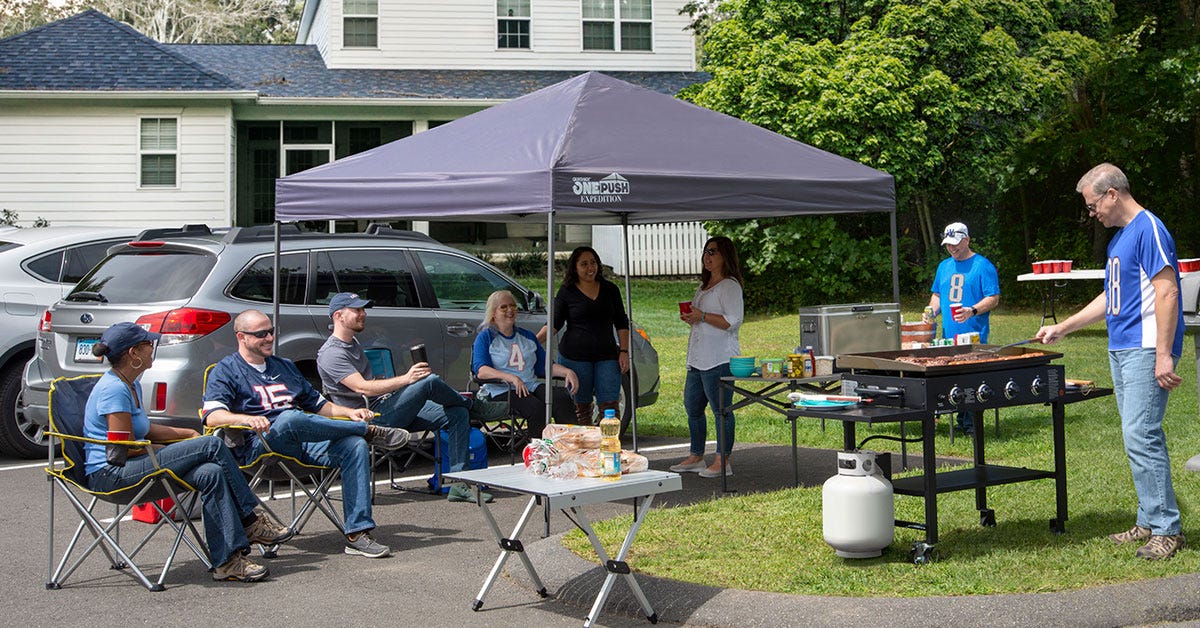 All You Need to Throw an Awesome Football-Themed Party
Getting ready for a great football party that hopefully leads up to a great game means being prepared. You can't let the unpredictable weather in the autumn take away your enjoyment of what really matters - the game! Here are all the things we recommend you do to help you prepare well for the day ahead of you.
Start with setting up the right way. There are plenty of people who enjoy a good tailgating party that are happy to leave the day up to chance. Your chosen materials will change depending on where you plan to host your party and how many people are involved. There are options for everyone so that no matter what happens with the weather on the day, you are covered, literally.
Pop-Up Canopies
Pop-up canopies are one of the most versatile options when it comes to weather preparedness. Pop-up shade tent shelters you from both the sun and the rain. They provide a comfortable spot to rest in the shade on those sweltering days that randomly sneak up in the fall. Then, on those inevitable days of rain, you can run for cover under the canopy.
There are plenty of options when it comes to the kind of tailgate tent you choose as well. Think about what else you might use it for, how often you will need to move it around and how many people it should accommodate. There are pop-up canopies that extend to offer even more shade. Then some are meant for larger groups of people all to fit underneath.
You can opt for a standard shade canopy tent if you want something affordable to house the grill and the griller under safely.
Chairs
A good football party often starts hours before the game commences and lasts throughout the game. So, although there might be plenty of dancing and celebrating, there will be times you want to sit.
In that case, make sure to have plenty of space available for anyone that needs a rest. It is also helpful to have places available for those that want to sit while they eat. If it is a tailgate party, the tailgate itself might offer some seating opportunities, but it might also be where your coolers reside.
Quad chairs are some of the most common chairs to bring to a fall party outdoors. Some quad chairs come with shades so that you can get some protection from the sun even if you aren't under a large shade canopy. There are plenty of options for outdoor chairs that are easy to transport back and forth and are resilient to outdoor conditions.
Gazebos
Having portable shade options isn't your only choice. A backyard football party allows you to access your kitchen and the comforts of your living room once the game gets started. However, hosting an outdoor party means needing to move some TV outdoors. Protect it in a more substantial covering like a gazebo.
Gazebos give you increased protection from the sun and the rain. Also, depending on the size you get, they can hold quite a few people. The saying "the more, the merrier" is just as true when planning a football-themed party.
A grill gazebo on your deck or patio will not only creat a stunning visual appearance, it will protect your grill or smoker from the rain, snow, and harmful UV rays, and keep the cook out of the elements.
Carports
Carports are another valuable option for those who want a versatile shelter. You can connect carports to your home or leave them separate depending on where you typically park your car. Then, when it comes to hosting a party, you have a protected space under which people can stay if they need some shade or shelter from the rain.
Although carports are more mobile than garages, they are not as mobile as canopy tents. Don't plan on moving a carport to a different field or space outside of a stadium. Instead, these are useful for hosting a backyard tailgating party.
Tailgate Food
Now that you have your setup ready to go, you need to make sure you are prepared to feed your party-goers. Luckily, the entertainment is already taken care of when you host a football party.
The question you have to ask first is, "to grill or not to grill?" If you stay at home, grilling is easier. However, with a pickup or other tailgating truck, you can likely transport a grill. You can also get smaller, disposable grills if you are determined. Having your grill under a protective covering is a good idea, particularly if you expect any precipitation.
Otherwise, you need a way to keep all your drinks cold and any meat you bring with you before you cook it. Using a cooler for each one of these keeps it convenient. That way, whenever someone needs another drink, it's accessible and still cold.
Tailgate Games
Although most entertainment is inherent to a football-themed party, there are always lulls in the game and people who are not as interested in the game. For these scenarios, be ready to combat boredom and have a great party with tailgate games.
Some convenient outdoor games you can bring with you include:
Cornhole
Ladder toss
Horseshoes
Outdoor games are pretty popular, so there are all kinds of other options as well. Most of these you can easily pack down into a small case that you can carry with you.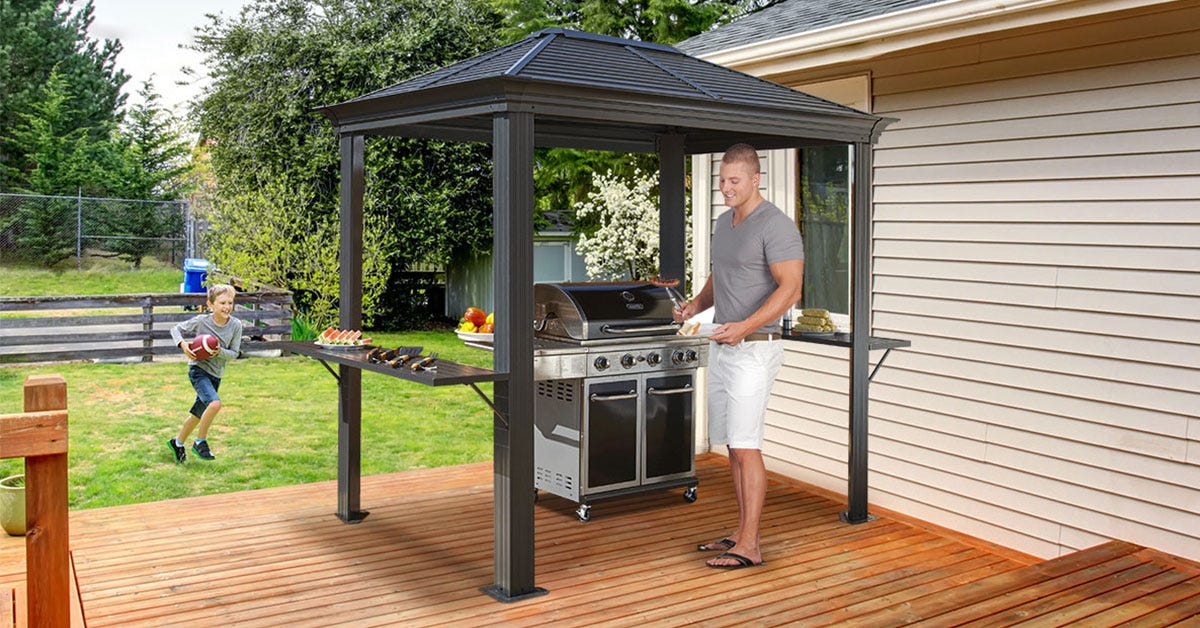 Pro Tips for a Tailgating Party
There are some tricks to make the most of your day at the football stadium. Of course, if you host the football party at home, it will be easier to make adjustments. However, if you are heading out for the day, keep these things in mind.
1. Arrive in plenty of time
One of the critical aspects of a great tailgating party is a great spot. Most of the time, there will be allotted areas for tailgaters outside the stadium. If you want a good spot in the middle of it all, get there early. If you want to park in a decent spot around the stadium, it is best to get there about three hours before the game. When it comes to joining the tailgating party, commit to the day and get there as early as you can.
2. Have a playlist to suit the energy of the day
Although there will be plenty of people around contributing to the noise level, if there isn't a loudspeaker for music, be sure to provide your own! Music helps to keep the energy up all day so that by the time you get to the game, you are ready for an hour of cheering even if you have been outside all day.
3. Be inviting
Tailgating and football parties, in general, are social activities. Unless you host it in the privacy of your backyard, it will likely attract the attention of others around you. To have an authentic tailgating experience, be friendly with your neighbors in the lot. Swap football stories, share food and music.