Your backyard should function as a natural outdoor extension of your home. Yet, we often don't take enough advantage of the great spaces attached to most American homes. It can also feel even more complicated when we contact a landscaper only to realize that renovating the backyard could cost almost as much as the house!
However, there are plenty of simple backyard landscaping ideas that can transform your backyard into the oasis of your dreams. You might want to change your yard into a place for partying, grow your own food or cultivate a sanctuary for your family. There are plenty of simple backyard landscaping ideas that make almost anything possible.
15 Simple Backyard Landscaping Ideas
Some of these ideas have to do with specific installations and DIY projects that YouTube can help you with should you decide to move forward with them. Others involve picking the right plants to get the feeling you want or investing in the right outdoor furniture. Mixing and matching some of these ideas will be the best way to realize your backyard ideas and add curb appeal to your home.
1. Patterned Walkways
Strategically planning the ways that you want people to move through your yard can end up making quite a difference. Pathways can serve as both physical and visual guidance. Making your pathways stick out is an excellent way to guide people's eyes to the primary features of the garden, even if they aren't standing in it.
Start by thinking of the views into your garden, as these areas will be where the patterns will be the most visible. From that point, consider the many ways you can pattern your walkways using a variety of stones, shapes, and colors. Then, orient the patterns so they are the most eye-catching from the vantage points.
2. Kitchen Extension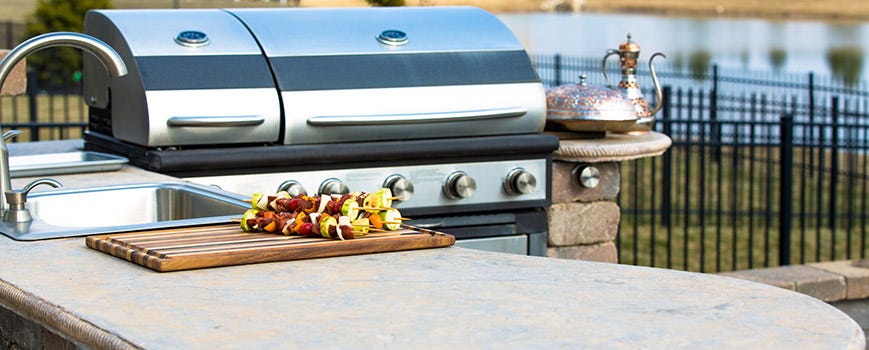 Do you want a beautiful backyard, a play area for your kids, and maybe even for your dog? You can make it functional in all these ways by creating zones. There are multiple ways to do this, depending on the zones you need to create.
For example, if they are only visual zones, you can use various materials to delineate the zones. Use gravel across one zone, grass lawn on another, and a landscaping design in another. If you need to create physical boundaries, say for a dog zone, use fencing to keep them in one zone.
5. Space With a View
Adding a pergola to your garden gives even a small yard a grander feel. It also guides the eye to a central area. Try to plan the rest of your backyard landscape ideas in a way that leads to the pergola. You can also use a gazebo to create a protected area where people can sit and relax.
6. Mini-Farm
Growing your own food is one of the most practical ways you can use your yard. If you think that turning it into an allotment will make it unsightly, think again. There have been significant movements towards edible gardening, a method of landscaping that allows you to plant a mix of edible plants with flowers (which could also be edible) to make a beautiful food landscape.
7. Add a Patio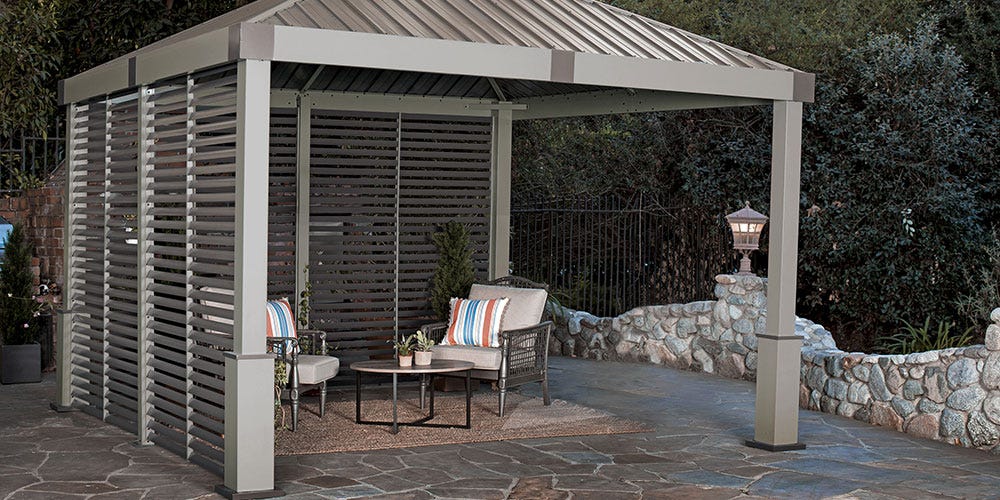 A patio is a great way to add a 'destination' to your backyard. It is especially interesting in your space if you give it a purpose. For example, one backyard idea is to put a fire pit on the patio space and chairs around it. That way, when you have guests over or want a family night spent outside, you can roast marshmallows, read by the fire, or stave off the chill during a chat.
8. Divide and Conquer
You might be full of backyard landscape ideas. However, figuring out how to make the budget work can be the challenging part. Plants are often one of the most expensive aspects of a landscaped backyard. However, you can maximize plants to make the plan more doable. Some of the plants that lend themselves to being divided are perennials like Chrysanthemums and asters.
Most annuals are much cheaper but will also only last a season. So when you budget, think about the plants that will lend themselves to multiplication over the coming seasons.
9. Plant Native Species
Going on a visit to a greenhouse can quickly fill your mind with dozens of colors and textures. However, many of the typical plants in a modern greenhouse are exotic species native to a wide variety of regions around the world. If you want to minimize the amount of work you need to do to manage your yard, look for native species.
Native species often do better in the soil profile in your yard, in the climate, and with the typical annual precipitation. As a result, they won't require as much fertilizer or irrigation as exotic species might, particularly while they get established.
10. Build a Shed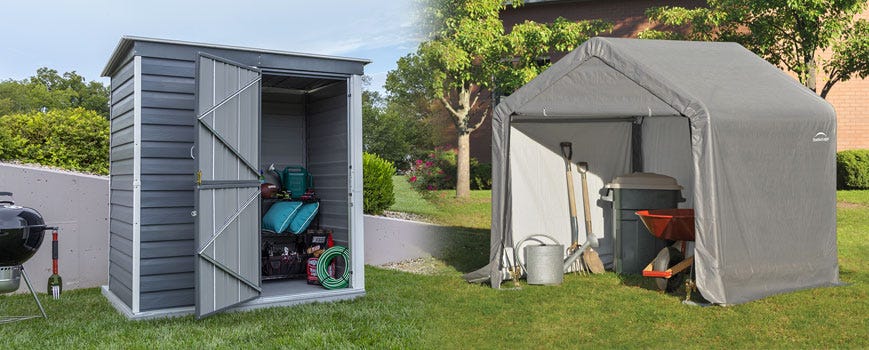 Building a shed adds a storage capacity to your yard. It helps decrease any clutter taking up space and decreasing the visual aesthetic of a yard. However, it doesn't just have to be a storage shed. Sheds can be extremely multifunctional. They might be an artist's studio or a unique space for a single member of the family. They might turn it into a man cave or a she-shed.
11. Put in a Backyard Stage
There are all kinds of backyard patio ideas if you want to increase the functionality of your patio space. If you have kids, one of our patio ideas is to build a backyard stage. A patio is a great space to do this. You can also build a deck in your backyard if you don't have a patio. That way, it is raised. Make it multifunctional by adding sliding outdoor curtains that you can draw if you want to use your deck as a stage or open up if you want seating with views into the rest of the yard.
12. Choose a Theme
There are thousands of backyard ideas out there. When you start to look into it, it can be pretty overwhelming. One way to make it simpler is to choose a landscaping design theme. That way, anything that doesn't fit into your chosen theme can be disregarded. Some possible themes include:
Woodland garden
Formal English garden
Zen garden
Once you choose your theme, you can look for plants that fit into that specific category and any garden accessories that might bring it that extra mile.
13. Make It Water-Wise
There are certain parts of the world where the climate can dramatically limit the garden ideas that are practical for us to use. However, the idea of a green, grassy lawn has captivated the hearts of most Americans. The truth is that these can waste incredible amounts of water if you live in areas such as the Southwest, where annual precipitation is low enough to qualify much of the land as a desert.
You can make a garden that supersedes the need for grass by making it water-wise. Use native plants, raised beds, graveled walkways, and garden accessories to make your backyard space beautiful yet more eco-friendly. Gardens like these will also help to reduce your water bill.
14. Plant a Seasonal Garden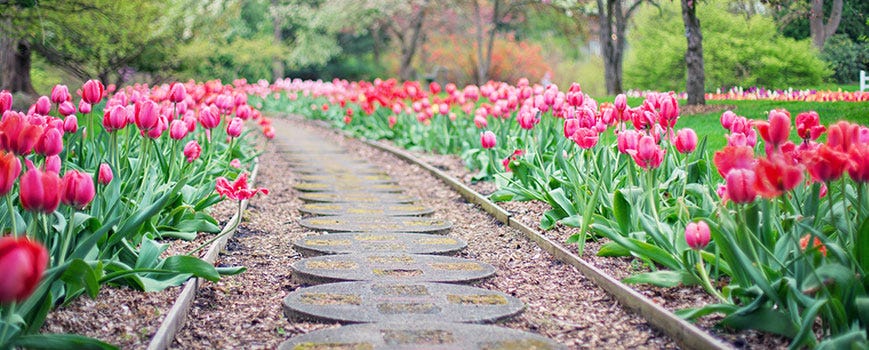 You could consider a seasonal garden a theme. However, we think of it as a comprehensive landscape design. A seasonal garden considers the seasons of interest for all the plants in the garden. That way, you will always have something in bloom or give you a seasonal aesthetic. Structuring these can take quite a bit of time but is worth it when your garden is beautiful no matter what time of year it is.
15. Put In Cozy Outdoor Furniture
Backyard ideas don't just include the design of the patio itself. You can also use outdoor furniture to make it a cozy space that welcomes people into it.