Does your home's hearth leave you feeling less-than-inspired? While a traditional brick fireplace is a highly coveted feature, if the one you currently have doesn't reflect your personal style, it can feel more like a drawback than a perk.
Luckily, you don't have to settle! From a fresh coat of paint to a complete fireplace makeover, there are plenty of ways to update your space. Here are a few of the most popular options for a simple DIY fireplace refresh.
1. Give it a Good Cleaning
Many homeowners find that giving their fireplace a thorough cleaning is enough to make them fall in love with it again. Not only is a dirty fireplace an eyesore, but it can also create a safety issue. That's why we recommend cleaning your fireplace inside and out before you attempt any kind of fireplace makeover.
You'll want to wait at least 12 hours after your last fire before you take on this project. This will ensure everything has had a chance to completely cool. When you're ready, follow this step-by-step guide.
Step 1: Prepare the Area
Cleaning your fireplace is a messy job, so it pays to prepare yourself and the area before you get started. Move everything you can away from the fireplace and put down plastic sheeting or drop cloths.
Make sure you wear old clothes, rubber gloves, and a dust mask. If you have kneepads, put them on or use a thick folded towel to absorb some of the pressure.
Step 2: Remove Ashes and Soot
Using a hand broom or a small shovel, remove the ashes and dust from the fireplace. Then remove the grate or andirons, taking them outside to clean with soap and water. Set them aside to dry until you've finished the rest of your cleaning.
Step 3: Clean the Inside
Use a hand broom or dry bristle brush to sweep the inside walls, starting at the top and working your way down. Remove any ashes and debris that fall into the fireplace.
Next, use a cleaning solution on the fireplace's interior walls and floor. One popular DIY option is to combine 3 tablespoons of T.S.P. (tri-sodium phosphate) with ½ cup of bleach and one quart of hot water. Spray this solution on the walls using a spray bottle and let it sit for five minutes before scouring.
Step 4: Clean the Outside
If your brick fireplace is more than 50 years old, you'll want to skip scouring the outside. Otherwise, it could start to crumble. For newer fireplaces, mix equal parts Dawn dish soap and either baking soda or table salt with just enough water to give the mixture a creamy texture.
Apply this mixture with a cloth or dish towel and let it sit for 10 minutes. Then, use a bristle brush to scrub it, using a circular motion and working from the top down. Rinse the brick and wipe the cleaning solution off. If you still haven't achieved the desired look, repeat the process a second time.
Once your fireplace is completely clean and dry, you can decide whether you're happy with it as it is. If not, you'll want to explore some of the following fireplace makeover ideas.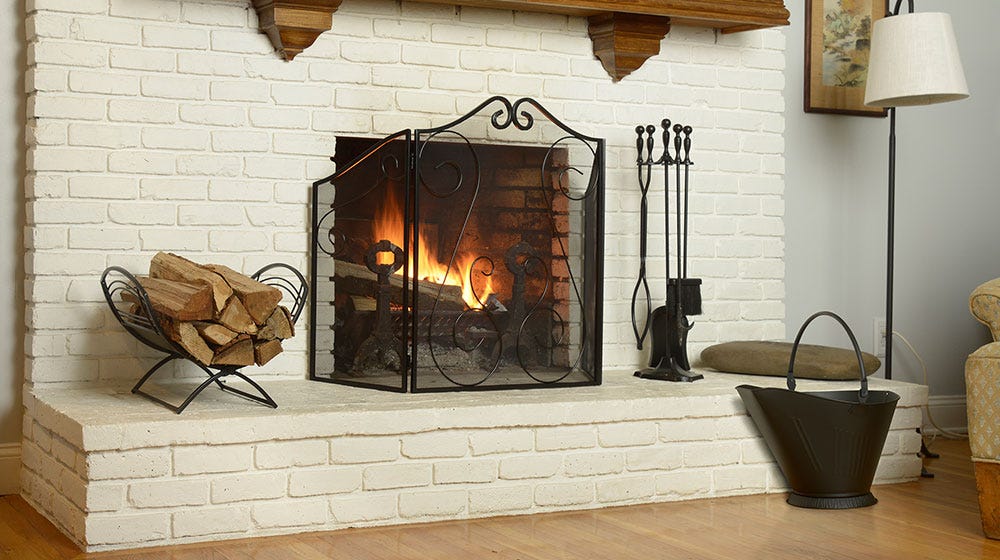 2. Add a Coat of Paint
If you're tired of your brick fireplace's natural look, give it a quick and easy refresh by adding a coat of paint. Painting or even whitewashing fireplace brick is a huge trend right now!
Many homeowners are choosing light, cool, crisp colors – mostly in the white and gray families. However, there's nothing wrong with painting your fireplace a bright blue, seafoam green, or even all black. If it suits your personal style, go for it!
After cleaning your fireplace, use a stain-blocking, oil-based primer. This will protect your new paint from becoming discolored by soot stains. Once the primer is dry, apply a coat of indoor latex heat-resistant paint using a roller that's designed for textured surfaces. Touch up any spots you miss with a small paintbrush. Add a second or third coat of paint as needed, making sure you leave plenty of drying time in between each coat.
The paint you choose for the outside of your fireplace should be rated to withstand a temperature of at least 200 degrees Fahrenheit. Note that if you plan to paint the inside of your fireplace, you'll need a special heat-resistant paint.
3. Update the Facade
If your brick has seen better days or you want to get away from the brick look, you can do a total fireplace makeover by completely changing the façade. Some of the easiest and most popular options include ceramic tiles, peel-and-stick tiles, and stone façade. Here's a closer look at each.
Ceramic Tile
Ceramic tile has been a popular fireplace facade option for many years. Homeowners love tile because there's a virtually limitless number of colors and styles to choose from. The cost typically ranges from $1 to $15 per square foot, and it's easy to install tiles yourself.
To install ceramic tile over brick, use latex-modified thinset cement. Mix it to the consistency of mayonnaise and spread it over the brick, using a flat trowel. Make sure you force the thinset into all of the grout joints. When you're done, the surface should be flat. If it's not, add a second coat to fill in any depressions.
Let this dry overnight, then lay down a new layer of latex-modified thinset. Comb it out with a notched trowel and lay the tiles.
Peel-and-Stick Tile
Another option for an easy DIY fireplace refresh is to use peel-and-stick tile. However, these tiles will not stick to brick, so you'll need to use a different surface. One of the most popular solutions is to use a thin acrylic panel. Cut the panel to the correct size and shape, add the tiles directly to it, then adhere the entire panel to the fireplace using screws.
Stone Surface
Do you love the look of natural stone, but don't want to spend the money or deal with the hassle? Try masonry veneers instead! They're also called "thin stone," which is appropriate because it looks exactly like the real thing but is far thinner and lighter. You can often get veneer sheets for just $5 to $15 per square foot, making this cost-effective fireplace makeover.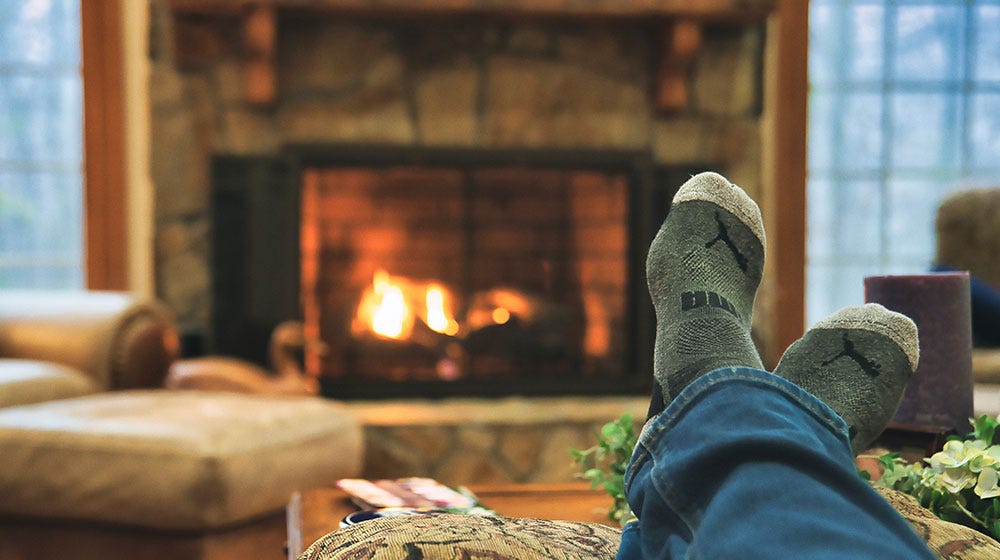 4. Install a Mantel
Whether your fireplace doesn't have a mantel or the one you have doesn't fit your style, you can install one yourself. There are many mantel kits on the market that you can easily install with a few twists of a screwdriver. They come in many styles including stone, concrete, and wood, and are available in either shelf-style or mantel surrounds.
Shelf-style mantels are similar to a floating shelf you would mount on a wall. You install these above your fireplace at whatever height you desire. Mantel surrounds go across the top and along both sides of your fireplace. These are usually mounted so the bottom of the sides sit flush with the floor or a hearth and typically come at a preset height.
Whichever option you choose, you're sure to love the pre-made kits. They contain everything you need, often including mounting hardware, so you don't have to buy any special tools or equipment.
5. Decorate with Style
Once you've completed your DIY fireplace refresh, it's time to add some finishing touches! Start by exploring your options for fireplace décor that is both attractive and functional. For example, a fireplace coal hod and a cast iron toolset will add visual interest to your hearth while also making regular fireplace maintenance much easier.
If your fireplace doesn't have glass doors, consider adding an attractive screen. This will add a layer of protection for your carpets and floor and keep curious children and pets safe. Make sure you choose one that fits your style and that is lightweight enough so you can easily move it when you need to add more firewood. You'll also want to keep a decorative log holder near your fireplace. This will allow you to enjoy your fireplace without having to run out into the backyard every time you want to start a fire.
If your fireplace has a mantle, you have almost unlimited decorating options. This is an excellent place to add picture frames, candles, books, vases, and other decorative items. Some homeowners choose to hang a television above their mantle or add artwork to create an additional layer of focal points.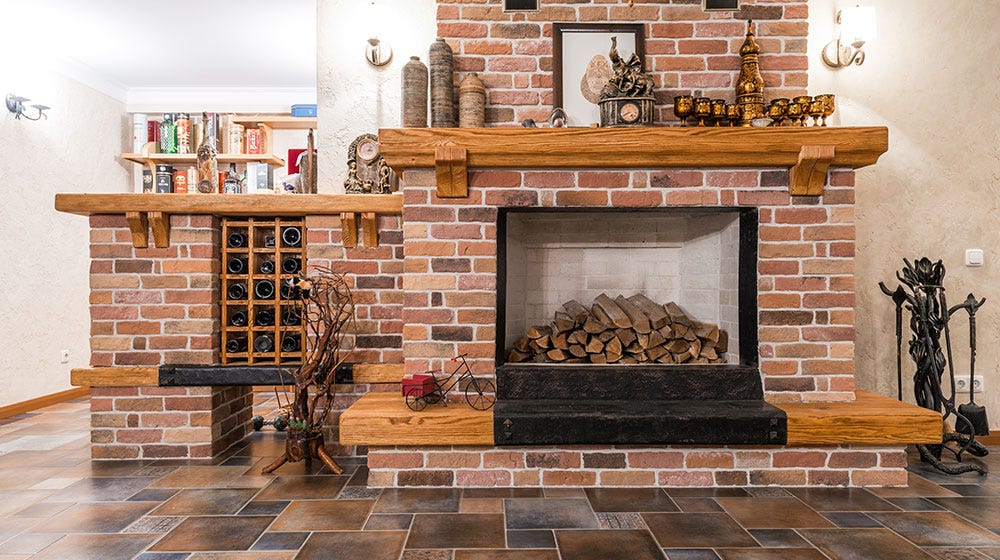 6. Set Yourself Up for Long-Term Enjoyment
The key to enjoying a wood-burning fireplace is ensuring its ease of use. Keeping dry, cured wood nearby will ensure you won't hesitate to build a fire whenever the mood strikes. If you keep a lot of wood on your property, a seasoning shed is a great investment.
This will allow your wood to burn twice as fast as open-air drying. It will also protect your wood against mold and pest infestations. If you don't have enough room or don't use much wood, consider a covered firewood storage rack instead. These structures come in a variety of sizes, providing plenty of flexibility for most homeowners.
Start Your Fireplace Makeover Today
We hope these ideas have inspired you to start your own fireplace makeover project. After all, a simple DIY fireplace refresh can make you fall in love with your hearth all over again.
At Shelter Logic, we carry a wide variety of firewood and hearth products for your home. Take a look through our online catalog today and please don't hesitate to contact us with any questions.