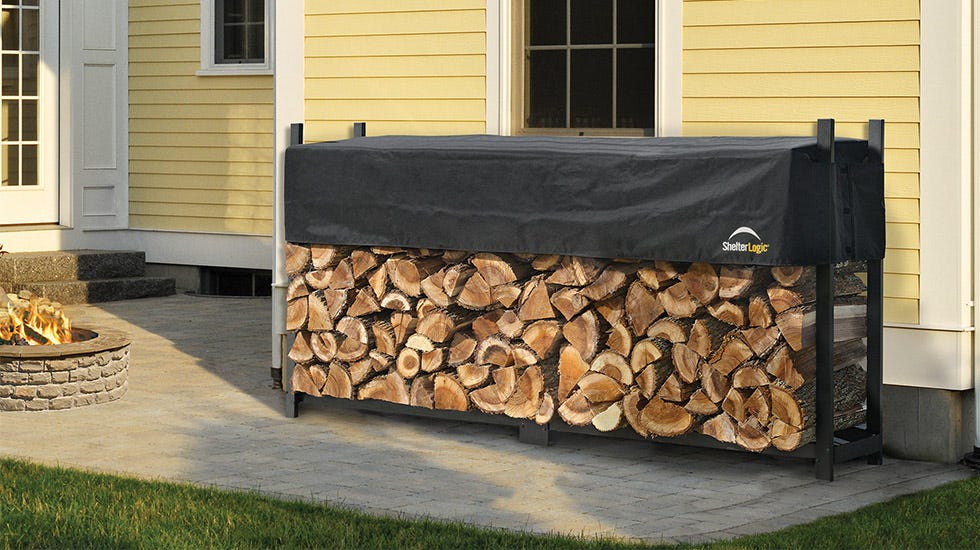 Fall is just around the corner, which means bonfires and maybe even a few nights in front of the fireplace to stay warm. But before the first snow of winter, you'll want to make sure to be ready with plenty of dry firewood. By taking just a few simple steps, you can avoid damp, moldy and rotting firewood. Here are some tips and tools to get the most out of your firewood while getting ready for winter.
Storage with Minimal Footprint
You can't burn a fire efficiently with damp firewood. One of the most important tips for dry firewood is making sure you store it off the ground. You don't want the wood soaking up any ground moisture, and you also need to keep away the threat of infestations. An easy way to ensure your firewood is safe is by investing in log racks. This Ultra Duty Firewood Rack boasts a premium U Channel frame, holding up to a 4400 lb. load. It also comes with a 2-way adjustable polyester fabric cover for maximum protection. As an added bonus, it's easy to assemble. If you need more space for storage, you can also choose the 16 ft. model.
Best Choice for Dry Firewood: Seasoning Sheds
While log racks are efficient choices for making the most out of your firewood, you can take it up a notch by storing it inside a building. A shelter for your firewood keeps rain and snow away, and even gives it an added barrier from pests and moist air.
This 10 x 10 Firewood Seasoning Shed creates seasoned wood for burns 2x faster than open air drying. It also features a heavy-duty steel frame with Shelterlock stabilizers for added strength. It holds up to 3 ½ cords of wood. Other features and benefits of this shed that help provide dry firewood for the season include:
Specially designed vapor barrier keeps excess ground moisture out
Translucent polyethylene fabric cover allows light in and retains heat
Screened vents increase airflow and cross ventilation
Accessorize for Maximum Efficiency
Investing in a sturdy seasoning shed is half the battle to ensuring your firewood stays safe for the season. But that doesn't mean you should forget to accessorize to make your life even easier when you're going back and forth to retrieve your dry firewood. Anchoring a seasoning shed is an important step to increase safety and stability. These earth anchors quickly install into the ground, and are also reusable. And if you happen to be making constant trips to your shed during the winter, you'll want to make it as simple to access as possible.
The Pull-Eaze Roll-Up Door Kit means you can gain access to your shelter with just one pull. This is an investment you'll be thankful for come winter! Finally, everyone knows how important ventilation is to dry firewood. This automatic shelter vent kit automatically opens and closes based on temperature. This reduces humidity and moisture buildup, which are detrimental to your firewood stacks. Two vents come in each box.
With these tips and tools, you will have a huge supply of dry firewood come winter. Whether you choose a simple log rack for your property, or a larger seasoning shed, you will be glad you made the investment at your first bonfire!