Halloween can be one of the most fun and eventful times of the year. There's trick-or-treating, scary ghost stories by a campfire, haunted hayrides, and of course, the costume party.
Costume parties are a lot of fun, but they can be a drag to host. You must clean your house before guests arrive and clean it again after they leave. Also, there's always that chance your guests will track mud, leaves, and more into your living room.
Other than the housecleaning, a costume party is simple to plan. You just need some food, drinks, decorations, music or sound effects, party games, and maybe some goodie bags. So, if you're concerned about your house being or becoming messy, then why don't you just bring the costume party outdoors?
Around Halloween, the weather can be unpredictable. But that doesn't mean you can't throw a successful outdoor costume party. When you're having a party outdoor in the fall, you get to take in the whole season. In the fresh, crisp autumn air, the smells of firepits and fallen leaves just add to the atmosphere of an outdoor party.
Halloween isn't just about Trick or Treat, it's about treating yourself to the items you'll need to throw a successful costume party in your front yard or backyard. These items certainly won't have a one-time use: you'll be able to use them all year long, whether you're at home, at the campground, at the beach, at the stadium, and anywhere else you want to gather.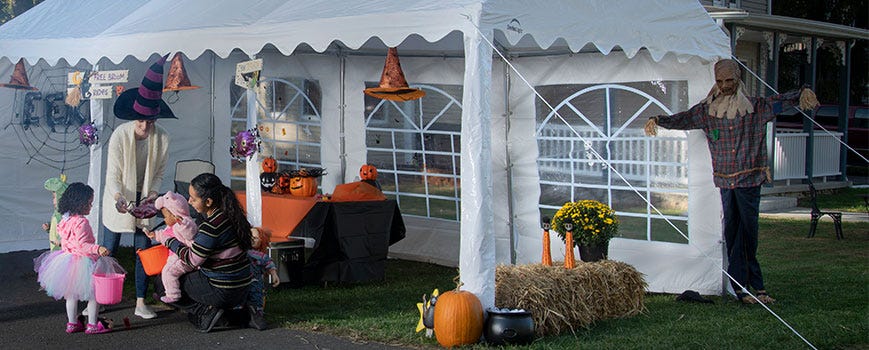 Protection from the Elements
Like we said above, the weather around Halloween can be unpredictable, and it's always good to keep your guests protected. From a pop-up canopy tent to a tailgate tent, there are several types of portable structures that can offer protection from the elements. They can give your guests some shade if it gets too hot or sunny, and they can keep them dry during the rain.
Party Tents
A party tent is practical for many different types of outdoor gatherings, including a costume party. Like a tailgate tent or an event tent, a party tent can be the center of your outdoor party.
A party tent lets you cover an outdoor area as small as 10x20 ft. and up to 20x30 ft. so your guests can enjoy the fresh air but stay out of the sun or rain. You can get an enclosure kit for a party tent so you can wall off parts of the tent, or the entire structure. Imagine attaching the wall panels and turning a party tent into a Halloween haunted house!
Party tents are a great investment: purchasing one can be much more cost-effective than a rental. A party tent comes with a durable rust-resistant galvanized steel pipe frame and a heavy-duty PVC fabric cover. They can be easily assembled without tools by 2 people in just a few hours!
Shade Canopies
Like party tents, shade canopies are very similar and can be used to protect your costume party guests from the elements. They have waterproof polyester tops, durable powder coated steel frames, and can also come with optional enclosure panels. Generally, shade canopies have a smaller footprint than a party tent
Shade Canopies have frames that are made of swedged powder coated steel pipes that fit together. They have a UV-treated polyethylene waterproof fabric cover that connects to the frame with bungees. Some shade canopies come with enclosure kits that allow you to block the wind or completely wall it off.
Pop-up Canopies
A pop-up canopy tent provides more flexibility and ease of use than party tents. A pop-up canopy can be set up in minutes and taken down just as quickly. They come in a variety of colors and styles so you can get one that matches your personality, or the mood of your Halloween costume party!
Pop-up canopies feature powder coated steel frames and waterproof fabric canopy tops. When it is not in use, a pop-up canopy can be put away in its own rolling bag, which is designed for easy transport and storage.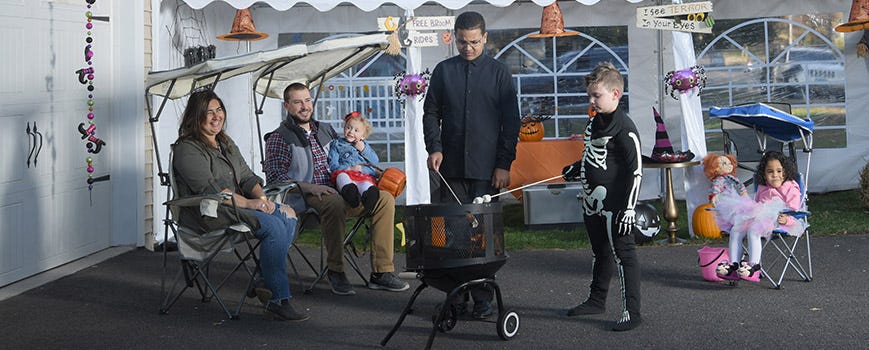 Comfortable Portable Chairs for Your Guests
Sure, people like to stand and talk when they're at a costume party. But they also want to take a load off and relax, and it's also easier to eat when you're seated. Portable folding chairs are great to keep in your garage, shed, or closet because you never know when you're planning a party or an impromptu gathering.
Canopy Chairs
Folding canopy chairs are great to use when your costume party is taking place during the daytime. The patented design of Quik Shade canopy chairs allows the sunshade to raise, lower, and tilt to block the sun from any angle, without your guest having to leave the comfort of the chair. When the party is over, simply close the folding canopy chair and put it in its storage bag for safe storage.
Folding Chairs
Folding chairs are like canopy chairs, but they do not come with a built-in canopy. Like a canopy chair, they have durable powder coated steel frames and a fabric seat and seatback. Also, like canopy chairs, portable folding chairs have a drink holder built in. Some models even come with convenient cell phone holders and accessory pouches. A heavy-duty folding chair is great for costume parties, especially when your child gets tired and wants to sit on your lap!
Camping Chairs
A camping directors chair is made with the same quality materials as a folding chair and a canopy chair. However, they fold flat for storage against a wall or on a hook and have a fold out table that you can use to rest a plate of food or a drink. Generally, the seats of camping chairs are wider than other folding chairs and provide even more comfort.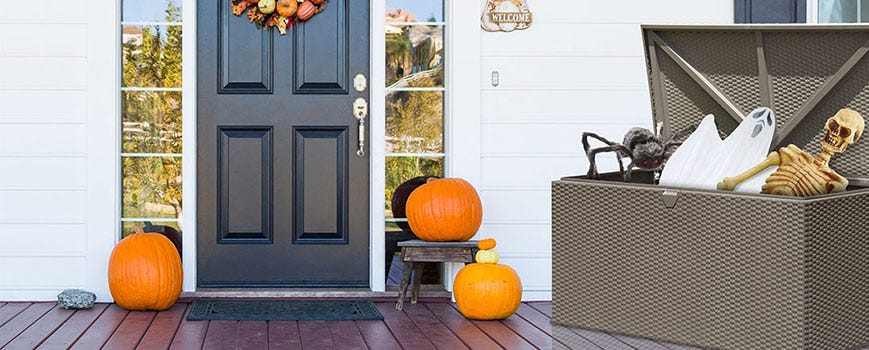 Excellent Outdoor Accessories for a Better Costume Party
Your outdoor Halloween Party will need more than canopies and chairs. You'll need something to keep drinks on ice, something to put food on, something to store your scary Halloween decorations, and more!
Camping Tables
Camping tables offer the ultimate in portability and strength. They have aluminum pop-up style frames and an aluminum roll top. They are compact enough to fit in a portable carry bag but are extremely durable and can hold up to 400 lbs.! Grab a few for your costume party and then keep them handy for your next outdoor gathering.
Metal Coolers
Don't keep running in the house for cold drinks: treat yourself and your guests with a metal cooler. Rugged enough to take to the campground, beach, tailgate, or the next fishing trip, metal coolers are also great for backyard parties! Metal coolers can keep ice solid well after your Halloween party ends and have a leak resistant screw-off metal drain for easy emptying.
Deck Boxes
There may be no piece of outdoor furniture more versatile than a deck box. Deck boxes are ideal for storing all your Halloween décor when it's not in use. Also, it can serve as an extra seat or a place to put your drink during your costume party.
Firewood Rack
If you're going to use your firepit during your outdoor Halloween costume party, then you're going to need a place to store your firewood. A trusty steel firewood rack is the must-have accessory to properly store seasoned firewood for efficient burning. A firewood rack also lets you keeps your wood neat, organized, and easily accessible. The rack is designed to let air to properly circulate while keeping your firewood dry.
Patio Bar
Where are you serving your drinks? How about a patio bar? Investing in a stylish patio bar is a must if you like to entertain outdoors. You can use one to organize drinks and provide and provide a comfortable spot for your party guests to relax and enjoy themselves.
Entertain your Outdoor Halloween Costume Party Guests in Comfort and Style
Why host an indoors party? Take the party outside! We have everything you need to host a Halloween costume party outdoors. Click below to shop ShelterLogic for structures and accessories you'll want to use to host outdoor parties for years to come.