If you've been part of the WFH workforce for a while, you might find yourself longing for a change of scenery. While skipping the morning commute is certainly convenient, it's sometimes hard to stay productive with all the distractions happening inside the home.
However, if you're lucky enough to have some backyard space, you can solve the problem with style! Backyard offices and studio sheds are a fun new trend that's catching on like wildfire. From an elaborate freestanding building to a simple shady spot on the deck, there are many ways to turn your outdoor space into a WFH space. Here are some of our top tips for creating an outdoor WFH space you'll love.
Backyard Office Preparation: Evaluate Your Space
Before you get started, take a moment to evaluate your space. This will help you determine the ideal location for your new backyard office. One of the advantages of working outside is the ability to immerse yourself in nature. See if you can position your office so it offers you a view of your garden, a water feature, your pool, or an outdoor fireplace. You'll also want to make sure it's located far enough away from your home and the street so you aren't distracted by noise.
Don't forget to pay attention to where the sun is positioned at various points of the day. A little bit of sun is great, but you don't want to swelter under harsh rays day after day.
In most cases, you won't need a ton of space. An eight-by-ten-foot structure should work fine. Remember, many cubicles are only six feet by six feet. If you can come up with at least that much space, you can enjoy working outdoors!
Here are a few other things you'll need to consider as you plan out your space.
Temperature and Shade
When designing a backyard office, choosing a cool, shady space is critical. Glare on your laptop will make working difficult and the eye strain can cause headaches. If you're always hot and uncomfortable, you also won't be able to concentrate. Even worse, high temperatures can also reduce your computer's battery life and cause performance problems.
Whether you're building a permanent studio shed or you're creating a temporary outdoor workspace, try to position yourself under a large tree, beneath an overhang, or under the shadow of an adjustable patio umbrella, a canopy, or an attractive sun shade.
Noise Reduction
While chirping birds, chattering squirrels, and other wildlife might seem cute at first, outdoor noise can drive you to distraction. Add in the sounds of traffic, barking dogs, and noisy neighbors, and it's easy to see that working outdoors is sometimes less than ideal.
Luckily, there are some simple things you can do to minimize these issues. Placing your backyard office near a flowing fountain or other water feature is a great way to drown out noise. If this isn't an option for you, look for a space where you can place an outdoor fan. Not only will the white noise help reduce sound distractions, but the breeze will keep you cool while also keeping mosquitoes and other bugs at bay.
Local Regulations
If you're considering adding a structure to your backyard and you have a homeowner's association, make sure you check in with them. While you're at it, find out whether there are any local l municipal regulations regarding placing a freestanding building on your property.
In most cases, it shouldn't be an issue. However, doing your research ahead of time will save you the headache of dealing with objections that come up after the fact.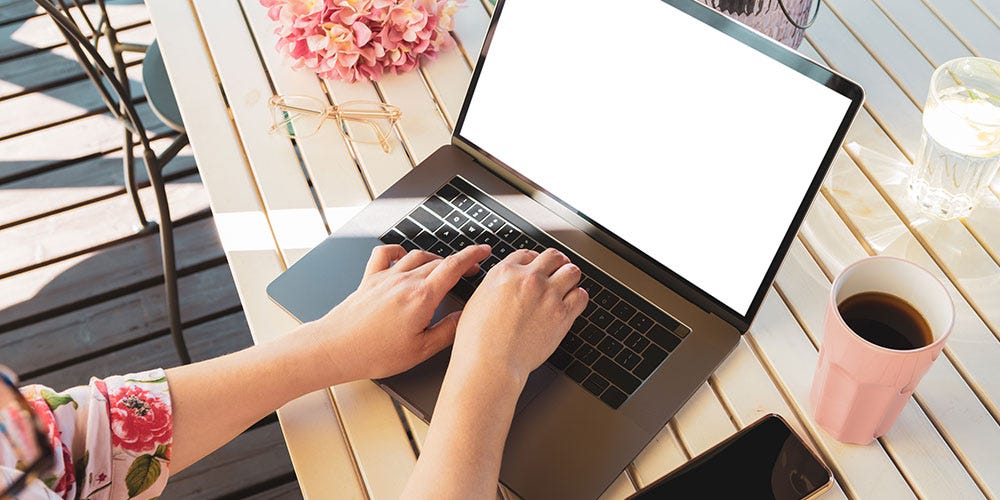 4 Incredible Options for Your Backyard Office
Now that you've found the perfect spot and checked the rules and regulations, it's time for the fun part – designing your backyard office! Need some inspiration? Here are a few of our favorite ideas.
1. Studio Shed
Studio sheds are all the rage right now, for good reason. A pre-made shed is a cost-effective solution that you can add to your backyard in a matter of days. Not only is a high-quality shed a beautiful addition to your backyard, but your interior customization options are also virtually limitless.
Since a studio shed is fully enclosed, you won't have to worry about pesky bugs. Closing the door will also block out much of the outdoor noise, allowing you to work in peace.
You'll need to wire your shed for electricity and make sure you have a strong enough WiFi signal. In most parts of the country, you'll also want to add insulation, ventilation, and, possibly, an HVAC system. Even after these investments, you can expect your studio shed to offer you a great return on your investment.
2. Solarium
A freestanding or wall-mounted solarium is a great way to enjoy the best of both worlds. Turning one into a backyard office means you'll be able to spend your days basking in the sun while still getting your work done. They offer plenty of room for you to spread out and create your ideal office space. In fact, you may find that you have some extra room, allowing for the space to double as an art studio, book nook, or storage room.
If you want to use your solarium as a WFH space most of the year, you may need to add some temperature control. Choosing a wall-mounted option may simplify things by allowing you to pick up the WiFi signal from your home. If it's not strong enough, you can also upgrade your signal with a simple WiFi extender. This makes a solarium office a fast, simple, and attractive option for your backyard WFH needs.
3. Gazebo
If you prefer to spend more time out in the fresh air, consider turning a gazebo into your new outdoor office. Freestanding gazebos have a full roof and are open on all four sides. This offers plenty of shade while still allowing you to enjoy being one with nature. Most come with curtains or mosquito netting, which you can put down around the sides when you want to create more shade or keep bugs away.
These structures are also extremely attractive, which means they'll add visual interest to your backyard and improve your property value. If you want an office that feels like a light, airy retreat, this is the perfect solution for you!
4. Patio Office
Not quite ready to commit to a permanent structure? Your deck or patio is a great place to create a temporary backyard office. This is especially true if you live in an area where the weather is nice most of the year. It's also a great way to experiment with working outdoors so you can be sure you enjoy it before you invest in a more permanent solution.
A patio office is an affordable option that will allow you to enjoy all the benefits of spending time out in the fresh air. All you'll need is comfortable patio furniture, a strong WiFi signal, and some type of outdoor shade.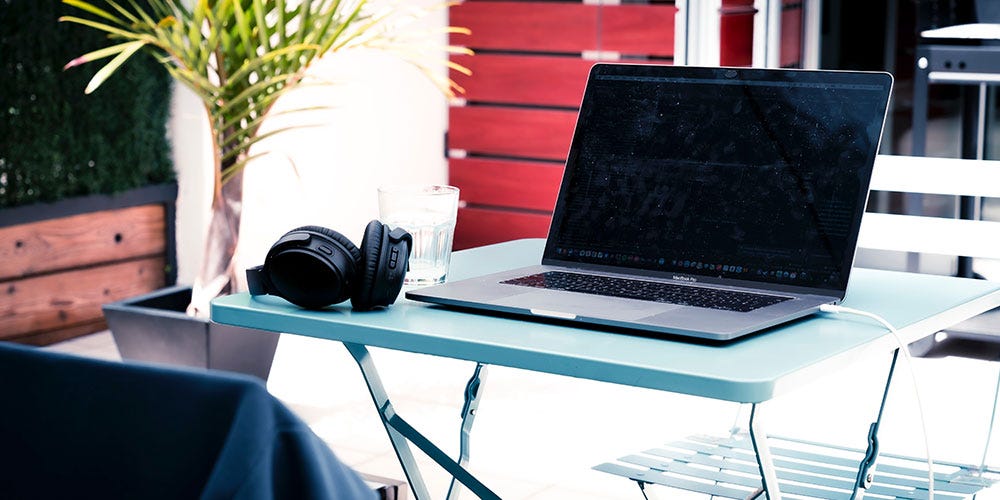 Using Your Backyard Office as a Flexible Space
One of the biggest advantages of creating an outdoor work-from-home space is that it gives you a lot of additional flexibility. When you're not busy working, your new backyard office can also double as a home gym, lounge area, or entertainment room. Use your imagination and you'll get even more enjoyment from your outdoor addition.
No matter what you decide to do, make sure you take some time to customize your space. Adding furniture you love, some artwork or framed photos, and a few knickknacks you love will go a long way towards making the space feel more comfortable and cozy.
A Word About the Home Office Tax Deduction
Not only is a backyard office a fun and functional upgrade, but you might also enjoy some financial benefits! If you're a business owner and you use your backyard WFH space only for work purposes, you may be able to take a tax write-off for the costs of constructing and furnishing it. Direct expenses, like buying a desk and printer, will often be 100% deductible. Other expenses, like your WiFi or security system, might give you a partial deduction.
When it's time to sell your home, you may be able to get a capital gains break by writing off the added value of your backyard WFH space. Make sure to ask your tax advisor for more information about whether you'll qualify for these financial breaks.
If you're not a business owner, but your company has you working from home, you may be eligible for a remote work stipend. Check with your HR department and see if they're willing to help finance your new project!
Start Creating Your Backyard Office Today!
Premade structures make it quick and easy to create a beautiful and functional backyard office in no time! We carry a variety of sheds, gazebos, and solariums to fit every style and budget. Take a look through our inventory today and don't hesitate to contact us with any questions.