If you're looking for a fun and exciting new hobby, you might want to give fly fishing a try! It's a great way to get away from the hustle and bustle of everyday life and enjoy some time in the great outdoors. And, if you're lucky, you might even catch your dinner!
What is fly fishing, and how is it different from regular fishing? We're glad you asked! We've created this simple guide to explain the basics of this fun sport. We'll also review the gear you'll need and discuss how to prepare for an unforgettable fly fishing getaway.
What is Fly Fishing?
Let's start with the basics. What is fly fishing? It's a special fishing technique that involves presenting bait, which looks like a fly, at the top or just below the surface of the water. While traditional "spin fishing" is usually done by casting bait out into the water and waiting for the fish to bite, fly fishing is far more active.
There's a real art to learning how to fly fish. Most fly fishermen (and women!) enjoy challenging themselves to perfect their techniques and catch as many fish as possible. While fly fishing used to be primarily used to catch trout, today, people are using the technique to catch all kinds of fish.
While both spin fishing and fly fishing can be a lot of fun, fly fishing will get you more up-close and personal with nature. It's a bit more difficult to learn, but, once you do, you'll find that it's one of the most rewarding sports out there.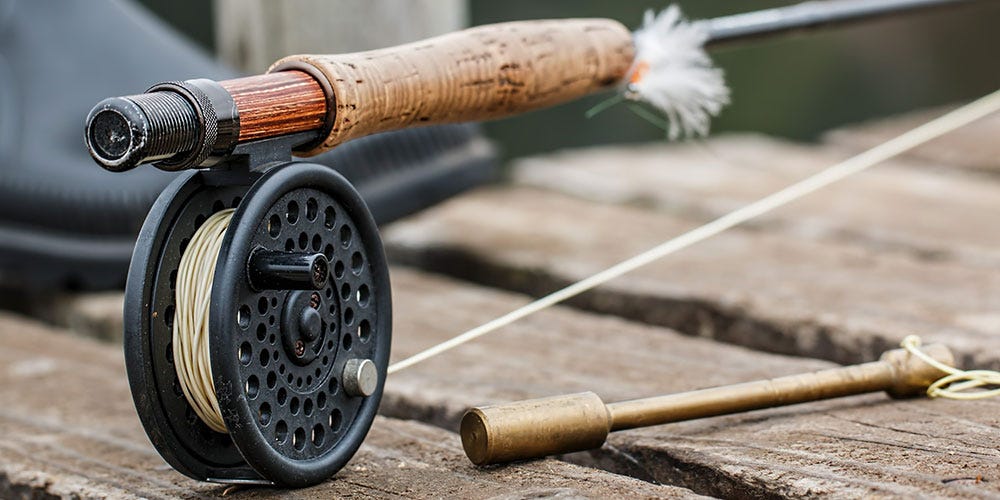 Essential Fly Fishing Gear
One of the major differences between fly fishing and spin fishing is the gear you'll need. Spin fishing uses a traditional fishing pole, fishing line, a hook, weights, a float, and bait to catch fish. When you cast the hook, the weights help you send it out further. Once it hits the water, the float holds the bait at a certain depth. The idea is for the fish to see or smell the bait and get caught on the hook.
When you're fly fishing, the process and gear are both different. In this case, you'll cast a very lightweight "fly" out to the surface of the water. It has to land delicately, so it doesn't scare the fish. Since it has virtually no weight, you also have to learn special techniques to get the fly to the right place. Here's a look at some of the special gear you'll need for fly fishing.
1. Fly Rod and Fly Reel
Unlike a traditional spin fishing pole, a fly rod is very flexible, and is often made of graphite. They're usually longer than traditional fishing poles and are designed to bend when you cast. There are many different types of fly fishing rods available, and some are better for beginners than others.
Fly rods range in price from around $50 to over $1,000. It's a good idea to spend some time learning more about your options before making a decision. While you don't want to spend too much money on your first purchase, it's also important not to make the mistake of choosing gear that's too cheap. We recommend a graphite rod in a medium price range.
Fly reels are also very different from spin fishing reels. Spin reels are usually closed, while fly reels are open. The least expensive fly fishing reels are made of plastic, but it's best to avoid these. They break easily and don't perform well. Instead, look for a metal fly reel that's made for use with the rod you're considering.
Your best bet is to choose a pre-matched rod and reel set. Not only will buying them together cost you less than buying each piece separately, but they're already matched, which will save you the hassle of trying to figure out what to buy.
2. Fly Fishing Line
A traditional spin fishing pole uses only one kind of line, which fills up the whole reel. Fly fishing is different. This requires fly backing, fly line, a leader, and a tippet. Fly backing is a thick, brightly colored line used to fill up the reel and provide extra length.
The fly line is heavy and generally brightly colored. This is what provides the weight you need when casting. The leader begins thick to match the fly line, then tapers down to a thin line. The purpose of a leader is to keep the fly line from scaring the fish when it hits the water. Finally, the tippet is what you'll use to attach the fly to the leader.
If you purchase a rod/reel combination, it usually comes ready to use, so you won't have to worry about purchasing all these items separately.
3. Flies
The fly is the bait you'll use to catch your fish. There are many different types of flies, and each works best in a different situation. The three main categories are dry flies, which look like insects floating on the top of the water, nymphs, which look like larvae and float just below the water's surface, and streamers, which resemble leeches. Streamers are also often used as lures.
When choosing your flies, it's best to consult with a local fishing expert or a professional fish shop. They'll be able to tell you which types of flies are best for your area and the type of fish you want to catch.
4. Fly Fishing Net
A fly fishing net will make it easier for you to grab the fish after it's hooked. Using a net to pull the fish out of the water will also help protect the fish. This is particularly important if you plan to catch and release.
5. Polarized Sunglasses
Sunglasses are important to protect your eyes from the sun's harsh rays. However, when you're fly fishing, it's important to make sure you choose polarized sunglasses. This will cut the glare from the water so you can see the fish below the surface.
6. Waders and Fishing Vest
Most fly fishers prefer to fish from the middle of a body of water. A pair of waders will allow you to venture out to the perfect spot without getting wet. You'll also want a fly fishing vest so you can keep all your gear on you. This isn't an absolute necessity, but you'll quickly find that it's well worth the money.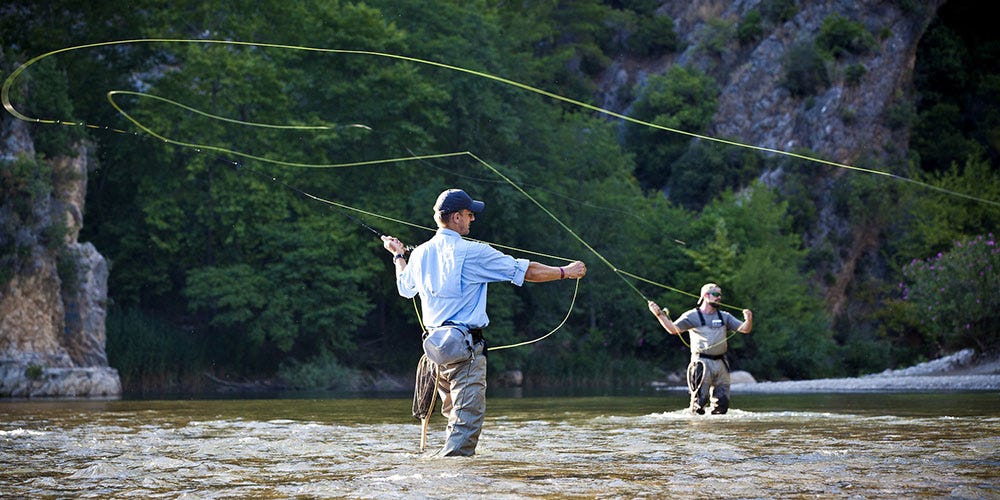 How to Plan a Fly Fishing Getaway
Now that you know the answer to the question "What is fly fishing?" you might be ready to head out and try it for yourself. Making sure you're prepared will help ensure you have a great time! Here's what you need to know so you can enjoy every moment of your fishing trip.
Find a Great Location
Once you've gathered up all your gear, you're ready to head out for your fishing adventure! Start by doing some research to find out where you're most likely to catch the fish you're looking for.
Don't be afraid to try out some new locations. Even if you don't catch a bunch of fish, you'll still enjoy the experience of spending the day on pristine waters. Unfortunately, serious fishers often don't want to tell others about their most successful spots, so you'll likely have to depend on trial and error.
If you can afford it, it's a great idea to hire a guide for at least one of your fishing days. This is a wonderful way to improve your fly fishing skills and discover hot new fishing spots. Your guide will be happy to teach you all about the local area and will help ensure you have a great experience.
Set Up Your Campsite
Some of the best fishing spots are pretty far away from civilization. If you're going to spend the night, you'll need to pack up some camping essentials. Start by choosing a high-quality tent and a sleeping bag. If you want to make sure you get the best nights' sleep possible, you may also want to pack a camping cot, which will keep you up off the cold, hard ground.
Once you've set your tent up, you'll want to set up your campsite to make sure you and your fishing buddies can relax comfortably in the morning before you head out and after a long day of fishing. A pop-up canopy will provide much-needed shade and some folding chairs will give you a comfortable place to sit.
A lightweight camping table will give you a place to prepare and enjoy your meals. Last, but certainly not least, you'll want a cooler to store your food and keep curious critters away.
Plan Out Your Meals
Having enough of the right kinds of food can make or break your fly fishing trip. Make sure you have plenty of snacks and a healthy breakfast to eat before you head out for a day of fishing. You'll also want to pack a travel cooler with plenty of food for lunch and some cold beverages.
If you plan to eat what you catch, spend some time learning how to clean and cook fish over a campfire before heading out for your trip. Also, make sure you always have a "Plan B." If you don't catch anything, you'll want to head out to the nearest grocery store or restaurant rather than go to bed hungry.
Plan Your Fly Fishing Trip Today!
Fly fishing is a fun and exciting hobby. Once you get the hang of it, you'll want to head out on multi-day fishing trips as often as possible. Make sure you're prepared with all the essential fly fishing gear and camping essentials. This way, you can fully enjoy every fishing trip you take.