When it comes to finding shelters for horses and livestock animals, it's best to keep it simple. While it's important to shield your animals from the sun and rain, it's also beneficial to allow animals to move freely. This requires structures that they can enter and exit easily.
A structure that offers sufficient ventilation and some cross breeze strikes a sound balance to meet the unique needs of livestock. ShelterLogic has a variety of customizable options that can keep your animals feeling both free and comfortable. Learn more about the best livestock shelter options to make your property an efficient place that's friendly to the needs of your animals.
Why a Barn Isn't Always the Best Shelter Option
When picturing a home for horses, it's understandable that many expect that they'll need a large barn or enclosed stable. And while these units are great for sheltering livestock after hours, they're not the best option for sheltering animals during the day. This is because constantly confining your horse in a small stall can be detrimental to their physical and mental health.
Wide Open Spaces for Optimal Horse Health
Even if your animals spend a lot of time outside a shelter, an expensive barn or enclosed structure isn't always necessary. Horses, for example, naturally enjoy wide-open spaces, and they tolerate both heat and cold fairly well. In fact, horses are most comfortable when the temperature is between 18° and 59° F, depending on their hair coat.
In the winter, some horses are even able to handle temperatures down to -40°F. In the summer, both heat and humidity need to be considered—shade with plenty of airflow can keep your horses cool enough to be comfortable. Overall, if your horse's body temperature is within the normal range of 99-101.5°F, they are doing fine outside.
Equine expert Nancy Ambrosiano explains, "Horses conserve body heat efficiently and, therefore, need less shelter than we think they do." These animals typically take shelter just from strong winds or for shade. Therefore, caring for horses in summer weather and cold seasons looks a lot differently than you'd imagine — which means a horse shed doesn't need to be built like a house for humans.
The Dangers of Stuffy Conditions
When your livestock spends too much time in enclosed spaces that lack ventilation, their health can suffer. Barns can easily become unsanitary and restrictive to livestock. Low ventilation exposes horses to dust and bacteria from their feces, feed, and bedding, which leads to mucus and respiratory inflammations. Such confinement can also have a negative impact on your horse's total health because of their limited mobility for much of the day. Just like people need exercise and sunshine to feel refreshed, animals also need to be out in their element to thrive.
Confining ponies can cause problems during growth and development, including an increase in the risk of injury and a decrease in performance. However, the right shelter can give your horses and animals the freedom and fresh air they need to reach their full potential. Having alternative daytime shelter to protect livestock from rain, sun, and snow can help your horses stay comfortable as they graze. Which shelters are then suitable to address the unique needs of your livestock?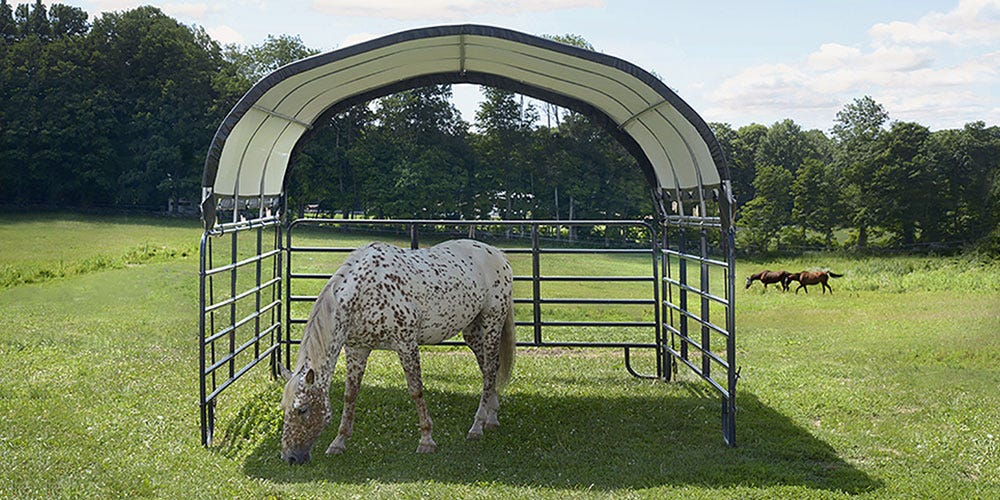 What Are the Best Portable Horse Shelter Options?
Horses benefit the most from well-ventilated, open-style structures that provide just enough coverage without confining them. They need spacious and comfortable environments during their downtime.
Corral shelters and run-in sheds provide a shady spot during the day for your horses. These shelters are versatile enough to house horses, livestock, or even bulk hay or field equipment. Not only are they effective, but they are affordable and portable. This makes it easy to add several shelters to your property and move them around to wherever shade is required.
Corral Shelters: Custom Coverage for Any Season
Corral shelters are portable shelters that provide instant shade to animals who need a break from the elements. They can attach to most corral gates and fences, transforming corral gates into convenient rest areas. These portable horse shelters consist of a fabric cover that goes over an all-steel frame.
The frame then attaches to most panel tube profiles with its unique brackets for added shade and shelter in a snap. The tube profiles are available in round, tube, and oval to offer different types of benefits. Excellent in the summer for letting in the fresh air and suitable for winter with some add-on panels, corral shelters can be used around the year to benefit your animals.
For more protection against strong winds or inclement weather, add an enclosure kit to your corral shelter. An enclosure kit includes one end panel and three side panels for more shade and shelter for your animals. This easy-to-install kit fits a standard 12 x 5 ft. corral panel or gate. Extra coverage like this is key to protect animals in winter weather, especially when there is snow, sleet, and freezing rain.
Run-in Sheds: Simple and Efficient Coverage
Run-in-sheds are fine alternatives to corral shelters. These spacious structures consist of a completely covered frame with open ends on both sides. When you need a freestanding shelter that doesn't need to attach to a corral, this structure can go anywhere you need it.
Whether it's in the middle of a pasture to give your livestock some shade or beside a barn for extra storage, this affordable shelter is simple to set up and use. This allows your horses and other livestock to easily enter, leave, and rest without feeling too cramped or confined. Run-in sheds are available in peak and round styles to help shed the elements. This is an excellent solution to protect animals from heat and the summer sun.
These portable horse shelters are simple to install with lightweight, waterproof, three-layer polyethylene ripstop fabric covers. The white interior lining makes the shelter's inside more illuminated, keeping your horse's environment cheerful. Supported by a professional-grade steel frame that resists corrosion and rust, you can depend on this shelter to stay put under most weather conditions. It's also simple to install and move around to suit your horses' needs during the day. It's not just ideal for sheltering horses, but it can also store hay and equipment. This allows you to keep some key equipment nearby instead of having to make a long trek to a barn.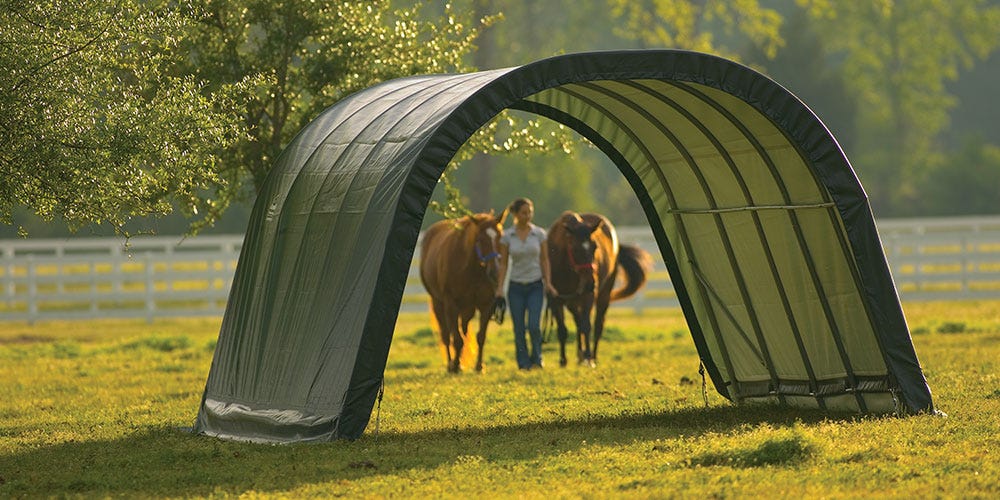 Versatile Portable Horse Shelters & Accessories
Are you looking for a horse shelter but can't decide on the right product for you? Whether you need something specific like a good horse shelter for fall weather or a shaded area in the summer, we have exactly what your animals require to thrive. Here are some of our most versatile products that animal raisers have chosen with excellent results.
Green Powder Coated Corral Shelter
Shelterlogic's Green Powder Coated Corral Shelter is an affordable 12 x 12-foot shelter that can be installed almost anywhere on your property. It's also portable, so you can pack it up quickly and move it to where it's needed. Perfect for storing hay and providing some reprieve from the elements, your livestock can easily retreat here during the heat of the day without feeling stuffy. Its tough fabric shade and all-steel frame make it a durable and convenient equine innovation—plus, it is 100% waterproof and rust-resistant.
When you need to park this shelter for an extended time, its patented ShelterLock Steel Stabilizers and anchors securely to the ground. It can also be mounted to a four-foot half wall for additional stability. The triple-layer woven polyethylene cover that comes with this shelter can fit most tube frames of this size and is made to withstand tough weather conditions. Whether you need reliable shade for horses, goats, and other livestock or to protect some equipment out in the field, this versatile shelter is ready to meet your needs.
Livestock Shelter Accessories
Keeping your livestock healthy and happy requires the right amount of shelter and equipment. To enhance your setup to care for your animals, shop for equine & livestock shelter options today. Don't forget to include hay storage and other useful accessories like earth anchors, hook and reg anchors, a ratchet tite anchor kit, tough duct tape, and more! The small details make a big difference, so be sure to get everything you need to make your outdoor environment complete.
Shelters for Horses at ShelterLogic
Choosing shelters for horses can be a daunting task, but it's easier when you have a selection of dependable shelters that are suited for animals. Give your livestock the protection they need and the freedom that keeps them healthy and happy. ShelterLogic has everything you need to keep your animals comfortable without restricting their movements. Check out our latest selection of customizable shelters for horses today for the best upgrade to your outdoor living setup.