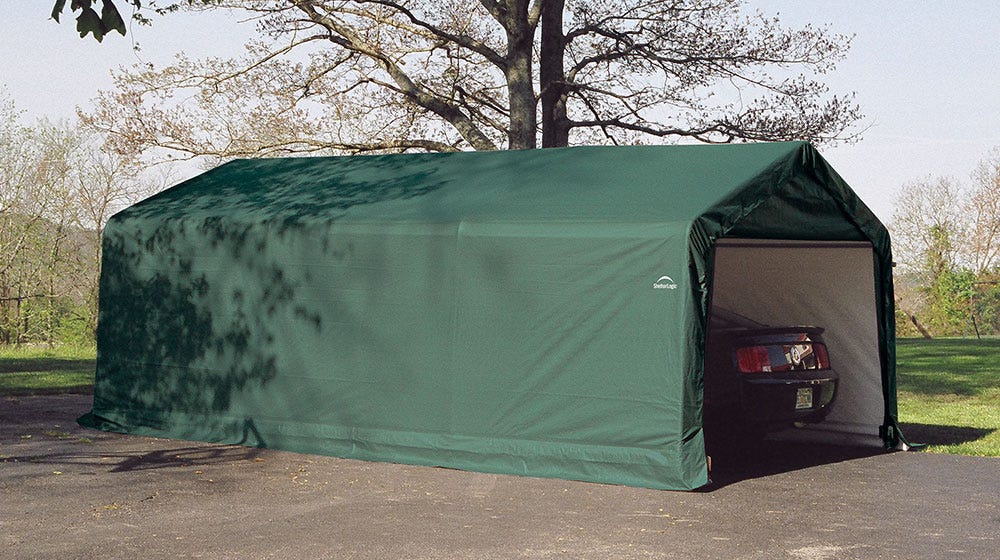 Keeping the things you love safe from the elements is our specialty – but even the most durable of our solutions needs a touch of TLC from time to time.
From unpredictable weather to accidents and incidents, there are a number of reasons why buying a ShelterLogic Replacement Cover Kit might be the answer.
However, it might not actually be necessary to go ahead and order a full ShelterLogic Replacement Kit. With this handy guide, you can determine if it's smarter to make some repairs to your ShelterLogic product instead.
And it's easier than you might think! Whether you are looking for tips on fabric shed maintenance, need to make sure you're getting your portable garage maintenance right, or are considering if ordering a ShelterLogic Replacement Cover is the right idea for your needs today, we have all the details covered.
How Do You Maintain a ShelterLogic Cover?
A little upkeep here and there is often all it takes to keep your ShelterLogic Cover performing at its best. After all, they're built to last – but a helping hand still goes a long way.
A few ideas to work into your routine are all it takes to help your ShelterLogic product go the distance. Here are a few tips and tricks that'll see your shelter stand the test of time.
Carefully Remove Debris
As we emphasize in our tarp structure maintenance guide, debris can play a surprisingly big role in preventing a shelter structure from working at its best over the long term.
That includes debris like branches and leaves that gather around or on top of your ShelterLogic Cover in the fall – but also debris like heavy snowfall, which presses down on the top of the structure with surprising weight.
Taking care to safely remove this debris works wonders in keeping your ShelterLogic structure standing tall. Making sure that this kind of fabric shed maintenance becomes part of your routine every time the seasons change will extend the structure's lifespan – and make it far longer before you need to order a replacement cover.
Keep the Cover Clean
Keeping your ShelterLogic products clean is one of the easiest and most effective ways to maximize their service life – and it also helps that they look good afterwards!
Soap, water and a gentle sponge are all you need to get the job done here. While it can be tempting to try and rush the job with a power washer or powerful hose, the water pressure doesn't do the material or structure of the product much kindness long-term.
It's also a good idea to avoid ammonia-based or harsh cleaning products when cleaning your ShelterLogic structure – as well as brushes with sharp bristles or wire wool.
If you have used these kinds of cleaning tools on your ShelterLogic product in the past and now are seeing signs of harm, don't panic. It's easy to source and set up a ShelterLogic Replacement Cover if that better suits your needs.
Ensure a Proper Fit
Taking a look at the overall fit and structure of your ShelterLogic product can help ensure it has a long and healthy lifespan. It's natural to think of shed maintenance and portable garage maintenance as tasks demanding lots of looking for wear and tear – but actually, the fit of your cover is just as crucial.
Naturally, you're likely to have put it on a flat surface when first putting it together – but don't be shy inspecting the frame, the fit of the fabric and the performance of the nuts, bolts and various joints.
Are there any gaps or signs of wear and tear that are a cause for concern? If the damage seems too severe or the fit seems completely off, this might not be a question of shed maintenance, but instead indicative that you need a full ShelterLogic Replacement Cover.
How Do You Repair a ShelterLogic Cover?
If you've identified a hole or tear in the material of your ShelterLogic Cover, many of the best ways to fix a fabric shed are just as handy to put into action here.
While it's not a complicated job, and not something that needs a huge amount of DIY know-how, this kind of ShelterLogic Cover repair is always best accomplished as early as you can.
Worn material, holes or tears can all deteriorate over time, leaving both the lifecycle of your product and the safety of your possessions inside it in more jeopardy than you'd like.
Give a few minutes to the solutions below, though, and you won't have anything to fret about.
Use Fabric Patches
As long as they are suitably waterproof and weatherproof, fabric patches over the damaged area are an easy way to patch up your ShelterLogic product.
Ensure that the fabric patch is laid flat against the surface in need of repair – air bubbles and wrinkles will warp the material of your ShelterLogic Cover and affect how well it performs long term.
Likewise, fabric patches that aren't quite fitted right will be more apt to peel away or come loose – a tender touch will help seal the deal here.
Good Ol' Fashioned Duct Tape
Back in the day, engineers and mechanics used to share this old adage – that if you're not able to fix something with duct tape, you're just not using enough duct tape.
While we certainly don't recommend going completely hog wild with the stuff when you're repairing your ShelterLogic product, it's definitely true that duct tape can seal up and stand firm when used to reinforce structural elements or cover holes in the fabric.
A smooth, flat application of duct tape – free from warping and air bubbles – will add extra tensile strength and powerful weatherproofing to your ShelterLogic Cover.
Naturally, this might not give your structure the most handsome appearance, depending on how and where the duct tape needs to be applied – but if it's function over form that you're after, this is a quick fix that can really go the distance.
Remember, use your best judgment when using duct tape in your shed or portable garage maintenance. If the damage is too great – or you just need that added layer of confidence – you might prefer ordering a ShelterLogic Replacement Cover instead.
How Do You Order a Replacement Cover Kit?
When repairs are not sufficient, or just don't feel safe, you can still order a ShelterLogic Replacement Cover for your existing ShelterLogic product.
Ordering an official ShelterLogic Replacement Cover from us ensures an easy transition from your old to new material – with full compatibility guaranteed.
Find Your Cover Number
Every ShelterLogic cover that's sold has a white label stuck to it – it's commonly on the inside of your cover, but it can also be found elsewhere, depending on the product.
On that label is your Cover Number – this is the key to making sure you can smoothly order your ShelterLogic Replacement Cover. You can do this either by entering the number on our website, or by contacting us directly.
We created the ShelterLogic Replacement Cover Kit Program to ensure that every customer has the opportunity to enjoy years of dependable service from their ShelterLogic products. That includes making ordering your replacement covers as easy as possible.
Contact Customer Service
If you need assistance locating your cover number for your ShelterLogic Replacement Cover – or just prefer to have someone talk you through the process instead of using the website – get in contact with one of our customer agents.
We can guide you through the process, recommend whether a replacement cover is necessary, and advise more generally on issues relating to fabric shed maintenance and portable garage maintenance.
You might be interested to learn that we have comprehensive online how-to videos to help you in shed maintenance and repair too!
Not Ready for a Replacement Cover Kit? How About a Cover Upgrade?
As our circumstances change in life, so too do our storage needs and the demands being made of our homes and businesses. That's why we completely understand that on some occasions, it may be worth seeking our advice to understand if a ShelterLogic Replacement Cover actually isn't enough to guarantee the product performance you need.
In instances like this, we can connect you with a specialist agent who can discuss your needs with you and identify if your household or business would benefit more from a ShelterLogic cover upgrade.
It could be that you don't have much time to give to the likes of portable garage maintenance, so a more durable replacement cover upgrade is the order of the day.
Similarly, you could have already enjoyed your ShelterLogic structure and the service it has provided, but are in the process of acquiring a new vehicle, piece of equipment or other sensitive new possession for which a simple replacement cover simply won't be enough.
Whatever your requirements, we are here to help. Contact ShelterLogic today and discover how we can assess and advise on your storage needs – no matter the state, the climate or the need for your cover.