Heading to the coast this summer? We know you won't forget the obvious beach essentials: sunscreen, towels, the drink cooler... But what about a quality shade solution?
Why You Need Shade at the Beach
The summer sun can be quite dangerous. As mentioned in our
Skin Cancer Prevention
blog, UVA and UVB rays pose a threat to our skin even on the cloudiest of days. Overexposure to sunlight often causes permanent skin damage and greatly increases the risk of skin cancer. Particularly when you're on the beach, the stakes for skin cancer prevention are much higher. You're bound to intensify harmful exposure when spending the day on a bright beach wearing just swimwear between the hottest hours of the day. In fact, even dry beach sand reflects up to 15% of UV rays, exposing your skin from all angles. (Source:
World Health Organization
) While beach umbrellas and sunscreen certainly help minimize sun exposure and damage, they can't always provide the most effective protection at the beach. Umbrellas typically only cover small areas and can be heavy to transport. And cooling off in the water or even breaking a sweat on the shore makes sunscreen half as effective unless you constantly reapply. In order to effectively prevent sun damage and overexposure, you need a reliable high-quality shade solution.
Pop-Up Canopies for Ultimate Beach Shade
Quik Shade's pop-up canopies and portable chairs provide lightweight, affordable, and effective sun shade and protection, especially at the beach. These portable and incredibly easy-to-set up solutions offer up to 99% UV protection and sturdy construction for reliable coverage the whole family can utilize. Check out a few of these pop-up options.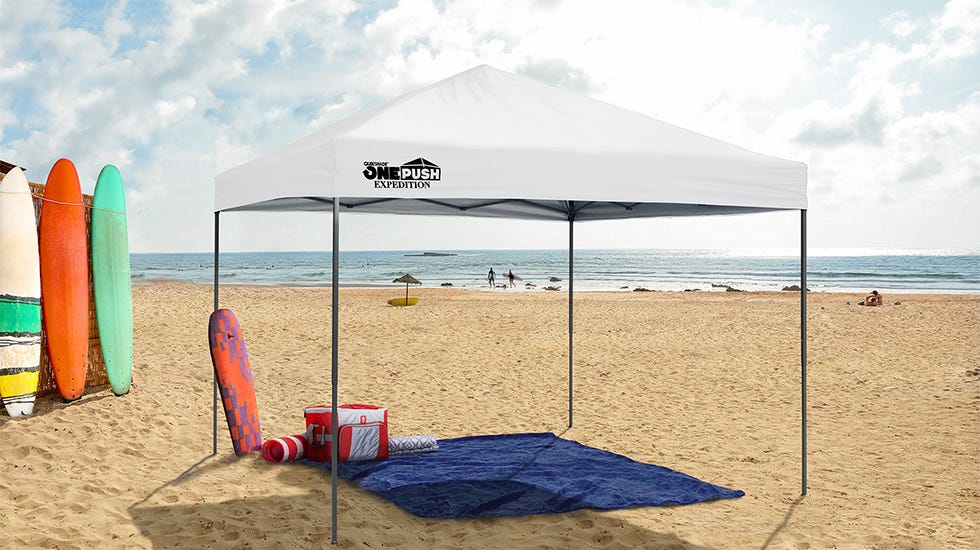 Expedition Canopy
, the Expedition One Push only needs one person to execute innovative "one push" instant setup! Includes a convenient carry bag to easily bring shade to the beach.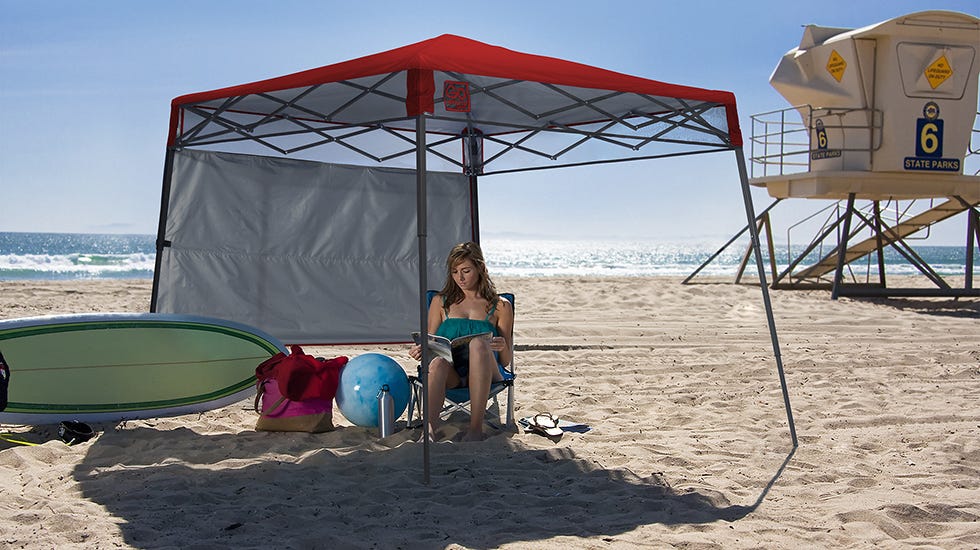 Go Hybrid
is the ultimate on-the-go canopy. Perfect for taking to the beach, park, or soccer game, this pop-up features telescoping legs and ultra-lightweight materials for compact storage and travel. Its patented overlapping eave construction and hardened rivet assembly ensure stability and strength. Easily bring this portable pop-up anywhere all summer long!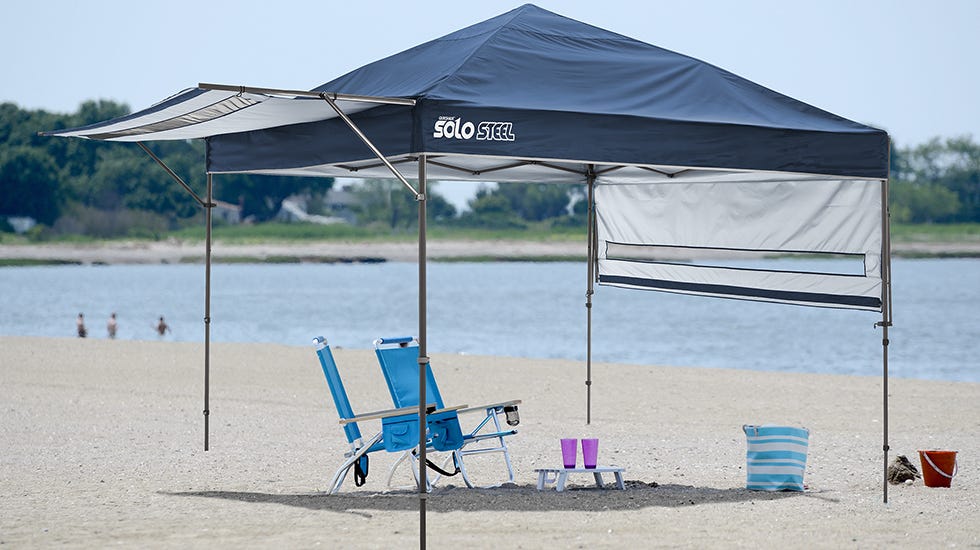 Solo Steel Pop-Up
. With two functional and adjustable side awnings, you can easily increase coverage or privacy however you need it. This pop-up offers one-person setup and infinite height adjustments for ultimate outdoor shade anywhere.
PRO TIP:Not sure how to anchor your pop-up on the beach? Utilize canopy weights to secure your pop-up even on the sand. See more accessories for your pop-up canopy and more here.
Click below to see our entire selection of Quik Shade Pop-up Canopies!
Portable Shade Chairs
Not only do we offer reliable pop-up canopies for sun shade and protection, but consider our portable shade chairs a must-have in your bag of beach essentials! These innovative items offer both shade and comfort with attached awnings for personalized shade. Kick back on the beach worry-free wherever you decide to sit with one of these portable shade chairs.
The Beach Recliner Shade Chair
is specifically designed to be the perfect beach chair. This canopy features breathable, moisture-resistant mesh fabric, perfect for staying cool on the beach. With an adjustable overhead canopy, a comfortable head pillow, and a 3-position reclining steel frame, effortlessly relax for hours on the beach with this shade solution. Fold it flat and carry it with you anywhere thanks to its convenient handles and backpack straps!