An outdoor storage building eliminates clutter and provides organization for any backyard space. Storage sheds are versatile structures that can be used to stow away gardening tools, patio items, and any seasonal belongings. But there's more to an outdoor shed than just storage. With a little imagination, these buildings can be utilized for just about anything. Here are 10 creative shed ideas that will transform your backyard space.
Man Cave or She Shed
One of the most popular outdoor shed ideas is turning a structure into a getaway for your own personal hobbies. Whether you call it a man cave or a she shed, the key is to create a space that is uniquely yours. Here are a few outdoor shed ideas to turn your structure into an amazing man cave or she shed.
Gaming: Outfit your shed with electricity, a television, and a gaming console and you have a gamer's paradise.
Crafting: Add some cozy touches like a place to sit and a comfortable table and you'll have an ideal space for crafting.
Entertaining: You'll want to have a refrigerator and plenty of snacks along with a table or couch to invite friends for a fun night of playing cards or just enjoying each other's company.
Reading: Any avid reader would be delighted to have a quiet place at all times to curl up with a good book without any distractions.
Art Studio
One of the most creative shed ideas is transforming your space into an artist's studio. No matter what type of art you create, an outdoor shed provides the perfect atmosphere for your craft. You'll have a space to get messy without worrying, and an area of solitude perfect for inspiration. Helpful ideas to transform your shed into an studio includes:
Use pegboards to organize paintbrushes and other tools needed
Add an art table where you can comfortably work
Display your art on the walls to create a cozy atmosphere
Playhouse
Forget a traditional swing set or a sandbox. Elevate your child's play space by creating their very own spot to call their own. When it comes to outdoor shed ideas, turning yours into a playhouse will offer your children a whimsical place to play with their friends or simply use their imagination. There are multiple ways to convert a standard shed into a world of fun.
Add brightly colored paint for a fun feel
Create a space to play house complete with a toy kitchen and comforts of home
Add a library with your child's favorite books
Work Space
Whether you are shifting to working from home after the pandemic, or you have always wanted a quiet place to complete leftover tasks from the office, one of the smartest outdoor shed ideas is to create a work space. Not only does it provide solitude, it offers extra space inside your house when moving your home office into a home shed. Make the shed your own by:
Add electricity to hook up a television, computer, or printer
Create a relaxing atmosphere by painting and hanging art
Add an element of organization using bins or hanging shelves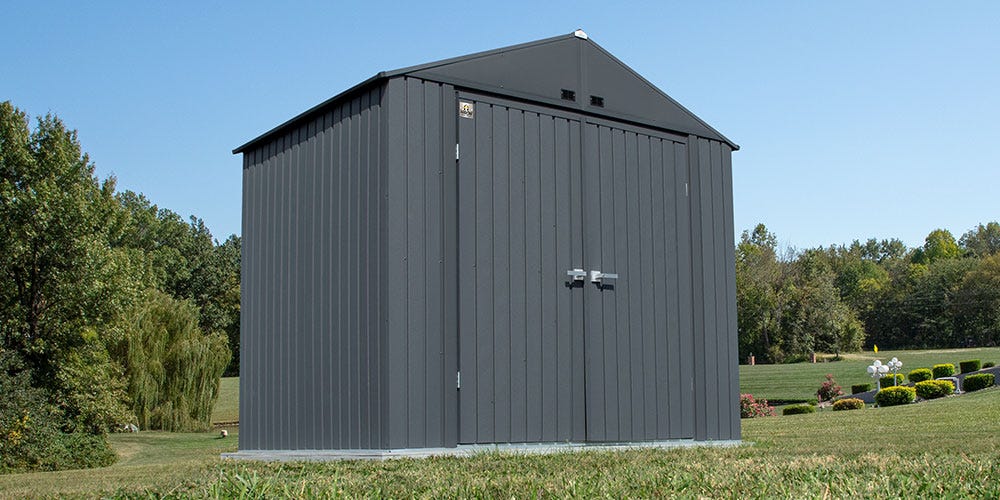 Personal gym
If you've been making excuses about not having enough time to get to the gym, why not create your own in an outdoor storage shed? Instead of waking up early before work to drive to the gym to get in your reps, just take a quick walk to the backyard and get started. Not to mention, you'll save some serious money on gym memberships. Make the workout space unique by:
Set up your own Crossfit gym
Create your own cycling studio- add in a television for extra entertainment
Put a mirror across your shed and transform it into a dance studio for exercise
Repair shop
Repairing your motorcycle, ATV, or even bicycle can cause clutter in your yard. Why not move your repair shop into the shade by working in your outdoor shed? This shed idea also protects you from harmful UV rays as you work in the heat. Benefits for turning your shed into a repair shop also include:
Staying cool and comfortable while working in your shop
Protecting your belongings from the elements
Save money by creating a space to do repairs yourself
Tiny House
The tiny house trend is not going away any time soon. These outdoor shed ideas literally turn a small structure into a home complete with electricity, a bedroom, and sometimes even plumbing. While it may seem like an outrageous idea, the tiny house market is expected to explode by $5.8 billion in the coming years. A tiny house is great for people who:
Want to reduce their carbon footprint
Wish to save money by foregoing the traditional mortgage
Live a truly minimalist lifestyle
Pet Shelter
Whether you're looking to keep pet dander out of your house, or give your dogs and cats their own area to relax, one of the most creative shed ideas is turning the space into an ultra-roomy dog house. This upgrade will provide your animals a quiet place to call home on your property. There are some upgrades to think about when outfitting a shed for your dog or cat.
Add insulation for proper climate control
Provide a dog-friendly entrance
Add the comforts of home inside including dog beds, blankets, food and water
Haunted House
Halloween fans can get behind this creative shed repurposing idea. Turn your outdoor structure into a spooky haunted house for the kids in the neighborhood. Whether using it as a focal point for trick or treaters, or inviting friends and family for a creepy haunted tour, this ghoulish good idea will be sure to add a ton of fun to your fall festivities. A few cost-effective ideas to take this idea to the next level include:
Add a spooky cemetery leading up to your shed
Crank up the speakers to play some scary Halloween-inspired music
Rent or buy lighting, such as a strobe light, for an extra eerie effect.
Outdoor Bar
One of the most creative shed ideas that will bring friends and family together is creating your very own outdoor bar in your backyard. While you'll have to make some investments to upgrade your outdoor shed into a cozy place to serve your guests, it will save you money in the long run by avoiding trips to the real bar with overpriced drinks. Here are a few steps to take to transform your space into the perfect bar hideaway.
Make sure your shed has insulation for proper temperature control
Add seating and a bar table for guests to place drinks
Create your own theme or style using bright and fun accessories
Versatile and Reliable Outdoor Shed Ideas
Once you've figured out which creative shed ideas you want to execute in your own space, it is important to choose a sturdy structure that is built to last. Here are three incredible shed choices from Arrow to transform into your unique space.
Arrow Classic
These structures have a rugged durability with a modern style. Choose from multiple sizes and colors to fit into your outdoor décor. Perfect for storage or any of these other creative shed ideas, Arrow Classic sheds are built tough. Other features include:
Tall walls for extra headroom
Sturdy steel that fends off rust and corrosion
Pad lockable doors for increased security
Arrow Select
For a spacious structure with a touch of elegance, the Arrow Select series sheds provide multiple options to turn all your outdoor shed ideas into a reality. Choose from gorgeous earth tone colors and multiple shapes and sizes customized for your space. Arrow Select sheds also include:
A strong paint finish to combat the elements
Swing doors to increase usable space
Taller walls for more spacious indoor area
Arrow Elite
These all-metal structures are ideal for outdoor shed ideas that need extra space and increased entryway area. A gorgeous addition to any backyard space, the Arrow Elite sheds are taller with gable roof design to prevent water pooling. Other reasons to choose the Elite line include:
Multiple colors and shapes to blend into any backyard area
Built-in vents for increased air circulation
Galvanize steel protects from rust, corrosion, and chipping
Arrow Ironwood
If you're looking for a fully customizable shed with endless possibilities, the Ironwood Shed Kit gives you the tools you need to create the structure while leaving all the creativity up to you. Choose your own wood, color, and style all built around an ultra-tough steel frame. Benefits include:
Wide doorway for easy access and flexibility
All-steel parts are resistant against corrosion and rust
Shed kit leaves full creative control up to you