There's nothing quite like hopping on your bike and hitting the open road. When you do, you want it to look its best and run like new. Every motorcycle owner knows that storage, cleaning, and maintenance are the keys to keeping your bike in top shape.
Learning how to store a motorcycle properly will help protect it from the elements. Not only will this keep your bike looking great, but it will also ensure it's road-ready whenever you are. Here's a closer look at some of the most popular options.
Indoor vs. Outdoor Storage
If you don't have a garage on your property, you may be wondering how to store a motorcycle outdoors. While it is possible to gain some protection by using a motorcycle cover, the truth is, outdoor storage is never a good idea.
Even if it's covered with a tarp or a custom motorcycle cover, leaving your bike outside exposes it to the elements. This also creates inconsistent moisture levels which can cause additional damage. Even worse, a motorcycle that's been left outdoors could be vandalized or stolen.
Storing your motorcycle indoors creates a temperature-controlled environment where it will be safe from damage by wind, rain, hail, and snow. This will help prevent rust and keep your bike clean for longer. Not only does indoor storage help your bike retain its value, but it may also lower your insurance rates.
The Best Motorcycle Shelters: 3 Options to Consider
Now that you understand the importance of keeping your bike indoors, it's time to explore your options. If you already have a garage on your property, clearing out space may be the easiest option – but it's not the only one.
If you don't have a garage or there simply isn't enough room in the one you have, don't despair. There are many cost-effective ways to create a motorcycle shelter. Even if you do have a garage, you may find that creating a separate space for your motorcycle is more convenient.
Here's a closer look at some of the best motorcycle shelters available today. Each of these options offers easy access during the riding season and a safe environment for storage during the winter months.
Storage Shed
A storage shed is a cost-effective option that will fit virtually any property. Not only will this structure provide you plenty of room for your bike and any other accessories you need to store, but it can also become a stylish focal point for your back or side yard.
The best motorcycle shelter is easy to access. When looking for a storage shed for your bike, make sure you choose one with a large single door or double doors that slide or swing open. Make sure the doors are designed to be used with a padlock or come with a keyed lock or deadbolt This will help protect your bike from would-be thieves.
You'll also want to make sure your storage shed has gables or and vents. Having proper ventilation will help prevent a build-up of condensation, which can damage your bike.
The durable Arrow Elite series shed is a premium storage solution for motorcycles with a contemporary look that blends in well with most backyard aesthetics. The durable Elite shed is made of ultra-corrosion resistant Perma Plate steel, which is 20 percent thicker than steel used in traditional metal sheds. The Elite also features a high-gable roof that keeps water from pooling and debris from collecting, and built-in air vents that allow air to circulate when the doors are closed. Also, the Elite has stylish, practical swing doors with brushed metal handles and an integrated keyed lock.
Steel Garage
If you have the money to spend and enough space on your property, you may want to consider a steel garage. A spacious steel garage can do more than hold your bike: It can also be used as a place where you can do regular maintenance and tinkering on your ride.
With dimensions of just 12-feet by 10-feet, the smallest Everest Steel Garage is the perfect size for most residential properties. This is a budget-friendly solution for those looking for long-term storage options. It's also the perfect size for dual-bike households.
Want to add a garage that is large enough for you to store your car, truck, RV, boat, and other vehicles? Simply, choose a larger size! These units are available in a range of sizes all the way up to 12-feet by 100 feet. They're all wind and snow rated and can withstand winds of up to 100 MPH. They also feature a sturdy side entrance with a secure key lock handle.
These metal garages are strong and built to last even in the toughest of weather. While you'll spend more on a steel garage than you will on a storage shed, it's an excellent long-term investment that you'll enjoy for many years.
Garage-in-a-Box
Are you wondering how to store a motorcycle indoors if you don't own your home? A Garage-in-a-Box is an excellent solution! This portable shelter is made of a 1-3/8 inch steel frame and tough polyethylene fabric. It offers all-weather performance and is 100% waterproof.
This is one of the best motorcycle shelter options for those who need additional versatility. It features slip-fit connectors that make set-up and take-down extremely easy. In most cases, these structures don't require a building permit, making them the ideal solution for renters or anyone who needs a quick and easy storage solution.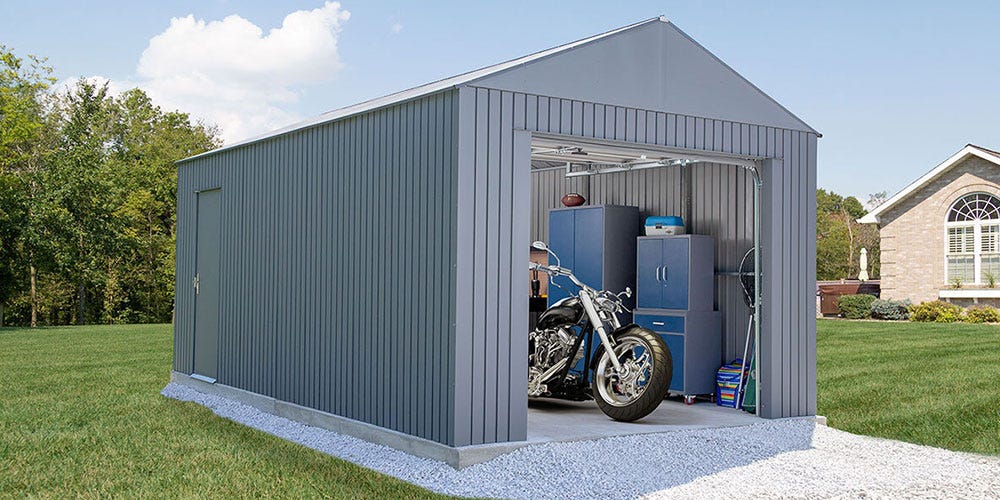 Choosing the Best Motorcycle Shelter for Your Needs
Each of the options listed above is suitable for year-round motorcycle storage, but which one is right for you?
When trying to determine how to store a motorcycle on your property, ask yourself a few simple questions.
How Much Space Do You Have Available?
Before you choose a motorcycle shelter, measure the space you have available. Also, keep in mind the size of your motorcycle. You'll want to make sure you have enough room to comfortably hold your bike, allow you to move around, and give you some space to store tools and accessories.
While it's a great idea to purchase a shelter that's a bit larger than you think you need, it's also important not to buy a structure that either won't fit or will take up too much space on your property.
What is Your Current Budget?
You can find a motorcycle storage building to fit just about any budget. While you don't want to over-spend, it's a good idea to invest in a high-quality shed or garage. This will ensure it looks great on your property and lasts for many years. Higher-quality buildings may also be more wind and water tight, offering additional protection for your bike.
Do You Have Additional Storage Needs?
If you have more than one motorcycle or other vehicles like an ATV or snowmobile, you may want to consider purchasing a larger storage building or a steel garage. This will allow you to provide all of your toys with the same protection. If you only have one bike and don't plan to buy more, then a smaller structure should be sufficient.
How to Store a Motorcycle in Winter
Once you've selected the best motorcycle shelter for your needs, you can easily keep your bike ride-ready almost all year long. However, if you live in an area with harsh winters, you'll need to properly winterize your bike. This will help extend its life expectancy and allow you to get right back to riding as soon as the weather warms up.
Before you put your motorcycle in your storage shelter for the winter, follow these simple tips.
Change Out Your Fluids
Used oil and other fluids contain contaminants that can become corrosive and destroy your rubber seals. Using the correct coolant will also protect the radiators and/or lines from bursting due to freezing temperatures.
Wash, Dry, and Wax
It's a great idea to clean your entire bike before you put it away for the winter. Scrub the brakes and the chain then wash the entire motorcycle. Make sure everything is dry and wax or treat the paint and your bike's chrome. This will help protect it while it's in storage and ensure it looks great when it's time to ride again.
Lubricate Your Chain
After cleaning your chain, you should also wax or lubricate it. Just make sure you take it for a short ride (5 miles or so) to warm it up first. Also, don't forget to wipe off any excess when you're done.
Add a Gas Treatment
Bad fuel can quickly ruin your motorcycle's induction components. Adding a fuel stabilizer will help prevent this. The process is different depending on whether you have a fuel-injection system or a carburetor. However, it's just as important in either case.
Prep Your Exhaust
Add a few drops of WD-40 into the end of your pipes, taking care to ensure it doesn't get outside the outlets. This simple step will help prevent moisture, which can lead to rust.
Battery Maintenance
Before you store your bike for the winter, either remove your battery or keep it on a trickle charger. This will greatly extend its life.
Inflate Your Tires
Finally, inflate your tires to the correct pressure to ensure they retain their shape. It's best to keep your tires off the ground during the winter by storing your motorcycle on stands. If this isn't an option, you'll also want to rotate the wheels once a month to prevent flat spots.
Find the Best Motorcycle Shelter Today!
Now that you know how to store a motorcycle the right way, you're ready to enjoy ultimate performance! If you're looking for the best motorcycle shelter, you're in the right place. We have a wide selection of steel sheds and garages to choose from and are happy to help you select the perfect option for your needs. Take a look through our inventory today and please don't hesitate to contact us with any questions.